If you're a publisher or an author with a forthcoming book, drop us a line at [email protected]. Please use subject line "new book."
The Production of Money
By Ann Pettifor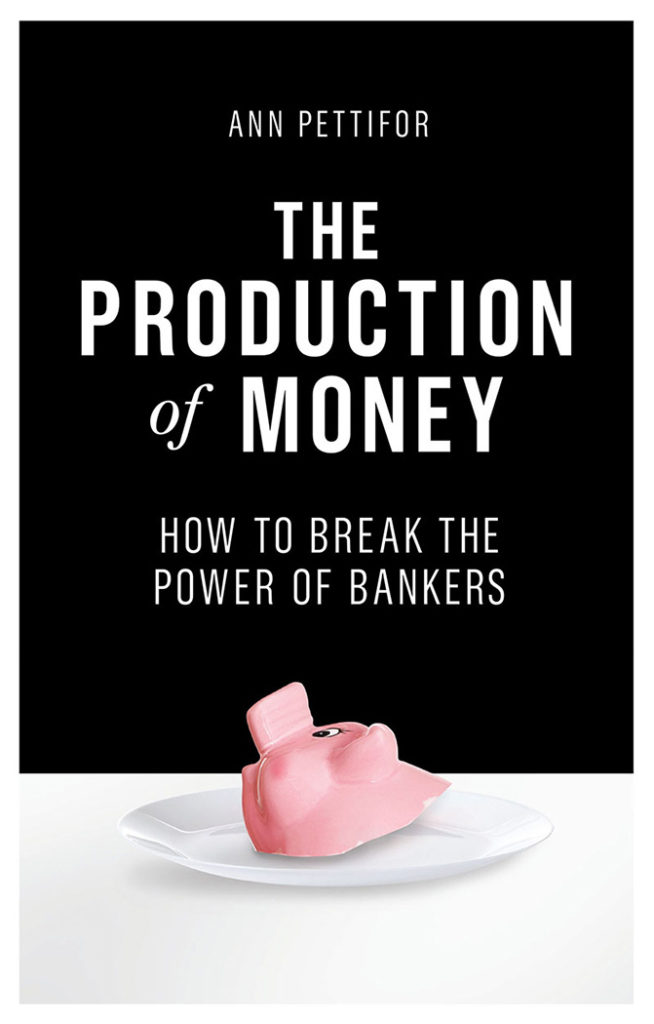 In this accessible, brilliantly argued book, leading political economist Ann Pettifor explains in straightforward terms history's most misunderstood invention: the money system. Pettifor argues that democracies can, and indeed must, reclaim control over money production and restrain the out-of-control finance sector so that it serves the interests of society, as well as the needs of the ecosystem.
The Production of Money examines and assesses popular alternative debates on, and innovations in, money, such as "green QE" and "helicopter money." She sets out the possibility of linking the money in our pockets (or on our smartphones) to the improvements we want to see in the world around us.
Buy it here.
A Fragile Life
By Todd May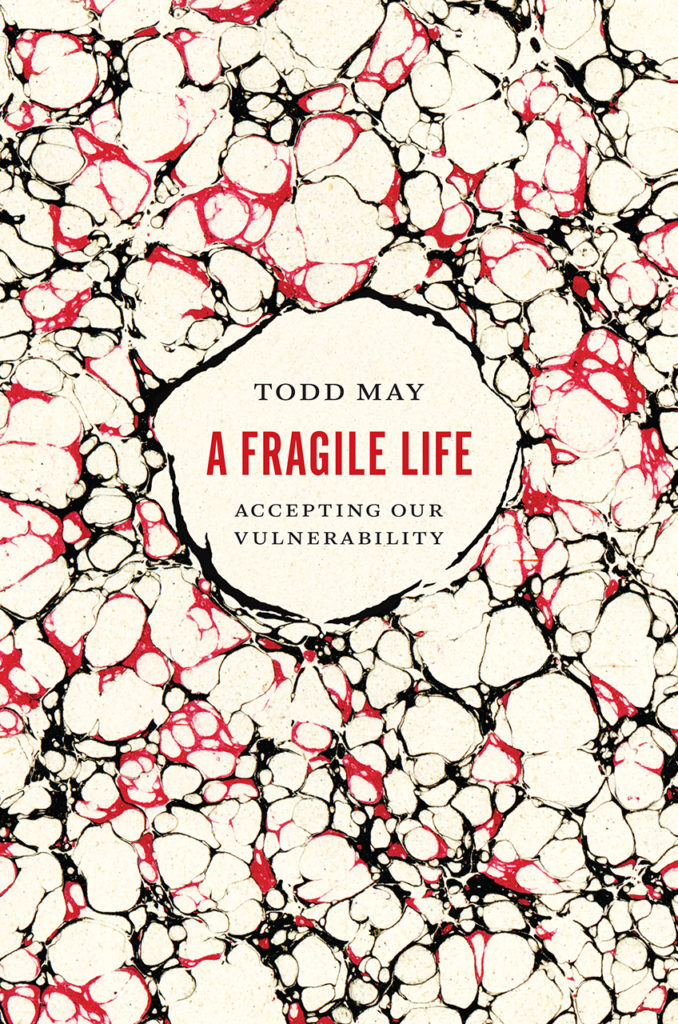 It is perhaps our noblest cause, and certainly one of our oldest: to end suffering. Think of the Buddha, Chuang Tzu, or Marcus Aurelius: stoically composed figures impervious to the torments of the wider world, living their lives in complete serenity—and teaching us how to do the same. After all, isn't a life free from suffering the ideal? Isn't it what so many of us seek? Absolutely not, argues Todd May in this provocative but compassionate book. In a moving examination of
It is perhaps our noblest cause, and certainly one of our oldest: to end suffering. Think of the Buddha, Chuang Tzu, or Marcus Aurelius: stoically composed figures impervious to the torments of the wider world, living their lives in complete serenity—and teaching us how to do the same. After all, isn't a life free from suffering the ideal? Isn't it what so many of us seek? Absolutely not, argues Todd May in this provocative but compassionate book. In a moving examination of life and the trials that beset it, he shows that our fragility, our ability to suffer, is actually one of the most important aspects of our humanity.
May starts with a simple but hard truth: suffering is inevitable. At the most basic level, we suffer physically—a sprained ankle or a bad back. But we also suffer insults and indifference. We suffer from overburdened schedules and unforeseen circumstances, from moral dilemmas and emotional heartaches. Even just thinking about our own mortality—the fact that we only live one life—can lead us to tremendous suffering. No wonder philosophies such as Buddhism, Taosim, Stoicism, and even Epicureanism—all of which counsel us to rise above these plights—have had appeal over the centuries. May highlights the tremendous value of these philosophies and the ways they can guide us toward better lives, but he also exposes a major drawback to their tenets: such invulnerability is too emotionally disengaged from the world, leading us to place too great a distance between ourselves and our experience. Rather than seeking absolute immunity, he argues most of us just want to hurt less and learn how to embrace and accept what suffering we do endure in a meaningful way.
Offering a guide on how to positively engage suffering, May ultimately lays out a new way of thinking about how we exist in the world, one that reassures us that our suffering, rather than a failure of physical or psychological resilience, is a powerful and essential part of life itself.
Buy it here.
Communism for Kids
By Bini Adamczak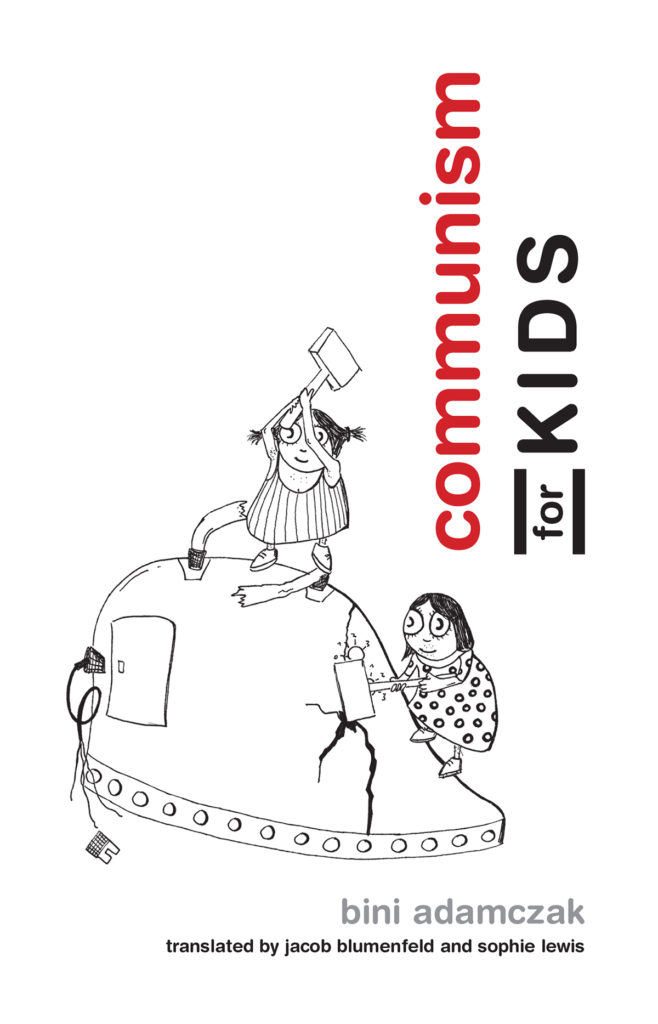 Once upon a time, people yearned to be free of the misery of capitalism. How could their dreams come true? This little book proposes a different kind of communism, one that is true to its ideals and free from authoritarianism. Offering relief for many who have been numbed by Marxist exegesis and given headaches by the earnest pompousness of socialist politics, it presents political theory in the simple terms of a children's story, accompanied by illustrations of lovable little revolutionaries experiencing their political awakening.
It all unfolds like a story, with jealous princesses, fancy swords, displaced peasants, mean bosses, and tired workers–not to mention a Ouija board, a talking chair, and a big pot called "the state." Before they know it, readers are learning about the economic history of feudalism, class struggles in capitalism, different ideas of communism, and more. Finally, competition between two factories leads to a crisis that the workers attempt to solve in six different ways (most of them borrowed from historic models of communist or socialist change). Each attempt fails, since true communism is not so easy after all. But it's also not that hard. At last, the people take everything into their own hands and decide for themselves how to continue. Happy ending? Only the future will tell. With an epilogue that goes deeper into the theoretical issues behind the story, this book is perfect for all ages and all who desire a better world.
Buy it here. Read the Critical-Theory article here.
The Incorporeal
By Elizabeth grosz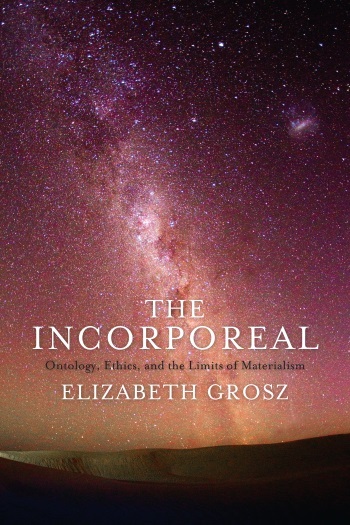 Philosophy has inherited a powerful impulse to embrace either dualism or a reductive monism—either a radical separation of mind and body or the reduction of mind to body. But from its origins in the writings of the Stoics, the first thoroughgoing materialists, another view has acknowledged that no forms of materialism can be completely self-inclusive—space, time, the void, and sense are the incorporeal conditions of all that is corporeal or material. In The Incorporeal Elizabeth Grosz argues that the ideal is inherent in the material and the material in the ideal, and, by tracing its development over time, she makes the case that this same idea reasserts itself in different intellectual contexts.
Grosz shows that not only are idealism and materialism inextricably linked but that this "belonging together" of the entirety of ideality and the entirety of materiality is not mediated or created by human consciousness. Instead, it is an ontological condition for the development of human consciousness. Grosz draws from Spinoza's material and ideal concept of substance, Nietzsche's amor fati, Deleuze and Guattari's plane of immanence, Simondon's preindividual, and Raymond Ruyer's self-survey or autoaffection to show that the world preexists the evolution of the human and that its material and incorporeal forces are the conditions for all forms of life, human and nonhuman alike. A masterwork by an eminent theoretician, The Incorporeal offers profound new insight into the mind-body problem
Buy it here.
There's No Such Thing as a Sexual Relationship
By Alain Badiou and Barbara Cassin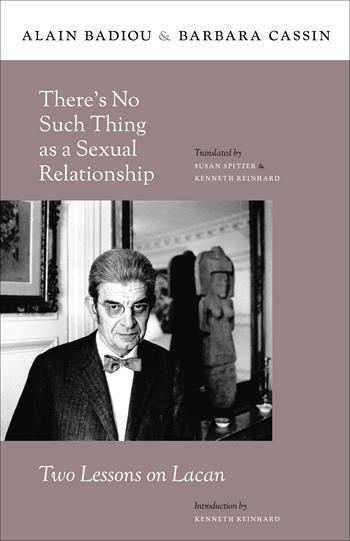 Published in 1973, "L'Etourdit" was one of the French philosopher Jacques Lacan's most important works. The book posed questions that traversed the entire body of Lacan's psychoanalytical explorations, including his famous idea that "there is no such thing as a sexual relationship," which seeks to undermine our certainties about intimacy and reality.
In There's No Such Thing as a Sexual Relationship, Alain Badiou and Barbara Cassin take possession of Lacan's short text, thinking "with" Lacan about his propositions and what kinds of questions they raise in relation to knowledge. Cassin considers the relationship of the real to language through a Sophist lens, while the Platonist Badiou unpacks philosophical claims about truth. Each of their contributions echoes back to one another, offering new ways of thinking about Lacan, his seminal ideas, and his role in advancing philosophical thought.
Buy it here.
Speculative Formalism
By Tom Eyers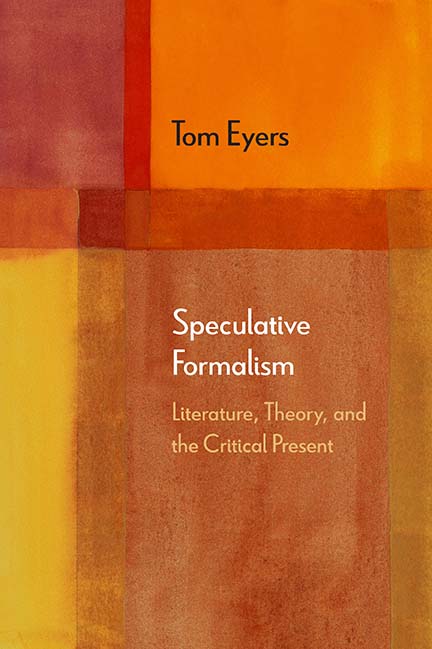 Speculative Formalism engages decisively in recent debates in the literary humanities around form and formalism, making the case for a new, nonmimetic and antihistoricist theory of literary reference. Where formalism has often been accused of sealing texts within themselves, Eyers demonstrates instead how a renewed, speculative formalism can illuminate the particular ways in which literature actively opens onto history, politics, and nature, in a connective movement that puts formal impasses to creative use.
Through a combination of philosophical reflection and close rhetorical readings, Eyers explores the possibilities and limits of deconstructive approaches to the literary, the impact of the "digital humanities" on theory, and the prospects for a formalist approach to "world literature." The book includes sustained close readings of Baudelaire, Mallarmé, Yeats, and Wallace Stevens, as well as Alain Badiou, Paul de Man, and Fredric Jameson.
Buy it here.
The Shock of the Anthropocene
By Christophe Bonneuil and Jean-Baptiste Fressoz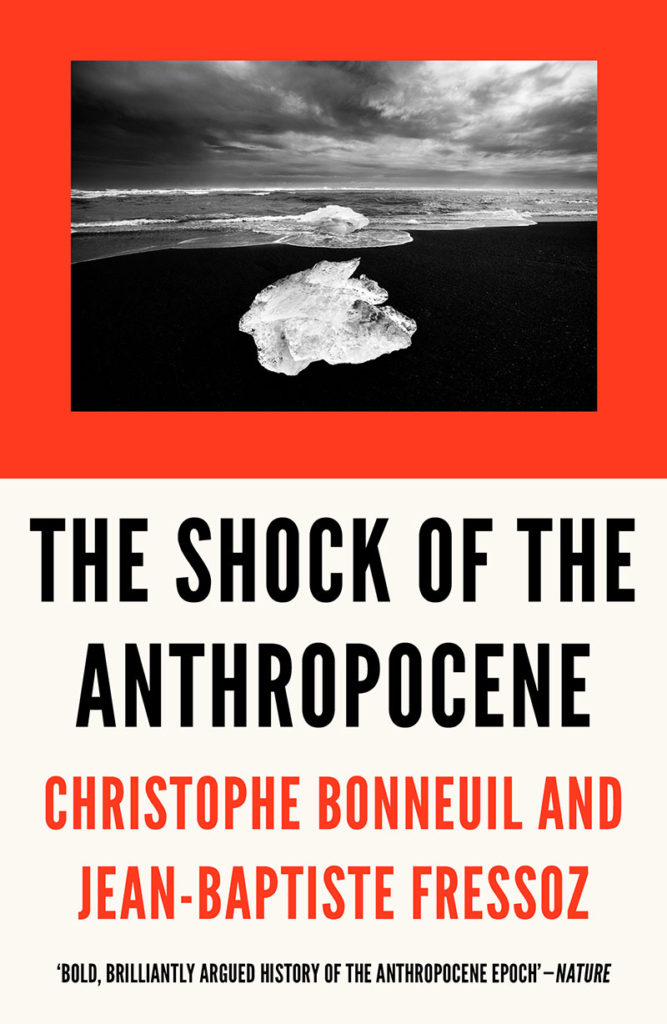 The Earth has entered a new epoch: the Anthropocene. What we are facing is not only an environmental crisis, but a geological revolution of human origin. In two centuries, our planet has tipped into a state unknown for millions of years.
How did we get to this point? Refuting the convenient view of a "human species" that upset the Earth system, unaware of what it was doing, this book proposes the first critical history of the Anthropocene, shaking up many accepted ideas: about our supposedly recent "environmental awareness," about previous challenges to industrialism, about the manufacture of ignorance and consumerism, about so-called energy transitions, as well as about the role of the military in environmental destruction. In a dialogue between science and history, The Shock of the Anthropocene dissects a new theoretical buzzword and explores paths for living and acting politically in this rapidly developing geological epoch.
Buy it here.
Anthropocene Feminism
Edited by Richard Grusin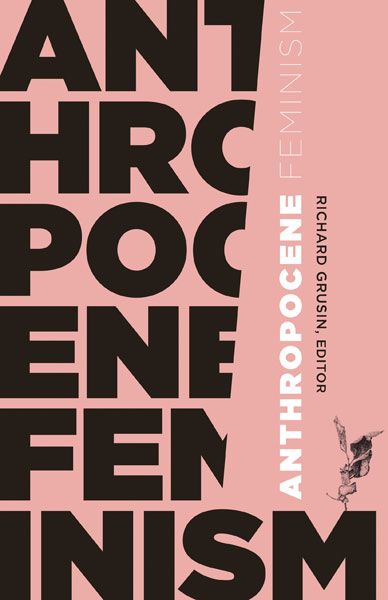 What does feminism have to say to the Anthropocene? How does the concept of the Anthropocene impact feminism? This book is a daring and provocative response to the masculinist and techno-normative approach to the Anthropocene so often taken by technoscientists, artists, humanists, and social scientists. By coining and, for the first time, fully exploring the concept of "anthropocene feminism," it highlights the alternatives feminism and queer theory can offer for thinking about the Anthropocene.
Feminist theory has long been concerned with the anthropogenic impact of humans, particularly men, on nature. Consequently, the contributors to this volume explore not only what current interest in the Anthropocene might mean for feminism but also what it is that feminist theory can contribute to technoscientific understandings of the Anthropocene. With essays from prominent environmental and feminist scholars on topics ranging from Hawaiian poetry to Foucault to shelled creatures to hypomodernity to posthuman feminism, this book highlights both why we need an anthropocene feminism and why thinking about the Anthropocene must come from feminism.
Buy it here.
The Anguish of Thought
By Evelyne Grossman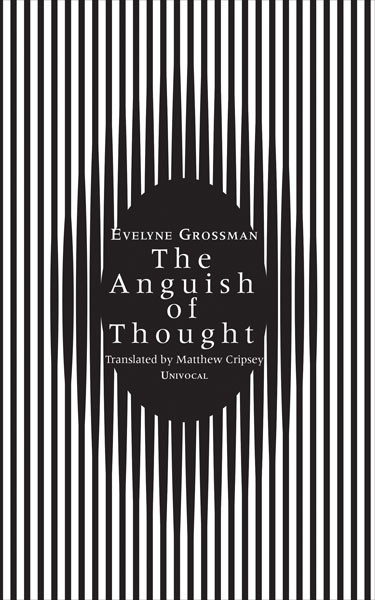 Anxiety is the obligatory gateway into writing: one's confrontation with powerlessness and anguish when faced with the task of thinking.
This is not the familiar anxiety of our most intimate fears, however violent they might be. Yet by exploring these same pathways twentieth-century thinkers such as Artaud, Blanchot, Derrida, Beckett, and Levinas set out to create new modes of thinking. All evoke the remarkable creative force residing at the heart of this negative anxiety. The anguish of thought thus denotes this experience of writing—as joyful as it is maddening—wherein I think outside Myself.
Buy it here.
 The Church, Authority, and Foucault
By Steven G. Ogden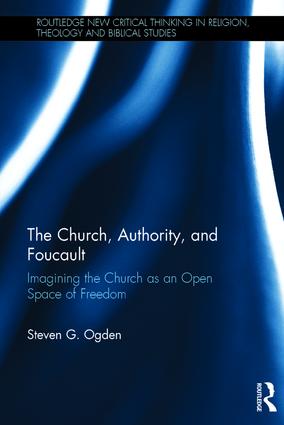 The Church, Authority, and Foucault addresses the problem of the Church's enmeshment with sovereign power, which can lead to marginalization. Breaking new ground, Ogden uses Foucault's approach to power and knowledge to interpret the church leader's significance as the guardian of knowledge. This can become privileged knowledge, under the spell of sovereign power, and with the complicity of clergy and laity in search of sovereigns. Inevitably, such a culture leads to a sense of entitlement for leaders and conformity for followers. All in the name of obedience.
Buy it here.