If you're an author or publisher with a forthcoming book, send us a line at [email protected]
Materialism
By Terry Eagleton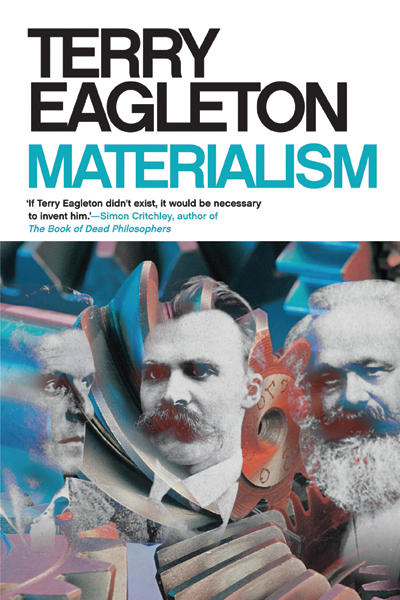 In this eye-opening, intellectually stimulating appreciation of a fascinating school of philosophy, Terry Eagleton makes a powerful argument that materialism is at the center of today's important scientific and cultural as well as philosophical debates. The author reveals entirely fresh ways of considering the values and beliefs of three very different materialists—Marx, Nietzsche, and Wittgenstein—drawing striking comparisons between their philosophies while reflecting on a wide array of topics, from ideology and history to language, ethics, and the aesthetic. Cogently demonstrating how it is our bodies and corporeal activity that make thought and consciousness possible, Eagleton's book is a valuable exposition on philosophic thought that strikes to the heart of how we think about ourselves and live in the world.
Buy it here.
Carceral Humanitarianism
By Kelly Oliver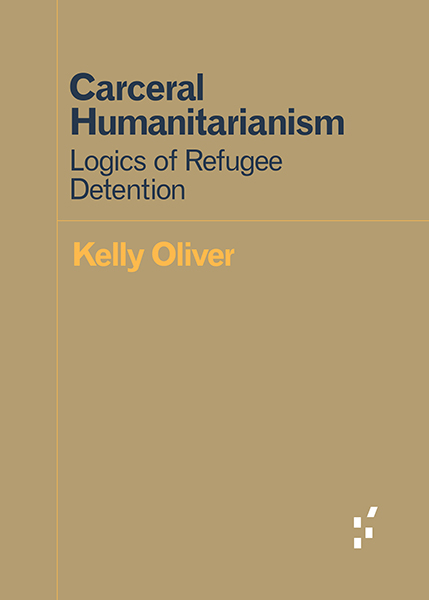 Coopted by military operations, humanitarianism has never been neutral. Rather than welcoming refugees, host countries assess the relative risks of taking them in versus turning them away, using a risk-benefit analysis that often reduces refugees to collateral damage in proxy wars fought in the war on terrorism. Carceral Humanitarianism testifies that humanitarian aid and human rights discourse are always political and partisan.
Buy it here.
Marx and Foucault: Essays Volume 1
By Antonio Negri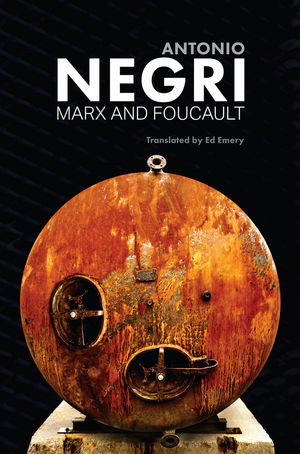 This the first of a new three-part series in which Antonio Negri, a leading political thinker of our time, explores key ideas that have animated radical thought and examines some of the social and economic forces that are shaping our world today.
In this first volume Negri shows how the thinking of Marx and Foucault were brought together to create an original theoretical synthesis – particularly in the context of Italy from May '68 onwards. At around that time, the structures of industry and production began to change radically, with the emergence of new producer-subjects and new fields of capitalist value creation. New concepts and theories were developed by Foucault, Deleuze and Guattari and others to help make sense of these and related developments – concepts such as biopower and biopolitics, subjectivation and subsumption, public and common, power and potentiality. These concepts and theories are examined by Negri within the broader context of the development of European philosophical discourse in the twentieth century.
Marx and Foucault provides a unique account of the development of radical thought in the late 20th and early 21st centuries and will be a key text for anyone interested in radical politics today.
Buy it here.
Facing the Planetary
By William E.  Connolly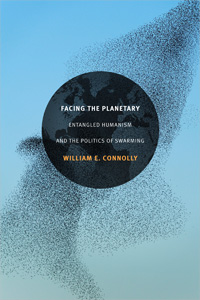 In Facing the Planetary William E. Connolly expands his influential work on the politics of pluralization, capitalism, fragility, and secularism to address the complexities of climate change and to complicate notions of the Anthropocene. Focusing on planetary processes—including the ocean conveyor, glacier flows, tectonic plates, and species evolution—he combines a critical understanding of capitalism with an appreciation of how such nonhuman systems periodically change on their own. Drawing upon scientists and intellectuals such as Lynn Margulis, Michael Benton, Alfred North Whitehead, Anna Tsing, Mahatma Gandhi, Wangari Maathai, Pope Francis, Bruno Latour, and Naomi Klein, Connolly focuses on the gap between those regions creating the most climate change and those suffering most from it. He addresses the creative potential of a "politics of swarming" by which people in different regions and social positions coalesce to reshape dominant priorities. He also explores how those displaying spiritual affinities across differences in creed can energize a militant assemblage that is already underway.
Buy it here.
Decolonizing Dialectics
By George Ciccariello-Maher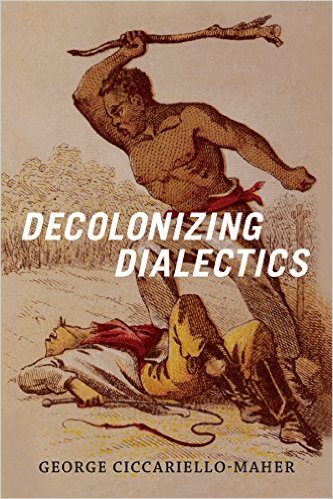 Anticolonial theorists and revolutionaries have long turned to dialectical thought as a central weapon in their fight against oppressive structures and conditions. This relationship was never easy, however, as anticolonial thinkers have resisted the historical determinism, teleology, Eurocentrism, and singular emphasis that some Marxisms place on class identity at the expense of race, nation, and popular identity. In recent decades, the conflict between dialectics and postcolonial theory has only deepened. In Decolonizing Dialectics George Ciccariello-Maher breaks this impasse by bringing the work of Georges Sorel, Frantz Fanon, and Enrique Dussel together with contemporary Venezuelan politics to formulate a dialectics suited to the struggle against the legacies of colonialism and slavery. This is a decolonized dialectics premised on constant struggle in which progress must be fought for and where the struggles of the wretched of the earth themselves provide the only guarantee of historical motion.
Advancing Conversations: Srecko Horvat
By Alfie Bown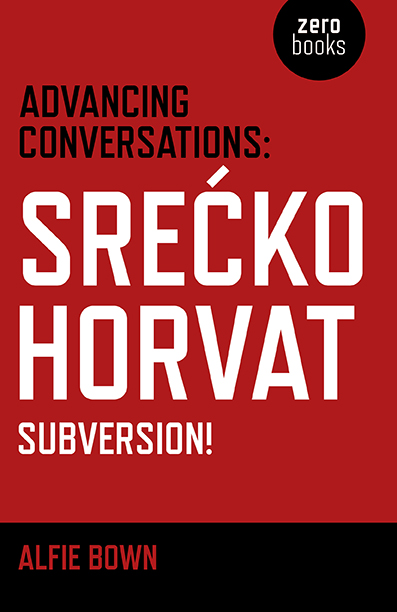 In a world dominated by capitalism which is dangerously sliding into a new kind of fascism, Srećko Horvat's new book explores the concept of subverting the dominant paradigm in politics, technology and love. Drawing from his own experience of participating in different protest movements all around the world, working closely with WikiLeaks and being one of the protagonists of the Democracy in Europe Movement 2025, Horvat resists the prevailing melancholy of the Left by offering new political imagination beyond traditional concepts. Instead of the tension between horizontal movements or vertical political parties, "Subversion!" opts for a radical dialectics of both methods as the only way out of our current deadlock. If there is a crack in everything, the way to use the light that gets in is constructive subversion.
Buy it here.
Philosophy for Non-Philosophers
By Louis  Althusser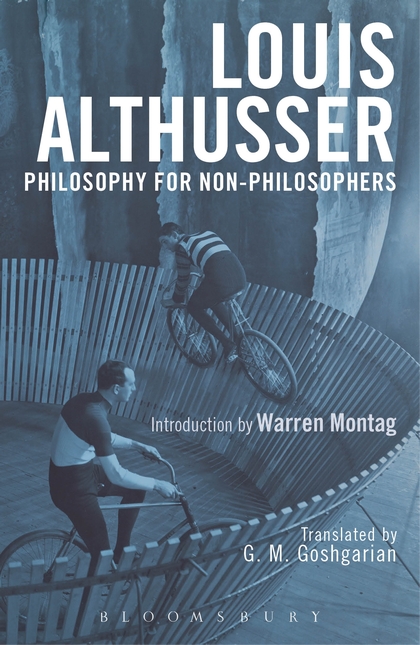 In 1980, at the end of the most intensely political period of his work and life, Louis Althusser penned Philosophy for Non-philosophers. Available here for the first time in English, Philosophy for Non-philosophers constitutes a rigorous and engaged attempt to address a wide reading public unfamiliar with Althusser's project. As such, the work is a concentration of the most fundamental theses of Althusser's own ideas, and presents a synthesis of his sprawling and disparate philosophical and political writings. Nowhere else does Althusser push the distinction between philosophy and other disciplines as far, or develop in such detail the concept of 'practice'.

Rather than a work of 'popular philosophy', Philosophy for Non-philosophers is a continuation and conglomeration of Althusser's thought; a thought whose radicality is still perceptible in those that have followed since. Philosophy for Non-philosophers thus provides a vivid encapsulation of Althusser's seminal influence on the leading thinkers of today, including Ranciere, Badiou, Balibar, and Žižek
Buy it here.
Rethinking Utopia
By David M. Bell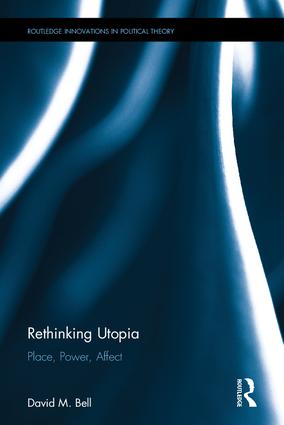 Over five hundred years since it was named, utopia remains a vital concept for understanding and challenging the world(s) we inhabit, even in – or rather because of – the condition of 'post-utopianism' that supposedly permeates them. In Rethinking Utopia David M. Bell offers a diagnosis of the present through the lens of utopia and then, by rethinking the concept through engagement with utopian studies, a variety of 'radical' theories and the need for decolonizing praxis, shows how utopianism might work within, against and beyond that which exists in order to provide us with hope for a better future.
Buy it here.