#1 Shock and Awe:  American Exceptionalism and the Imperatives of the Spectacle in Mark Twain's A Connecticut Yankee in King Arthur's Court
William V. Spanos
Expected release: October, 2013.
William V. Spanos is a Heideggarian and distinguished professor of  English and Comparative Literature at the SUNY Binghamton. He also really needs to cut down on his title lengths.
Most of Spanos' works involve the same formula: Book + Heidegger = American exceptionalism. "American Exceptionalism in the Age of Globalization" tracks American exceptionalism and its ontological underpinnings in literature and discourse surrounding Vietnam. He also takes on Herman Melville's Billy Budd in "The Exceptionalist State and the State of Exception."
His latest book, Shock and Awe, takes on one of Mark Twain's best, "A Connecticut Yankee in King Arthur's Court." The Twain story features a then-modern yankee, Hank Morgan,  who finds himself thrust backwards in time to the Middle Ages. Morgan, an engineer, soon finds himself "civilizing" the people of the Middle Ages and curing them of their backwards beliefs. Twain intended the book as a criticism of the contemporary admiration of the Middle Ages and the work of Sir Walter Scott.
From the Dartmouth College Press:
Inspired by the foreign policy entanglements of recent years, William V. Spanos offers a dramatic interpretation of Twain's classic A Connecticut Yankee in King Arthur's Court, providing a fresh assessment of American exceptionalism and the place of a global America in the American imaginary. Spanos insists that Twain identifies with his protagonist, particularly in his defining use of the spectacle, and thus with an American exceptionalism that uncannily anticipates the George W. Bush administration's normalization of the state of exception and the imperial policy of "preemptive war," unilateral "regime change," and "shock and awe" tactics. Equally stimulating is Spanos's thoroughly original ontology of American exceptionalism and imperialism and his tracing of these forces, through a chronological examination of Twain studies and criticism over the past century.

As an examination of an overlooked text, and a critical history of American studies from its origins in the nation-oriented Myth and Symbol school of the Cold War era to its present globalizing or transnationalizing perspective, Shock and Awe will appeal to a broad audience of American literature scholars and beyond.
#2 Identity and Difference: John Locke and the Invention of Consciousness
Etienne Balibar
Expected release: October, 2013
Etienne Balibar is a French Marxist who studied, like Badiou and Ranciere, under Louis Althusser. He also authored "Reading Capital" with Althusser. In his latest book, Balibar re-thinks the work of John Locke to place him in the ranks of other European critical theorists. Locke is often regarded as a canonical liberal thinker, so Balibar's new book is sure to raise some controversy.
From Verso:
John Locke's foundational place in the history of British empiricism and liberal political thought is well established. So, in what sense can Locke be considered a modern European philosopher? Identity and Difference argues for reassessing this canonical figure. Closely examining the "treatise on identity" added to the second edition of An Essay Concerning Human Understanding, Etienne Balibar demonstrates Locke's role in the formation of two concepts central to the metaphysics of the subject— consciousness and the self—and the complex philosophical, legal, moral and political nature of his terms.

With an accompanying essay by Stella Sandford, situating Balibar's reading of Locke in the history of the reception of the Essay and within Balibar's other writings on "the subject," Identity and Difference rethinks a crucial moment in the history of Western philosophy.
#3 Affective Politics: States of Debility and Capacity
Jasbir Puar
Expected release: 2014
Jasbir Puar is an Associate Professor of Women's & Gender Studies at Rutgers University. Her first book, "Terrorist Assemblages: Homonationalism in Queer Times" is probably one of the best books I've ever read. She has also written about animal studies and disability studies.
Not much is known about the book, other than a reference from Puar's website which claims to the book is forthcoming from Duke University Press sometime in 2014.
You can read Puar's article "Prognosis time: Towards a geopolitics of affect,debility and capacity" while you wait for more information.
#4 Nietzsche's Anti-Darwinism
Dirk Johnson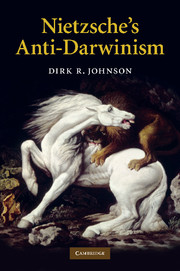 Expected release: September 2013
Nietzsche gets a lot of flack for being Nazi-ish (he's not, but the idea is his sisters fault). To be fair, all that ubermensch stuff does sound pretty compatible with that whole "master race" business, or at least some sort of crude Darwinism. That makes Dirk John's book all the more interesting.
From the Cambridge University Press.
Friedrich Nietzsche's complex connection to Charles Darwin has been much explored, and both scholarly and popular opinions have tended to assume a convergence in their thinking. In this study, Dirk Johnson challenges that assumption and takes seriously Nietzsche's own explicitly stated "anti-Darwinism." He argues for the importance of Darwin for the development of Nietzsche's philosophy, but he places emphasis on the antagonistic character of their relationship and suggests that Nietzsche's mature critique against Darwin represents the key to understanding his broader (anti-)Darwinian position. He also offers an original reinterpretation of the Genealogy of Morals, a text long considered sympathetic to Darwinian naturalism, but which he argues should be taken as Nietzsche's most sophisticated critique of both Darwin and his followers. His book will appeal to all who are interested in the philosophy of Nietzsche and its cultural context.
 #5 Foucault's Last Decade
Stuart Elden

Expected Release: TBA
Stuart Elden is a professor at Durham University and one of the founding editors of Foucault Studies. In the upcoming "Foucault's Last Decade", he explores the published and unpublished work of Foucault in the last 10 years of his life. The book deal was recently announced on Elden's blog, though the publisher has not released any info yet.
From Elden's blog.
This book offers a detailed account of the last decade of the work of Michel Foucault, in order both to situate his key works in relation to each other, and to outline an intellectual history of his final project on the history of sexuality. It works in a textual and contextual way, offering close readings of Foucault's works and situating them in relation to his life, political activism and collaborative projects at the Collège de France. The arguments of those works will be carefully reconstructed, filling in details and making links between published works, lecture material and unpublished projects.

Foucault's Last Decade will draw on all published and several unpublished writings of Foucault, including his lecture courses at the Collège de France and material archived in France, as well as interviews. It seeks to outline how the originally conceived thematic plan for the History of Sexuality was abandoned; how it led Foucault through work on governmentality and technologies of the self; how he came to write the more chronological historical study he was working on at his death; and to open up some of the possibilities he himself left unexplored or under-developed. It will discuss the key concerns of his work throughout this period; what he argues in well-known and unjustly neglected works; and the kinds of analyses his work makes possible.

The introductory chapter treats the early 1970s, tracing the theme of power in Foucault's work, and showing how this led to his book Discipline and Punish in 1975. The next chapters outline the themes in his lectures relating to the different subjects of sex as a knowledge and discipline and how these are crystallized in the programme of work proposed in the first volume of the History of Sexuality. The arguments of that text will be discussed in detail, but the book will also draw on the extant materials beyond the book itself to indicate where Foucault anticipated going with these ideas. Beginning in Chapter Five, the book then looks at how Foucault's project got into difficulties around the notion of confession, and led him to rethink its orientation. It therefore shows how the question of rule and regulation generally, and politics and ethics particularly, became concerns over the last few years of his life. As such the book goes beyond the History of Sexuality series itself, to weave in his arguments concerning governmentality and technologies of the self, which this book suggests were part of an overall research project on Foucault's part.