Is Creepy McCreeperson being a little too insistent on getting your digits? Before handing out the number to your local Popeye's when you're pressed, just try this number instead: (669) 221-6251.
Upon dialing the number, brought to you by Feminist Phone Intervention, you will receive a thought-provoking quote from activist and scholar bell hooks. The line received thousands of calls on the first day, "with no signs of slowing down," according to the Feminist Phone Intervention Tumblr.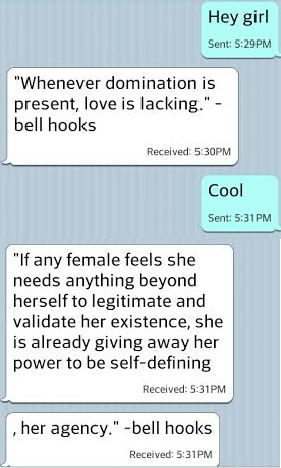 When I called a robotic voice said, "Sometimes people try to destroy you, precisely because they recognize your power — not because they don't see it, but because they see it and they don't want it to exist—this quote is brought to you by bell hooks," then a click.
After calling eight more times I think I heard most of the bell hooks quotes the line had to offer:
"Whenever domination is present, love is lacking."

"If any female feels she need anything beyond herself to legitimate and validate her existence, she is already giving away her power to be self-defining, her agency."
The line is currently seeking donations to stay live. Any money that goes beyond the cost of the phone bill will be donated to the The National Latina Institute for Reproductive Health.
You can donate here.
Stay tuned, there is also a Gmail account in the works which will auto-respond to emails by saying, "Thank you for your note. However, I am away on vacation — from the patriarchy."
Follow Zachary on Twitter.