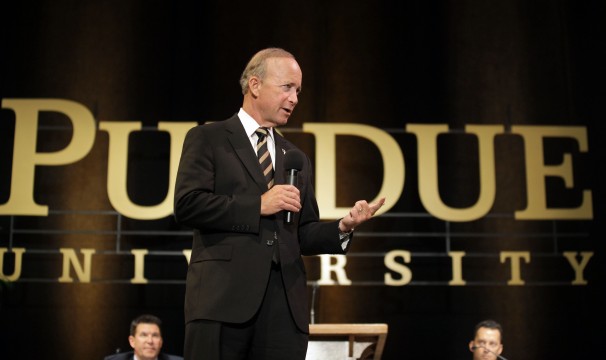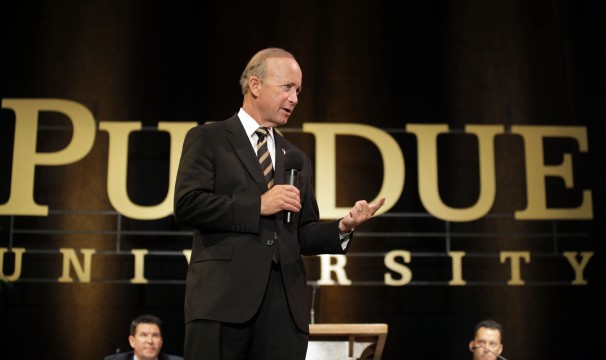 The president of Purdue University, Mitch Daniels, came under fire last week for recently released emails showing he tried to censor books from Indiana schools while he was governor of Indiana. Now, Daniels' defense of his actions is being scrutinized for alleged plagiarism.
The work in question was Howard Zinn's "A People's History of the United States" which historically examines everything awful the US government ever did. Daniels, who shortly after received an "incentive bonus" of over $50,000, defended his attacks on Zinn's work and claimed he only tried to ban the books from K-12 education.
In the wake of the Daniels' email, 90 Purdue professors signed onto an open letter condemning Daniels.
After the news of Daniels' bonus came out,  an Indiana lawmaker called for the resignation of of the trustees who approved the bonus. Except those trustees were mostly appointed by Daniels.
The plagiarism in question involves this July 17 statement, where Daniels attacks the academic integrity of Zinn's work. Boilerstation reports:
English writing experts, a New York journalist and critics of the former Indiana governor say a statement Daniels released July 17 in the wake of controversy over an Associated Press article contains striking similarities to two sources: an article by journalist Michael Moynihan published in Reason Magazine in 2010 and a Stanford University news release put out in December.
Now, that online version is shorter than earlier versions that were circulated. The Courier Journal reports:
Daniels said the reason his online statement about Zinn is now 113 words shorter than the version Purdue first emailed to reporters is because he axed the words of a Stanford University professor who expressed irritation with being included in the original remarks. However, statements from two other scholars Daniels first cited are missing, too.