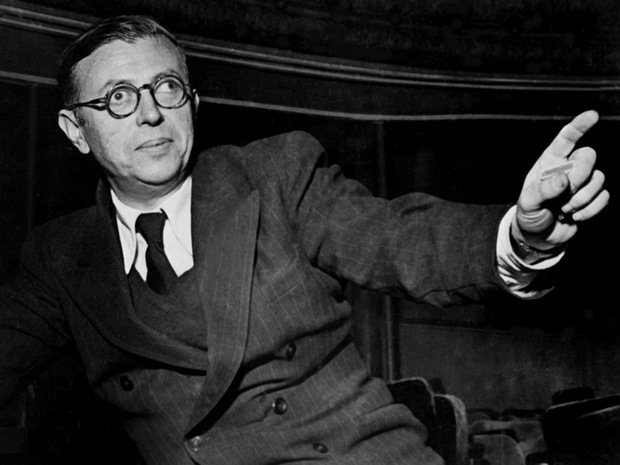 Last week, Open Culture dug up a Sartre parody titled "The Jean-Paul Sartre Cookbook" from a 1987 alternative newspaper.
In journal format, Sartre notes his journey into the world of omelette-making, taping "two frieds eggs over my eyes" and walking through Paris to "reach the bourgeoisie," as well as defiling Camus' meal with a loogie.  Open Culture  declared their favorites (which are also worth a look), but here are some of ours.
October 4
Still working on the omelet. There have been stumbling blocks. I keep creating omelets one after another, like soldiers marching into the sea, but each one seems empty, hollow, like stone. I want to create an omelet that expresses the meaninglessness of existence, and instead they taste like cheese. I look at them on the plate, but they do not look back. Tried eating them with the lights off. It did not help. Malraux suggested paprika.
October 7
Today I again modified my omelet recipe. While my previous attempts had expressed my own bitterness, they communicated only illness to the eater. In an attempt to reach the bourgeoisie, I taped two fried eggs over my eyes and walked the streets of Paris for an hour. I ran into Camus at the Select. He called me a "pathetic dork" and told me to "go home and wash my face." Angered, I poured a bowl of bouillabaisse into his lap. He became enraged, and, seizing a straw wrapped in paper, tore off one end of the wrapper and blew through the straw. propelling the wrapper into my eye. "Ow! You dick!" I cried. I leaped up, cursing and holding my eye, and fled.
November 15
I feel that I may be very close to a great breakthrough. I had been creating meal after meal, but none seemed to express the futility of existence any better than would ordering a pizza. I left the house this morning in a most depressed state, and wandered aimlessly through the streets. Suddenly, it was as if the heavens had opened. My brain was electrified with an influx of new ideas. "Juice, toast, milk.." I muttered aloud. I realized with a start that I was one ingredient away from creating the nutritious breakfast. Loathsome, true, but filled with existential authenticity. I rushed home to begin work anew.
November 21
Camus came into the restaurant today. He did not know I was in the kitchen, and before I sent out his meal I loogied in his soup. Sic semper tyrannis.
November 26
Today I made a Black Forest cake out of five pounds of cherries and a live beaver, challenging the very definition of the word "cake." I was very pleased. Malraux said he admired it greatly, but could not stay for dessert. Still, I feel that this may be my most profound achievement yet, and have resolved to enter it in the Betty Crocker Bake-Off.
Read all the entries here.
[Via Open Culture and Paul Spade]