by Etienne Balibar
John Locke's foundational place in the history of British empiricism and liberal political thought is well established. So, in what sense can Locke be considered a modern European philosopher? Identity and Difference argues for reassessing this canonical figure. Closely examining the "treatise on identity" added to the second edition of An Essay Concerning Human Understanding, Etienne Balibar demonstrates Locke's role in the formation of two concepts central to the metaphysics of the subject— consciousness and the self—and the complex philosophical, legal, moral and political nature of his terms.

With an accompanying essay by Stella Sandford, situating Balibar's reading of Locke in the history of the reception of the Essay and within Balibar's other writings on "the subject," Identity and Difference rethinks a crucial moment in the history of Western philosophy.
Buy it here.
by William V. Spanos
Inspired by the foreign policy entanglements of recent years, William V. Spanos offers a dramatic interpretation of Twain's classic A Connecticut Yankee in King Arthur's Court, providing a fresh assessment of American exceptionalism and the place of a global America in the American imaginary. Spanos insists that Twain identifies with his protagonist, particularly in his defining use of the spectacle, and thus with an American exceptionalism that uncannily anticipates the George W. Bush administration's normalization of the state of exception and the imperial policy of "preemptive war," unilateral "regime change," and "shock and awe" tactics. Equally stimulating is Spanos's thoroughly original ontology of American exceptionalism and imperialism and his tracing of these forces, through a chronological examination of Twain studies and criticism over the past century.

As an examination of an overlooked text, and a critical history of American studies from its origins in the nation-oriented Myth and Symbol school of the Cold War era to its present globalizing or transnationalizing perspective, Shock and Awe will appeal to a broad audience of American literature scholars and beyond.
Buy it here.
By Timothy Morton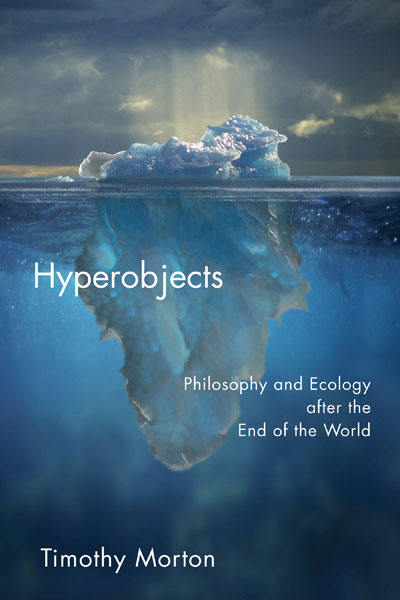 Having set global warming in irreversible motion, we are facing the possibility of ecological catastrophe. But the environmental emergency is also a crisis for our philosophical habits of thought, confronting us with a problem that seems to defy not only our control but also our understanding. Global warming is perhaps the most dramatic example of what Timothy Morton calls "hyperobjects"—entities of such vast temporal and spatial dimensions that they defeat traditional ideas about what a thing is in the first place. In this book, Morton explains what hyperobjects are and their impact on how we think, how we coexist with one another and with nonhumans, and how we experience our politics, ethics, and art.

Moving fluidly between philosophy, science, literature, visual and conceptual art, and popular culture, the book argues that hyperobjects show that the end of the world has already occurred in the sense that concepts such as world, nature, and even environment are no longer a meaningful horizon against which human events take place. Instead of inhabiting a world, we find ourselves inside a number of hyperobjects, such as climate, nuclear weapons, evolution, or relativity. Such objects put unbearable strains on our normal ways of reasoning.

Insisting that we have to reinvent how we think to even begin to comprehend the world we now live in, Hyperobjects takes the first steps, outlining a genuinely postmodern ecological approach to thought and action.
Buy it here.
by Fredric Jameson
The Antinomies of Realism is a history of the nineteenth-century realist novel and its legacy told without a glimmer of nostalgia for artistic achievements that the movement of history makes it impossible to recreate. The works of Zola, Tolstoy, Pérez Galdós, and George Eliot are in the most profound sense inimitable, yet continue to dominate the novel form to this day. Novels to emerge since struggle to reconcile the social conditions of their own creation with the history of this mode of writing: the so-called modernist novel is one attempted solution to this conflict, as is the ever-more impoverished variety of commercial narratives—what today's book reviewers dub "serious novels," which are an attempt at the impossible endeavor to roll back the past.

Fredric Jameson examines the most influential theories of artistic and literary realism, approaching the subject himself in terms of the social and historical preconditions for realism's emergence. The realist novel combined an attention to the body and its states of feeling with a focus on the quest for individual realization within the confines of history.
Buy it here.
by Dan Hancox
One hundred kilometres from Seville lies the small village of Marinaleda, which for the last thirty-five years has been the centre of a tireless struggle to create a living utopia. This unique community drew British author Dan Hancox to Spain, and here for the first time he recounts the fascinating story of villagers who expropriated the land owned by wealthy aristocrats and have, since the 1980s, made it the foundation of a cooperative way of life.

Today, Marinaleda is a place where the farms and the processing plants are collectively owned and provide work for everyone who wants it. A mortgage is €15 per month, sport is played in a stadium emblazoned with a huge mural of Che Guevara, and there are monthly 'Red Sundays' when everyone works together to clean up the neighbourhood. Leading this revolution is the village mayor, Juan Manuel Sánchez Gordillo, who in 2012 became a household name in Spain after heading raids on local supermarkets to feed the Andalusian unemployed.
Read the CT review, or buy it here.
Did we miss your book? Send any release news to tips@critical-theory.com to be included in November's roundup.