Are you a publisher or an author with a forthcoming book? Drop us a line at [email protected].
A Love of UIQ
By Felix Guattari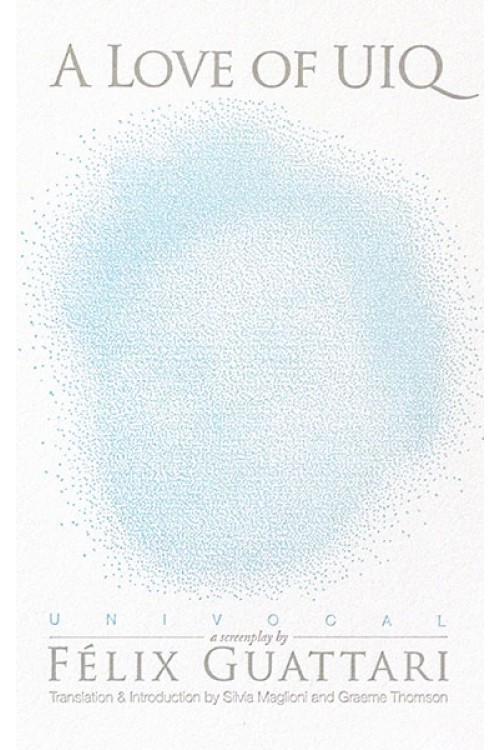 Throughout a large part of the 1980s, Felix Guattari, more known for his collaborations with Gilles Deleuze and his experimental and groundbreaking practices in psychotherapy, decides to shift his experimental work into a different medium of artistic and creative thought practice: the world of science fiction. Part self-analysis, part cinematic expression of his theoretical work, Guattari's screenplay merges his theoretical concepts with his passion for comic books, free radio movements, and his love of film. So begins Guattari's journey to write a screenplay wherein a group of squatters make contact with a superior intelligence coming from the infinitely small – The Universe of the Infra-quark (UIQ). Guattari worked feverishly on his film, attempting to secure a budget, traveling to Hollywood, and enlisting the help of American filmmaker, Robert Kramer. But the film would never see the light of day. Through the important archival work of artists, Silvia Maglioni and Graeme Thomson, Guattari's script has the chance to be published here, for the first time, in English.
Buy it here, or read the CT review.
The Use of Bodies
By Giorgio Agamben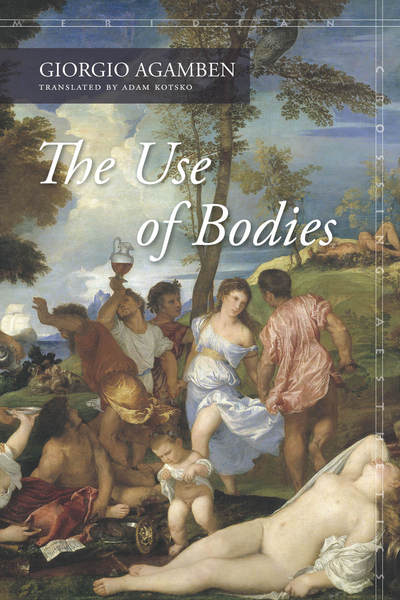 Giorgio Agamben's Homo Sacer was one of the seminal works of political philosophy in recent decades. It was also the beginning of a series of interconnected investigations of staggering ambition and scope, investigating the deepest foundations of Western politics and thought.
The Use of Bodies represents the ninth and final volume in this twenty-year undertaking, breaking considerable new ground while clarifying the stakes and implications of the project as a whole. It comprises three major sections. The first uses Aristotle's discussion of slavery as a starting point for radically rethinking notions of selfhood; the second calls for a complete reworking of Western ontology; and the third explores the enigmatic concept of "form-of-life," which is in many ways the motivating force behind the entire Homo Sacer project. Interwoven between these major sections are shorter reflections on individual thinkers (Debord, Foucault, and Heidegger), while the epilogue pushes toward a new approach to political life that breaks with the destructive deadlocks of Western thought. The Use of Bodies represents a true masterwork by one of our greatest living philosophers.
Buy it here.
Can Architecture Be An Emancipatory Project?
Edited by Nadir Z. Lahiji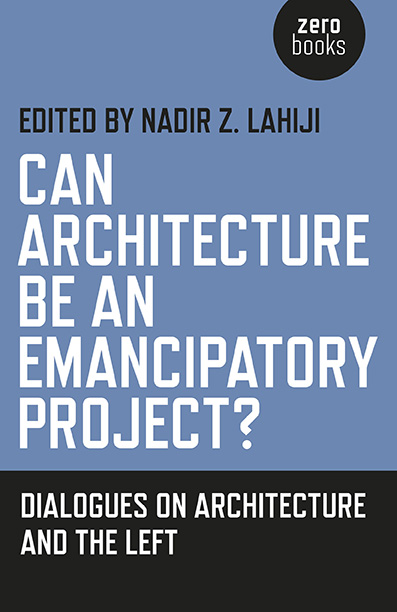 Can architecture be an instrument of emancipation? Can architects unchain themselves from their own instrumentalisation within capitalism? In a format as provocative as the questions Lahiji asks of his interlocutors – Andreotti, Cunningham, Deamer, Swyngedouw and Ockman – these are given a platform to ask searching questions of architecture, the Left, and each other. Their arguments and exchanges over issues of autonomy and activism, over the relationship between the political and the economic, over form and abstraction, are passionate, insightful and contentious. The critical engagement of its authors illuminates, for the theory and practice of architecture, what is at stake in the central question of Can Architecture be an Emancipatory Project? ~ Douglas Spencer, Professor of Architecture, Architectural Association, London.
Buy it here.
Inanimation
By David Wills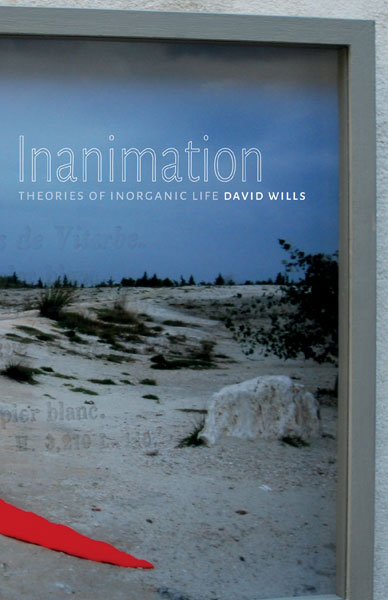 Inanimation offers a fresh account of what life is and the ethical and political consequences that follow from this conception. David Wills identifies and explores three major forms of inorganic life: autobiography, translation, and resonance. Informed by Jacques Derrida and Gilles Deleuze, Wills discovers life-forms well beyond textual remainders and translations.
Buy it here.
The Plebeian Experience
By Martin Breaugh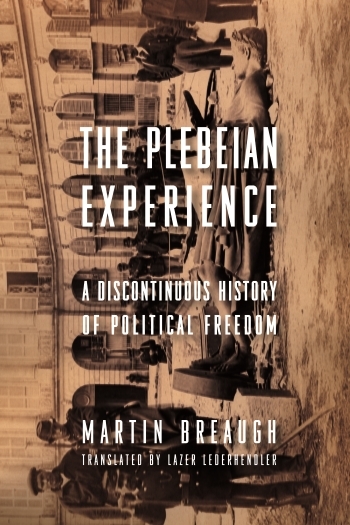 How do people excluded from political life achieve political agency? Through a series of historical events that have been mostly overlooked by political theorists, Martin Breaugh identifies fleeting yet decisive instances of emancipation in which people took it upon themselves to become political subjects. Emerging during the Roman plebs's first secession in 494 BCE, the plebeian experience consists of an underground or unexplored configuration of political strategies to obtain political freedom. The people reject domination through political praxis and concerted action, therefore establishing an alternative form of power.
Breaugh's study concludes in the nineteenth century and integrates ideas from sociology, philosophy, history, and political science. Organized around diverse case studies, his work undertakes exercises in political theory to show how concepts provide a different understanding of the meaning of historical events and our political present. The Plebeian Experience describes a recurring phenomenon that clarifies struggles for emancipation throughout history, expanding research into the political agency of the many and shedding light on the richness of radical democratic struggles from ancient Rome to Occupy Wall Street and beyond.
Buy it here.
We Are All Cannibals
By Claude Levi-Strauss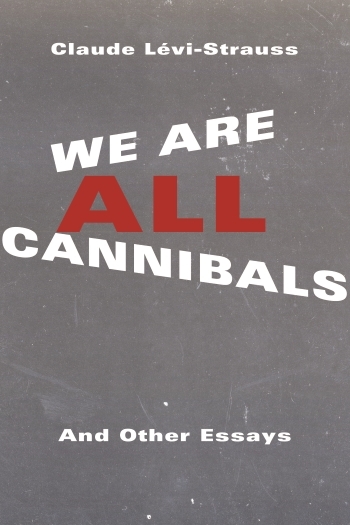 On Christmas Eve 1951, Santa Claus was hanged and then publicly burned outside of the Cathedral of Dijon in France. That same decade, ethnologists began to study the indigenous cultures of central New Guinea, and found men and women affectionately consuming the flesh of the ones they loved. "Everyone calls what is not their own custom barbarism," said Montaigne. In these essays, Claude Lévi-Strauss shows us behavior that is bizarre, shocking, and even revolting to outsiders but consistent with a people's culture and context.
These essays relate meat eating to cannibalism, female circumcision to medically assisted reproduction, and mythic thought to scientific thought. They explore practices of incest and patriarchy, nature worship versus man-made material obsessions, the perceived threat of art in various cultures, and the innovations and limitations of secular thought. Lévi-Strauss measures the short distance between "complex" and "primitive" societies and finds a shared madness in the ways we enact myth, ritual, and custom. Yet he also locates a pure and persistent ethics that connects the center of Western civilization to far-flung societies and forces a reckoning with outmoded ideas of morality and reason.
Buy it here.
Against Capital
Edited by Cliff Slaughter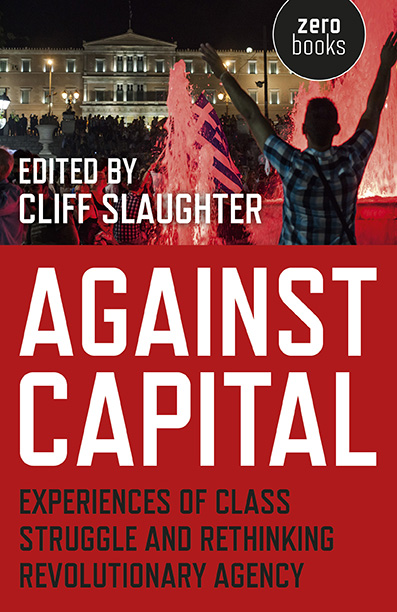 'The problem is not how to manage the capital system, but to get rid of it'. And who will do the job? These are the questions posed at the start of Cliff Slaughter's latest book. Recognising the importance of István Mészáros's analysis – in Beyond Capital (1995) and other books – of the historic, 'structural crisis' that has taken capital into its stage of 'destructive self-reproduction', Against Capital focuses on the crucial question of agency. Today, when there are fundamental disjunctures between the globalised economy, the means of social control and political and state structures, what are we to make of Marx's conclusion that the working class – capital's only structural antagonist – is 'the gravedigger' of capitalism? And what are the implications for this of the information revolution, the changing composition of the working class, and the emergence of new forms of oppositional organisation, with young people to the fore?
Slaughter assembles contributions by participants in recent movements in South Africa, Britain, Spain, Mexico, countries in the former Soviet zone and – in a major contribution from Yassamine Mather – the Middle East. He offers an extended critique of 'vanguardist' conceptions such as Trotsky's 'the crisis of humanity is reduced to the crisis of working-class revolutionary leadership' and Kautsky's and the early Lenin's formulation that socialist consciousness must be brought to the working class 'from the outside'. Finally, Against Capital examines the necessary theoretical foundations of a rebuilt working-class movement, with special attention to the concepts of class-consciousness and the relation between theory and practice.
This book is a compelling and distinctive contribution to recent debates encompassing works such as Thomas Piketty's Capital in the Twenty-First Century (2014) and Paul Mason's PostCapitalism (2015).
Buy it here.
On the Existence of Digital Objects
By Yuk Hui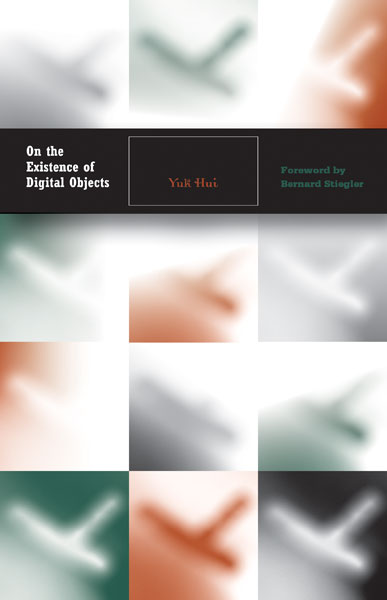 Digital objects, in their simplest form, are data. They are also a new kind of industrial object that pervades every aspect of our life today—as online videos, images, text files, e-mails, blog posts, Facebook events. Yet, despite their ubiquity, the nature of digital objects remains unclear.
On the Existence of Digital Objects conducts a philosophical examination of digital objects and their organizing schema by creating a dialogue between Martin Heidegger and Gilbert Simondon, which Yuk Hui contextualizes within the history of computing. How can digital objects be understood according to individualization and individuation? Hui pursues this question through the history of ontology and the study of markup languages and Web ontologies; he investigates the existential structure of digital objects within their systems and milieux. With this relational approach toward digital objects and technical systems, the book addresses alienation, described by Simondon as the consequence of mistakenly viewing technics in opposition to culture.
Interdisciplinary in philosophical and technical insights, with close readings of Husserl, Heidegger, and Simondon as well as the history of computing and the Web, Hui's work develops an original, productive way of thinking about the data and metadata that increasingly define our world.
Buy it here.
Of Reality
By Gianni Vattimo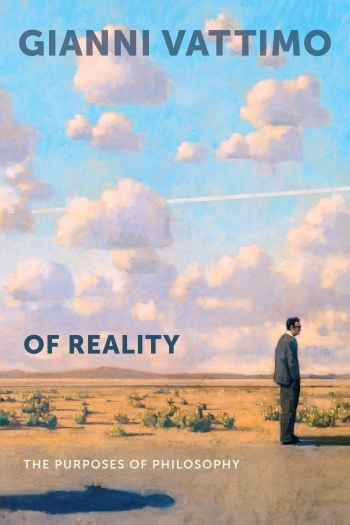 We think it is wise to accept reality, rather than fight for something that does not exist or might never be. But in Of Reality, Gianni Vattimo condemns this complacency, with its implicit support of the status quo. Instead he urges us to never stop questioning, contrasting, or overcoming reality, which is not natural, inevitable, or objective. Reality is a construct, reflecting, among other things, our greed, biases, and tendencies toward violence.
It is no accident, Vattimo argues, that the call to embrace reality has emerged at a time when the inequalities of liberal capitalism are at their most extreme. Developed from his popular Gifford Lectures, this book advances a critical approach that recovers our interpretive powers and native skepticism toward normative claims. Though he recognizes his ideas invite charges of relativism, the philosopher counters with a discussion of truth, highlighting its longstanding ties to history and social circumstance. Truth is always contingent and provisional, and reason and reasonableness are bound to historical context. Truth is therefore never objective, and resistance to reality is our best hope to defeat the indifference that threatens the scope of freedom and democracy.
Buy it here.