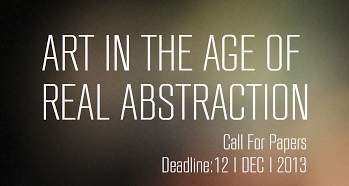 Historic iterations of abstraction in the visual arts have traditionally been associated with terms such as the non-representational, the non-figurative, and the immaterial, in opposition to a loosely defined concept of realism. In the post-war period, however, both realism and abstraction became unstable concepts, deployed to refer to a range of diverse practices, from Nouveau Réalisme to Art Informel to Abstract Expressionism. This conference invites papers that rethink the relation between realism and abstraction in the period between 1970 and the contemporary moment. Of particular concern are the impacts of two intersecting events: the advent of Neoliberalism and the dismantling of Modernism in art history.
'Art in the Age of Real Abstraction' seeks to investigate contemporary forms of abstraction through the analysis of different modes of representation, affectivity and performativity, drawing lines of continuity and addressing points of ambiguity between post-war abstraction and contemporary iterations. In recent critical discourse reification has been described as both a process of abstraction and as a figural process. On this view 'Real Abstraction' might be understood as the becoming-concrete of the abstract. As such 'Real Abstraction' calls for a rethinking of what the terms realism, figuration and abstraction might mean today.
We welcome papers that address the critical stakes of abstraction in the visual arts as a representational economy and as an aesthetic strategy, a way of inhabiting the contradictions produced by capital, and as a means of generating meaning, memory and historical experience.
We encourage academics, researchers and artists to submit papers on the following issues and debates (amongst others):
post-70s reconfigurations of abstraction
the artwork and the commodity form
feminist interventions in the history of abstraction
abstraction and historic experience
the intersection of realism and abstraction
artwork as theory, artwork as historiography
****EXTENDED DEADLINE****
Speakers should be prepared to present papers for 20 min followed by a discussion.
Please send 300 word abstracts by December 12th to:
Rye Dag Holmboe: [email protected]
Andrew Witt: [email protected]
The conference will be held on April 12th, 2014
Visit the UCL site for more info.