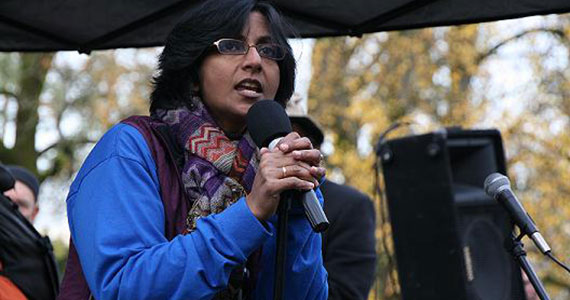 A candidate running under the "Socialist Alternative" party has defeated a Democratic incumbent in Seattle in a close city council race, the Seattle P-I reports.
Kshama Sawant currently leads Richard Conlin by 1,148 votes. Conlin has served four terms in Seattle's city council since being elected in 1997.
Sawant was endorsed by several unions, including Seattle's postal workers union. An Occupy Seattle organizer, Sawant was also endorsed by that old lady who got maced by police.
Sawant's platform included a $15/hour minimum wage, mandatory GMO labeling, ending corporate welfare, and unionizing companies like Starbucks that rely heavily on low-wage labor.
It's too early to tell what sort of conservative backlash will follow from an avowed socialist with a dog named "Che" winning public office, but Forbes is already freaking out that anybody without a neoliberal agenda is allowed to teach economics and run for office.
In an editorial from 4 days ago, Forbes' Jesse Lessinger laments that Sawant, a professor at Seattle Central Community College, is allowed to teach economics as a socialist.
How on earth can somebody who rejects basic academic knowledge be so close to winning a city council seat? Even more troublingly, how can somebody with her beliefs be allowed to teach an economics course? This would be analogous to allowing an AIDS denier to teach a medical microbiology course, a 9/11 truther to teach a foreign policy course, or a creationist to teach an evolution course.
Because, you know, thinking that poor people should have access to affordable housing is straight up crazy, right?
[H/T Seattle P-I]