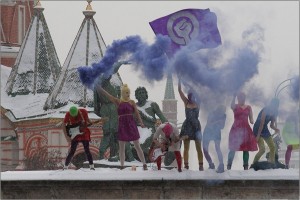 According to VoiceProject.org, Nadezhda Tolokonnikova and Maria Alyokhina of Pussy Riot will be granted amnesty and freed from prison. The two punk rockers were imprisoned for raging against the machine in a Russian Orthodox Church. As we reported earlier,
In March, 2012, Tolokonnikova and two other Pussy Riot members were arrested after staging a protest in a Russian Orthodox church. The members of the band sang, danced, and urged the Virgin Mary to get rid of Vladimir Putin and become a feminist.
Nadezhda was a philosophy student before being sentenced in August, 2012 to two years in prison.
The husband of Nadezhada confirmed Nadezhda and Maria's impending release to VoiceProject.org:
We've just spoken to Pyotr Verzilov, husband of imprisoned member Nadezhda Tolokonnikova, who is confirming the rumors about both members, Nadya and Maria Alyokhina, being freed under the amnesty bill being submitted by the Kremlin to parliament to mark the Russian constitution's 20th anniversary on Thursday. Nadya's father Andrei has also been able to confirm this from "reliable sources."
We can only hope the Nadezhda and Slavoj Zizek will now be best friends and rock out together after their widely publicized letter correspondences while Nadezhda was in prison.