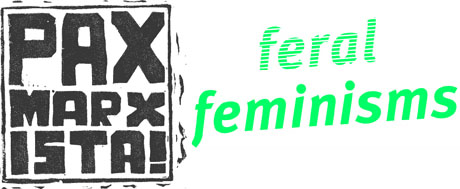 Marxist and feminist, and Marxist feminists rejoice! Two new open access journals have recently been launched and are now accepting submissions: Pax Marxista, a quarterly journal dedicated to (you guessed it) Marxism and Feral Feminisms which aims to radicalize and untame feminist thought.
Pax Marxista, which also has a fairly new blog, recently announced Pax Marxista: A Quarterly Journal of Marxist Theory and Revolutionary Thought that is open to submissions in the format of "academic articles, book reviews, reflections, poetry, and art."
We had recently posted an interview of Noam Chomsky conducted by Pax Marxista, wherein the interviewer continually baits Chomsky into addressing Zizek's concept of revolutionary violence.
Feral Feminisms has recently launched a call for papers for their second issue, though the first issue has yet to be released. The current call for papers is for a special issue titled "Feminist Un/Pleasure: Reflections on Perversity, BDSM, and Desire." I can only hope someone will submit "Towards a Feminist Theory of Furries." The deadline is November 15, 2013.
Feral Feminisms is also seeking guest or ongoing editors:
We invite proposals for guest editing special issues from both individuals and groups, at various career stages and especially encourage students, activists, artists and independent scholars to submit. We are seeking an array of contributions, which will engage with feminisms in all their manifestations and articulations. We invite submissions informed by (but not limited to) the fields of: literary theory, film studies, visual arts, animal studies, science and technology studies, cultural studies, critical race and postcolonial studies, queer and critical sexuality theories, philosophies, psychoanalysis, critical disability studies, and performance studies.

Interested guest editors should submit a proposal of 500 words outlining the proposed theme and vision for the special issue, a title, and the issue's relevance to the Aims & Scope of the journal, as well as a 2 page curriculum vitae. Please direct inquiries and submissions to the Managing Editors of Feral Feminisms, Danielle Cooper, Ela Przybylo, and Sara Rodrigues ([email protected]) with the subject heading "Guest Editing Proposal."
For more info on the Pax Marxista journal and submission guidelines, click here.
For more info on Feral Feminisms and submission guidelines, click here.
Also be sure to go like their Facebook pages and support open access publishing, Feral Feminisms and Pax Marxista.