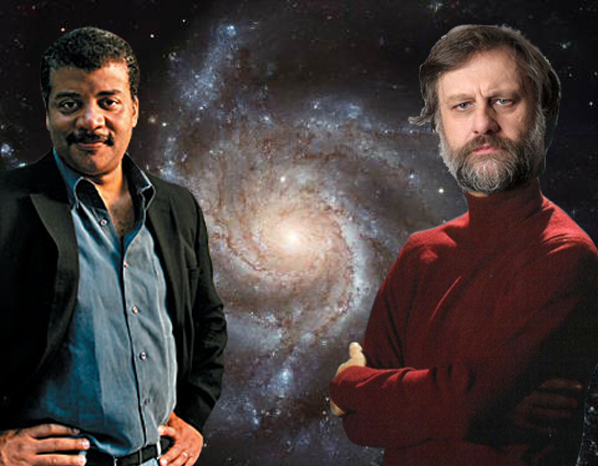 After the widespread popularity and critical acclaim of the "Cosmos" reboot with astophysicist Neil deGrasse Tyson, Fox has announced work on a sister-project entitled "The Real" to be hosted by Slovenian theorist Slavoj Zizek. Unlike "Cosmos", which centers around physics and other hard sciences, "The Real" will be an expansive survey of the development of human culture and civilization. It is slated to air early in 2015.
"We're extremely happy to be working with Mr. Zizek," 21st Century Fox said in a press release, "his sharp wit and entertainment prowess will be an invaluable asset in telling the story of humanity."
In an interview with Critical-Theory, Fox programming director Theresa Jenkins told us that Fox had been looking to work with Zizek since the critical acclaim of "The Pervert's Guide to Cinema." Zizek, Jenkins tells us, was vetted to replace Alan Colmes after his 2009 departure from "Hannity & Colmes."
"It just didn't work out," Jenkins notes, "Slavoj refused to be on air in a suit. He even showed up to the interview in a t-shirt covered in stains and beard dandruff."
Some Fox executives had concerns about letting an avowed Communist be on network television. Zizek even met with Rubert Murdoch, who allegedly "hit it off" with the theorist. "There's just something about the way he slobbers the word 'billions," Murdoch was quoted as saying.
We also caught up with Zizek, who is "totally excited" for the project. "You know, there is something I deeply respect about Murdoch's authoritarian attitude – it very much reminds me of Stalin."
"They are letting me say whatever I want," he continues, "in part because they think I'm a clown. I hope I can leverage this to achieve my real dream – writing a book with Sarah Palin. I wish to call it 'Restoring America: Family, Faith, and Fantasy.'"
You can watch the full interview with Zizek here.