#1 Cinders by Jacques Derrida
May 2014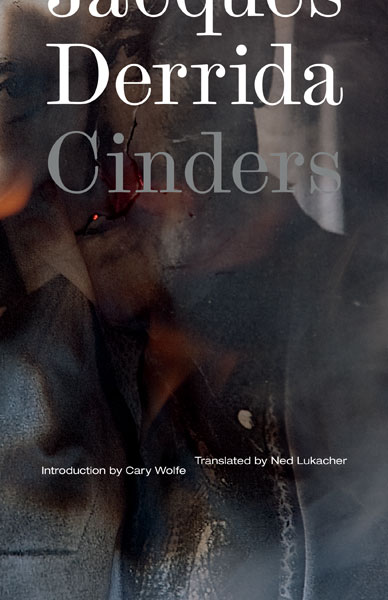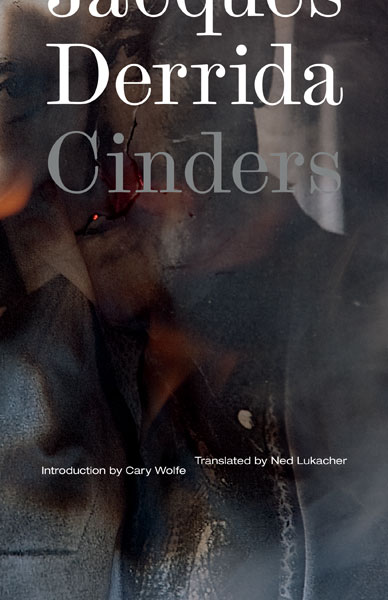 "More than fifteen years ago," Jacques Derrida writes in the prologue to this remarkable and uniquely revealing book, "a phrase came to me, as though in spite of me. . . . It imposed itself upon me with the authority, so discreet and simple it was, of a judgment: 'cinders there are' (il y a là cendre). . . . I had to explain myself to it, respond to it—or for it."

In Cinders Derrida ranges across his work from the previous twenty years and discerns a recurrent cluster of arguments and images, all involving in one way or another ashes and cinders. For Derrida, cinders or ashes—at once fragile and resilient—are "the better paradigm for what I call the trace—something that erases itself totally, radically, while presenting itself."
More info here.
#2 On The Reproduction of Capitalism by Louis Althusser
February 2014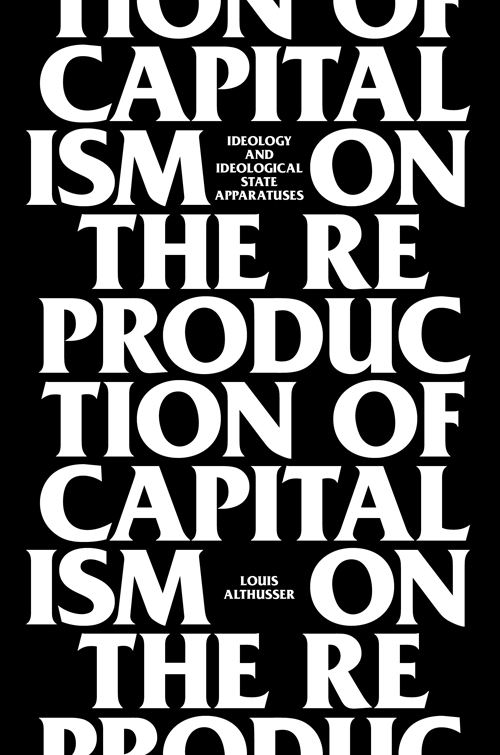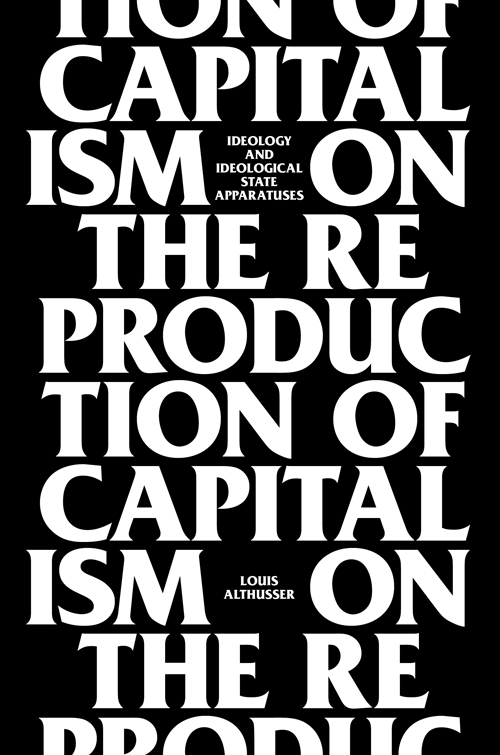 The first translation of Althusser's key text on ideology

Louis Althusser's renowned short text 'Ideology and Ideological State Apparatuses' radically transformed the concept of the subject, the understanding of the state and even the very frameworks of cultural, political and literary theory. The text has influenced thinkers such as Judith Butler, Ernesto Laclau and Slavoj Žižek.

The piece is, in fact, an extract from a much longer book, On the Reproduction of Capitalism, until now unavailable in English. Its publication makes possible a reappraisal of seminal Althusserian texts already available in English, their place in Althusser's oeuvre and the relevance of his ideas for contemporary theory. On the Reproduction of Capitalism develops Althusser's conception of historical materialism, outlining the conditions of reproduction in capitalist society and the revolutionary struggle for its overthrow.
More info here.
#3 The Ethics of Deconstruction: Derrida and Levinas
(3rd Edition) by Simon Critchley
Simon Critchley's first book, The Ethics of Deconstruction, was originally published to great acclaim in 1992. The first book to argue for the ethical turn in Derrida's work, it powerfully shows how deconstruction has persuasive ethical consequences that are vital to our thinking through of questions of politics and democracy. Moving away from using deconstruction to find the contradictions inherent in any text, Critchley concerns himself with the philosophical context, showing that Derrida's work is driven by an ethical impetus. Derrida's ethics needs to be understood in relation to his engagement with Levinas, and The Ethics of Deconstruction lays out the details of their philosophical confrontation.
#4 Theorizing Native Studies by Andrea Smith and Audra Simpson
May 2014
This important collection makes a compelling argument for the importance of theory in Native studies. Within the field, there has been understandable suspicion of theory stemming both from concerns about urgent political issues needing to take precedence over theoretical speculations and from hostility toward theory as an inherently Western, imperialist epistemology. The editors of Theorizing Native Studies take these concerns as the ground for recasting theoretical endeavors as attempts to identify the larger institutional and political structures that enable racism, inequities, and the displacement of indigenous peoples. They emphasize the need for Native people to be recognized as legitimate theorists and for the theoretical work happening outside the academy, in Native activist groups and communities, to be acknowledged. Many of the essays demonstrate how Native studies can productively engage with others seeking to dismantle and decolonize the settler state, including scholars putting theory to use in critical ethnic studies, gender and sexuality studies, and postcolonial studies. Taken together, the essays demonstrate how theory can serve as a decolonizing practice with analytical heft.

Contributors. Christopher Bracken, Glen Coulthard, Mishuana R. Goeman, Dian Million, Scott Lauria Morgensen, Robert Nichols, Vera B. Palmer, Mark Rifkin, Audra Simpson, Andrea Smith, Teresia Teaiwa
Read more here.
#5 Rhetorical Foundations of Society by Ernesto Laclau
May 2014

The essays collected in this volume develop the theoretical perspective initiated in Laclau and Mouffe's classic Hegemony and Socialist Strategy,taking it in three principal directions. First, this book explores the specificity of social antagonisms and answers the question "What is an antagonistic relation?"—an issue which has become increasingly crucial in our globalized world, where the proliferation of conflicts and points of rupture is eroding their links to the social subjects postulated by classical social analysis. This leads Laclau to a second line of questioning: What is the ontological terrain that allows us to understand the nature of social relations in our heterogeneous world?" This is a task he addresses with theoretical instruments drawn from analytical philosophy and from the phenomenological and structuralist traditions. Finally, central to the argument of the book is the basic role attributed to rhetorical tropes—metaphor, metonymy, catachresis—in shaping the "non-foundational" grounds of society.
Read more here.
#6 Iconoclastic Theology: Deleuze and Secretion of Atheism by F. LeRon Shults
March 2014

F. LeRon Shults explores Deleuze's fascination with theological themes and shows how his entire corpus can be understood as a creative atheist machine that liberates thinking, acting and feeling. Shults also demonstrates how the flow of a productive atheism can be increased by bringing Deleuzian concepts into dialogue with insights derived from the bio-cultural sciences of religion.

Gilles Deleuze consistently hammered away at icons, overturning pretentious images taken as true copies of ideal models. He was particularly critical of religious Figures. In What is Philosophy? Deleuze argued that religion and transcendence, like philosophy and immanence, always come (and go) together. What value, then, could he possibly have found in engaging theology, which is typically bound to a particular religious coalition? Chipping away at repressive religious representations was valuable in itself for Deleuze, but he also believed that religion produced something of considerable value. He insisted that every religion secretes atheism, and none more so than Christianity.
Read more here.
#7 Breathing Race Into the Machine by Lundy Braun
Lundy Braun traces the little-known history of the spirometer to reveal the ways medical instruments have worked to naturalize racial and ethnic differences, from Victorian Britain to today. An unsettling account of the pernicious effects of racial thinking that divides people along genetic lines, this book helps us understand how race enters into science and shapes medical research and practice.
Read more here.
#8 Radical Thinker Series by Althusser, Ranciere and More
January 2014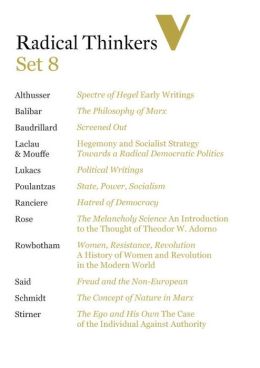 Verso's Radical Thinker series, now in its 8th iteration, selects canonical texts in radical philosophy.
#9 The Imperial University by Piya Chatterjee and Sunaina Maira
April 2014

The Imperial University brings together scholars to explore the policing of knowledge by explicitly linking the academy to the broader politics of militarism, racism, nationalism, and neoliberalism that define the contemporary imperial state. Based on multidisciplinary research, autobiographical accounts, and even performance scripts, this urgent analysis offers sobering insights into varied manifestations of "the imperial university."
Read more here.
 #10 Gendering the Recession by Diane Negra and Yvonne Tasker
March 2014

This timely, necessary collection of essays provides feminist analyses of a recession-era media culture characterized by the re-emergence and refashioning of familiar gender tropes, including crisis masculinity, coping women, and postfeminist self-renewal. Interpreting media forms as diverse as reality television, financial journalism, novels, lifestyle blogs, popular cinema, and advertising, the contributors reveal gendered narratives that recur across media forms too often considered in isolation from one another. They also show how, with a few notable exceptions, recession-era popular culture promotes affective normalcy and transformative individual enterprise under duress, while avoiding meaningful critique of the privileged white male or the destructive aspects of Western capitalism. By acknowledging the contradictions between political rhetoric and popular culture, and between diverse screen fantasies and lived realities, Gendering the Recession helps to make sense of our post-boom cultural moment.
Read more here.
#11 Settler Common Sense by Mark Rifkin
June 2014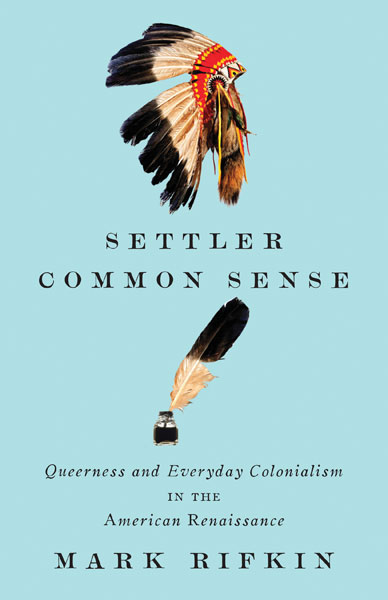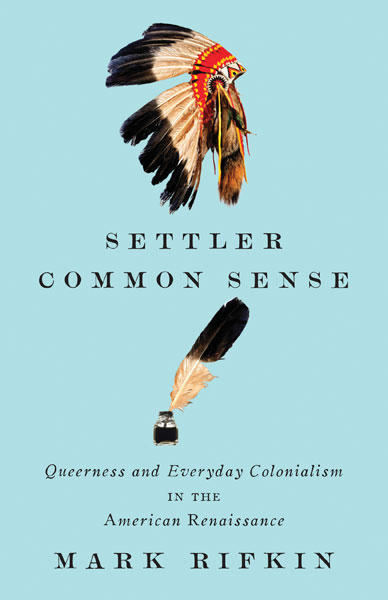 In Settler Common Sense, Mark Rifkin explores how some of the most canonical of American writers take part in the legacy of displacing Native Americans. Although the books he focuses on are not about Indians, they serve as examples of what Rifkin calls "settler common sense," taking for granted the legal and political structure through which Native peoples continue to be dispossessed.

In analyzing Nathaniel Hawthorne's House of the Seven Gables, Rifkin shows how the novel draws on Lockean theory in support of small-scale landholding and alternative practices of homemaking. The book invokes white settlers in southern Maine as the basis for its ethics of improvement, eliding the persistent presence of Wabanaki peoples in their homeland. Rifkin suggests that Henry David Thoreau's Walden critiques property ownership as a form of perpetual debt. Thoreau's vision of autoerotic withdrawal into the wilderness, though, depends on recasting spaces from which Native peoples have been dispossessed as places of non-Native regeneration. As against the turn to "nature," Herman Melville's Pierre presents the city as a perversely pleasurable place to escape from inequities of land ownership in the country. Rifkin demonstrates how this account of urban possibility overlooks the fact that the explosive growth of Manhattan in the nineteenth century was possible only because of the extensive and progressive displacement of Iroquois peoples upstate.
Read more here.
#12 Representing Capital by Fredric Jameson
January 2014
Representing Capital, Fredric Jameson's first book-length engagement with Marx's magnum opus, is a unique work of scholarship that records the progression of Marx's thought as if it were a musical score. The textual landscape that emerges is the setting for paradoxes and contradictions that struggle toward resolution, giving rise to new antinomies and a new forward movement. These immense segments overlap each other to combine and develop on new levels in the same way that capital itself does, stumbling against obstacles that it overcomes by progressive expansions, which are in themselves so many leaps into the unknown.
Read more here.
#13 Badiou and the  Political Condition by Marios A. Constantinou
February 2014
The 11 essays in this volume, including a new piece by Badiou himself, reflect the formative traditions that shape the background of his political thought. They intervene critically and evaluate the present state of Badiou's work, while also breaking new ground and creating new thresholds of political thought.

The contributors are a range of established scholars and rising theorists of the Badiou-effect. Each engages with the critical question of 'how to transmit the exception' politically. at the intersection of contemporary anti-imperial polemics and debates that strike at the heart of the post-modern condition (Lyotard), deconstruction (Derrida), psychoanalysis (Lacan – Zizek), biopolitics (Hardt and Negri) and pedagogy (Rancière).
Read more here.
#14 Thought in the Act by Brian Massumi and Erin Manning
May 2014
Combining philosophy and aesthetics, Thought in the Act is a unique exploration of creative practice as a form of thinking. Challenging the common opposition between the conceptual and the aesthetic, Erin Manning and Brian Massumi "think through" a wide range of creative practices in the process of their making, revealing how thinking and artfulness are intimately, creatively, and inseparably intertwined. They rediscover this intertwining at the heart of everyday perception and investigate its potential for new forms of activism at the crossroads of politics and art.

Emerging from active collaborations, the book analyzes the experiential work of the architects and conceptual artists Arakawa and Gins, the improvisational choreographic techniques of William Forsythe, the recent painting practice of Bracha Ettinger, as well as autistic writers' self-descriptions of their perceptual world and the experimental event making of the SenseLab collective. Drawing from the idiosyncratic vocabularies of each creative practice, and building on the vocabulary of process philosophy, the book reactivates rather than merely describes the artistic processes it examines. The result is a thinking-with and a writing-in-collaboration-with these processes and a demonstration of how philosophy co-composes with the act in the making. Thought in the Act goes beyond proposing to enact a collaborative mode of thinking in the act at the intersection of art, philosophy, and politics.
Read more here.
#15 Agamben and Politics by Sergei Prozorov
April 2014
Tracing how the logic of inoperativity works in the domains of language, law, history and humanity, Agamben and Politics systematically introduces the fundamental concepts of Agamben's political thought and a critically interprets his insights in the wider context of contemporary philosophy.

Agamben's commentators and critics tend to focus on his powerful critique of the Western political tradition in the Homo Sacer series. But this narrow focus serves to obscure the overall structure of Agamben's political thought, which is neither negative nor critical but affirmative. Sergei Prozorov brings out the affirmative mood of Agamben's political thought, focusing on the concept of inoperativity, which has been central to Agamben's work from his earliest writings.
Read more here.