The Legacy of Rosa Luxemburg
By Norma Geras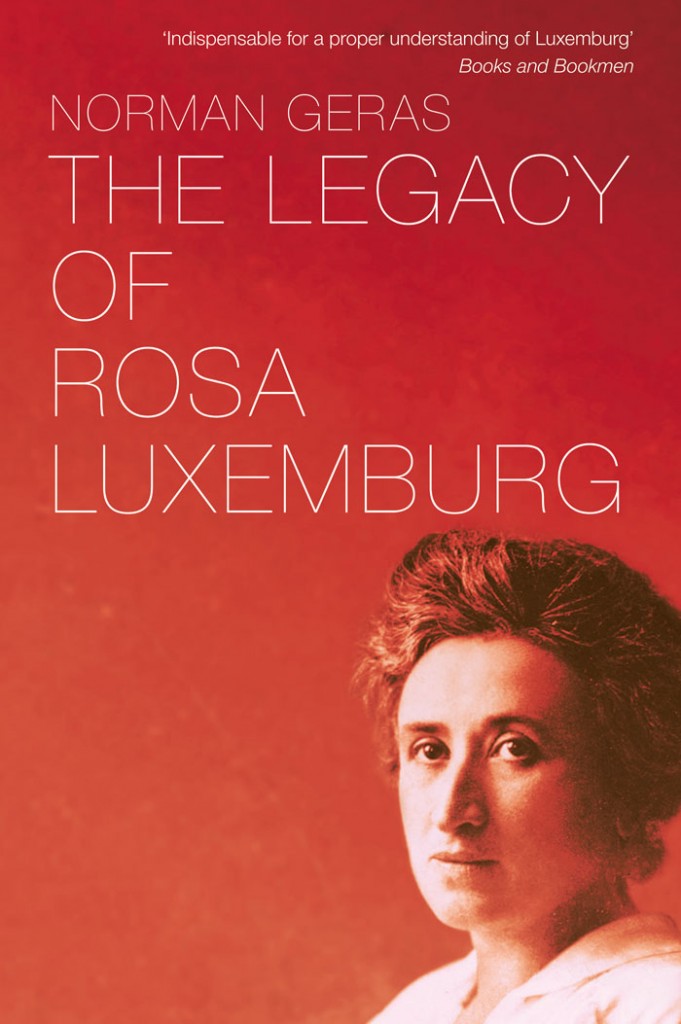 "During the first decades of the twentieth century, Rosa Luxemburg was the leader of the workers' movement in Poland and Germany. She made a remarkable contribution to socialist theory and practice, yet her legacy remains in dispute. In this book Norman Geras interrogates and refutes the myths that have developed around her work. She was an opponent of socialist participation in the First World War and, as Geras shows, her views on socialist strategy in Russia were closer to Lenin's than any other leader's. Geras explores the development of Luxemburg's critique in the period following the war and demonstrates how her thought is distinct from the social democratic or anarchist theories into which it is often subsumed. Geras brings new light to bear on one of the most misrepresented figures in radical history, illustrating her inspiring lack of complacency and her commitment to questioning those in authority on both the Right and the Left."
Buy it here.
Dead Letters Sent
By Kevin Ohi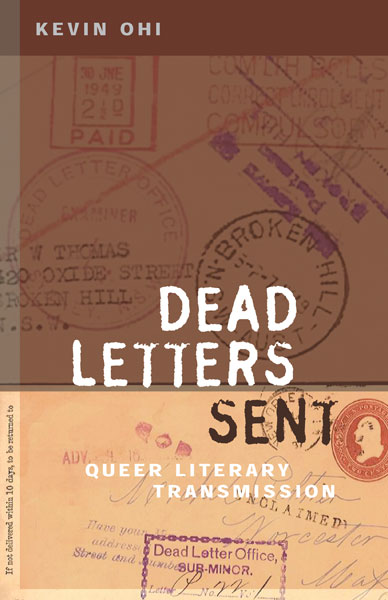 "Literary texts that address tradition and the transmission of knowledge often seem concerned less with preservation than with loss, recurrently describing scenarios of what author Kevin Ohi terms "thwarted transmission." Such scenes, however, do not so much concede the impossibility of survival as look into what constitutes literary knowledge and whether it can properly be said to be an object to be transmitted, preserved, or lost.
Beginning with general questions of transmission—the conveying of knowledge in pedagogy, the transmission and material preservation of texts and forms of knowledge, and even the impalpable communication between text and reader—Dead Letters Sent examines two senses of "queer transmission." First, it studies the transmission of a minority sexual culture, of queer ways of life and the specialized knowledges they foster. Second, it examines the queer potential of literary and cultural transmission, the queerness that is sheltered within tradition. By exploring how these two senses are intertwined, it builds a persuasive argument for the relevance of queer criticism to literary study. Its detailed attention to works by Plato, Shakespeare, Swinburne, Pater, Wilde, James, and Faulkner seeks to formulate a practice of reading adequate to the queerness Ohi's book uncovers within the literary tradition."
Buy it here.
Freedom to Fail
By Peter Trawney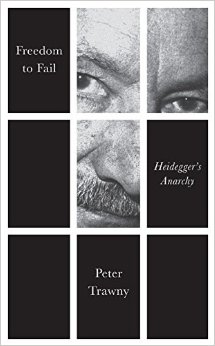 "Martin Heidegger is widely regarded as one of the most influential philosophers of the twentieth-century, and his seminal text Being and Time is considered one of the most significant texts in contemporary philosophy. Yet his name has also been mired in controversy because of his affiliations with the Nazi regime, his failure to criticize its genocidal politics and his subsequent silence about the holocaust.
Now, according to Heidegger's wishes, and to complete the publication of his multi-volume Complete Works, his highly controversial and secret 'Black Notebooks' have been released to the public. These notebooks reveal the extent to which Heidegger's 'personal Nazism' was neither incidental nor opportunistic, but part of his philosophical ethos. So, why would Heidegger, far from destroying them, allow these notebooks, which contain examples of this extreme thinking, to be published?
In this revealing new book, Peter Trawny, editor of Heidegger's complete works in German, confronts these questions and, by way of a compelling study of his theoretical work, shows that Heidegger was committed to a conception of freedom that is only beholden to the judgement of the history of being; that is, that to be free means to be free from the prejudices, norms, or mores of one's time.
Whoever thinks the truth of being freely exposes themselves to the danger of epochal errancy. For this reason, Heidegger's decision to publish his notebooks, including their anti-Jewish passages, was an exercise of this anarchical freedom. In the course of a wide-ranging discussion of Heidegger's views on truth, ethics, the truth of being, tragedy and his relationship to other figures such as Nietzsche and Schmitt, Trawny provides a compelling argument for why Heidegger wanted the explosive material in his Black Notebooks to be published, whilst also offering an original and provocative interpretation of Heidegger's work."
Buy it here.
Beyond the Pale
By Vron Ware

"How have ideas about white women figured in the history of racism? Vron Ware argues that they have been central, and that feminism has, in many ways, developed as a political movement within racist societies. Dissecting the different meanings of femininity and womanhood, Beyond the Pale examines the political connections between black and white women, both within contemporary racism and feminism, as well as in historical examples like the anti-slavery movement and the British campaign against lynching in the United States. Beyond the Pale is a major contribution to anti-racist work, confronting the historical meanings of whiteness as a way of overcoming the moralism that so often infuses anti-racist movements."
Buy it here.
Complicated Presence
By Jussi Backman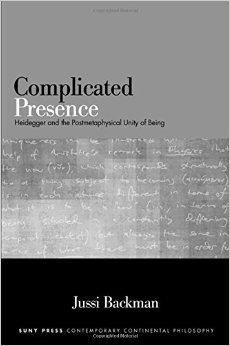 "From its Presocratic beginnings, Western philosophy concerned itself with a quest for unity both in terms of the systematization of knowledge and as a metaphysical search for a unity of being—two trends that can be regarded as converging and culminating in Hegel's system of absolute idealism. Since Hegel, however, the philosophical quest for unity has become increasingly problematic. Jussi Backman returns to that question in this book, examining the place of the unity of being in the work of Heidegger. Backman sketches a consistent picture of Heidegger as a thinker of unity who throughout his career in different ways attempted to come to terms with both Parmenides's and Aristotle's fundamental questions concerning the singularity or multiplicity of being—attempting to do so, however, in a "postmetaphysical" manner rooted in rather than above and beyond particular, situated beings. Through his analysis, Backman offers a new way of understanding the basic continuity of Heidegger's philosophical project and the interconnectedness of such key Heideggerian concepts as ecstatic temporality, the ontological difference, the turn (Kehre), the event (Ereignis), the fourfold (Geviert), and the analysis of modern technology."
Buy it here.
Thinking Through Animals
By Matthew Calarco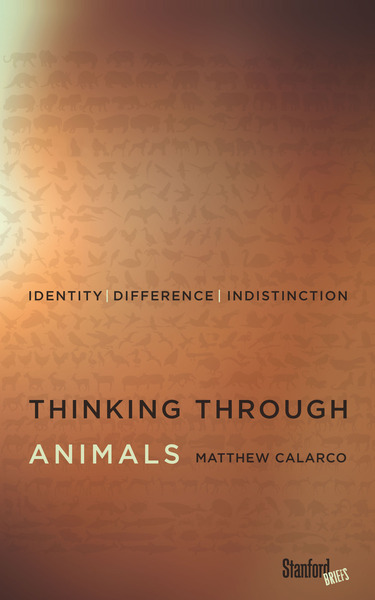 "The rapidly expanding field of critical animal studies now offers a myriad of theoretical and philosophical positions from which to choose. This timely book provides an overview and analysis of the most influential of these trends. Approachable and concise, it is intended for readers sympathetic to the project of changing our ways of thinking about and interacting with animals yet relatively new to the variety of philosophical ideas and figures in the discipline. It uses three rubrics—identity, difference, and indistinction—to differentiate three major paths of thought about animals. The identity approach aims to establish continuity among human beings and animals so as to grant animals equal access to the ethical and political community. The difference framework views the animal world as containing its own richly complex and differentiated modes of existence in order to allow for a more expansive ethical and political worldview. The indistinction approach argues that we should abandon the notion that humans are unique in order to explore new ways of conceiving human-animal relations. Each approach is interrogated for its relative strengths and weaknesses, with specific emphasis placed on the kinds of transformational potential it contains."
Buy it here.
Black Macho
By Michele Wallace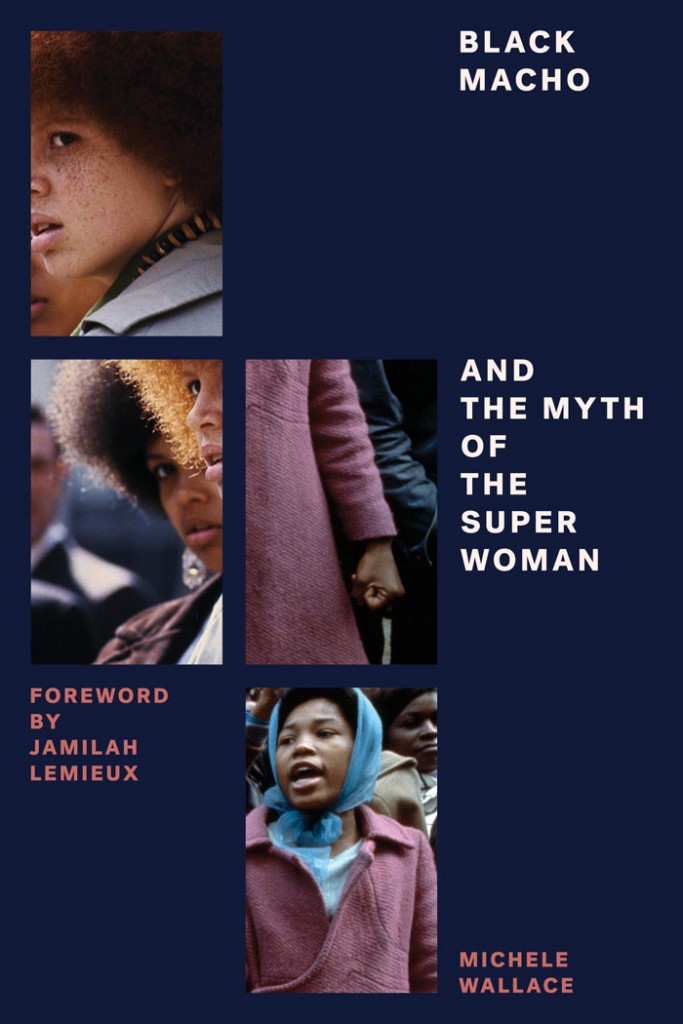 "Originally published in 1978, Black Macho and the Myth of the Superwoman caused a storm of controversy. Michele Wallace blasted the masculine biases of the black politics that emerged from the sixties. She described how women remained marginalized by the patriarchal culture of Black Power, demonstrating the ways in which a genuine female subjectivity was blocked by the traditional myths of black womanhood. With a foreword that examines the debate the book has sparked between intellectuals and political leaders, as well as what has—and, crucially, has not—changed over the last four decades, Black Macho and the Myth of the Superwoman continues to be deeply relevant to current feminist debates and black theory today."
Buy it here.
Verso Radical Thinkers Set 10
By Various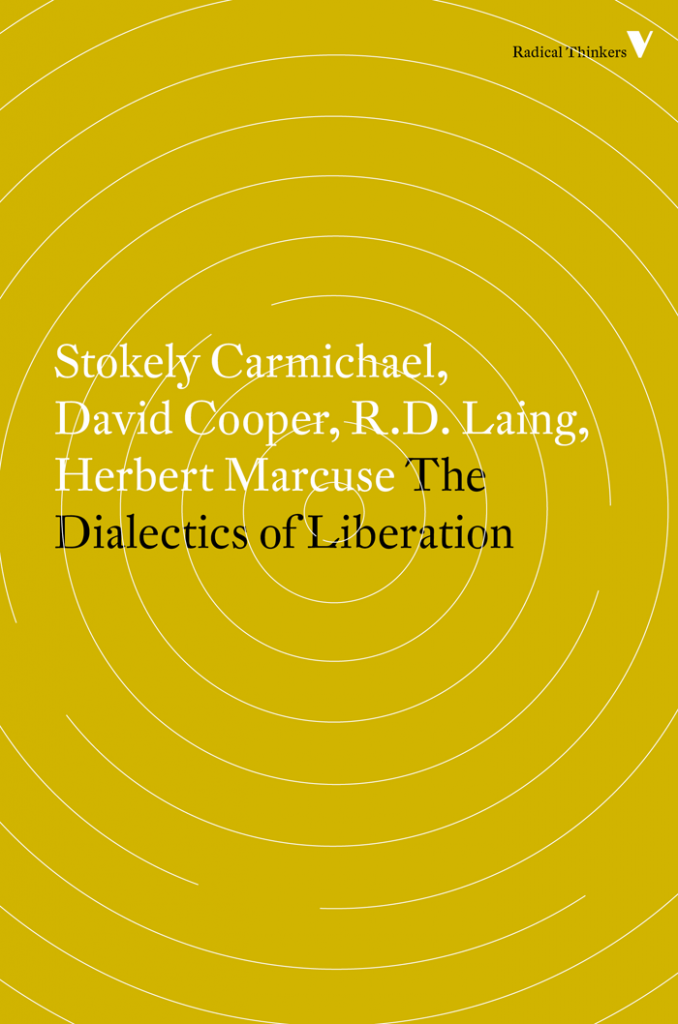 Verso's 10th iteration of its Radical Thinkers series focuses on psychoanalysis
Buy them here.