If you're an author or a publisher with a forthcoming book, drop us a line at [email protected]. Please use the subject line "new book."
Class, Race and Marxism
By David R. Roediger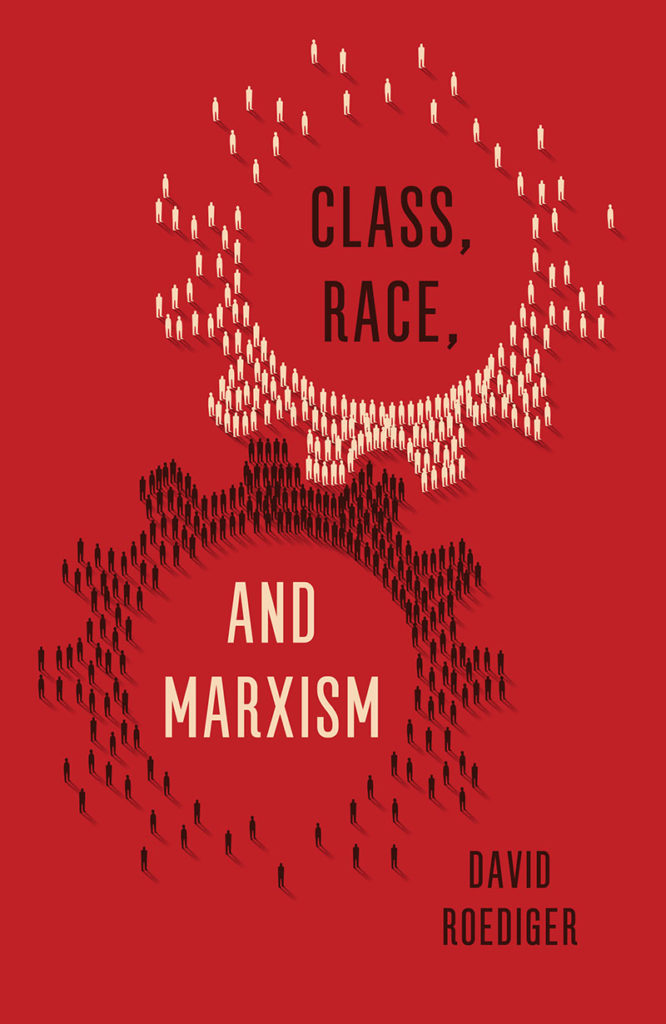 "Seen as a key figure in the critical study of whiteness, US historian David Roediger has sometimes received criticism, and praise, alleging that he left Marxism behind in order to work on questions of identity. This volume collects his recent and new work implicitly and explicitly challenging such a view. In his historical studies of the intersections of race, settler colonialism, and slavery, in his major essay (with Elizabeth Esch) on race and the management of labour, in his detailing of the origins of critical studies of whiteness within Marxism, and in his reflections on the history of solidarity, Roediger argues that racial division is not only part of the history of capitalism but also of the logic of capital."
Buy it here.
Politicizing Digital Space: Theory, the Internet, and Renewing Democracy
By Trevor Garrison Smith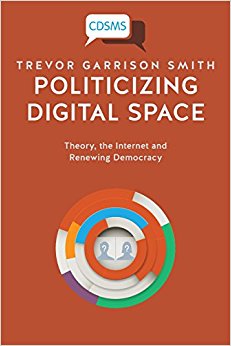 "The objective of this book is to outline how a radically democratic politics can be reinvigorated in theory and practice through the use of the internet. The author argues that politics in its proper sense can be distinguished from anti-politics by analyzing the configuration of public space, subjectivity, participation, and conflict. Each of these terrains can be configured in a more or less political manner, though the contemporary status quo heavily skews them towards anti-political configuration.
Using this understanding of what exactly politics entails, this book considers how the internet can both help and hinder efforts to move each area in a more political direction. By explicitly interpreting contemporary theories of the political in terms of the internet, this analysis avoids the twin traps of both technological determinism and technological cynicism.
Raising awareness of what the word 'politics' means, the author develops theoretical work by Arendt, Rancière, Žižek and Mouffe to present a clear and coherent view of how in theory, politics can be digitized and alternatively how the internet can be deployed in the service of truly democratic politics."
Buy it here.
Hegel and Spinoza
By Gregor Moder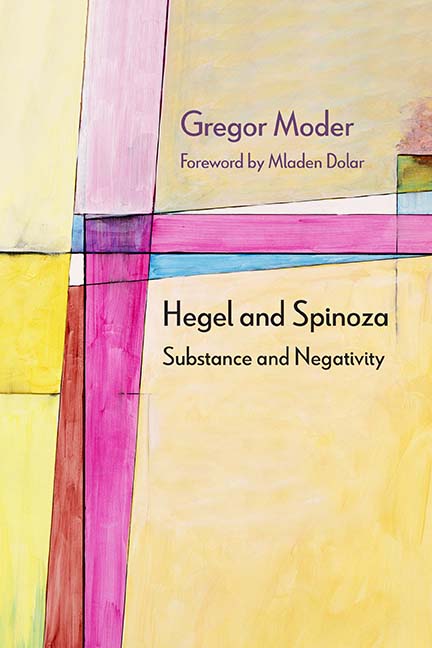 "Gregor Moder's Hegel and Spinoza: Substance and Negativity is a lively entry into current debates concerning Hegel, Spinoza, and their relation. Hegel and Spinoza are two of the most influential philosophers of the modern era, and the traditions of thought they inaugurated have been in continuous dialogue and conflict ever since Hegel first criticized Spinoza. Notably, eighteenth- and nineteenth-century German Idealists aimed to overcome the determinism of Spinoza's system by securing a place for the freedom of the subject within it, and twentieth-century French materialists such as Althusser and Deleuze rallied behind Spinoza as the ultimate champion of anti-Hegelian materialism. This conflict, or mutual rejection, lives on today in recent discussions about materialism. Contemporary thinkers either make a Hegelian case for the productiveness of concepts of the negative, nothingness, and death, or in a way that is inspired by Spinoza they abolish the concepts of the subject and negation and argue for pure affirmation and the vitalistic production of differences.
Hegel and Spinoza traces the historical roots of these alternatives and shows how contemporary discussions between Heideggerians and Althusserians, Lacanians and Deleuzians are a variation of the disagreement between Hegel and Spinoza. Throughout, Moder persuasively demonstrates that the best way to read Hegel and Spinoza is not in opposition or contrast but together: as Hegel and Spinoza."
Buy it here.
Futurability
By Franco "Bifo" Berardi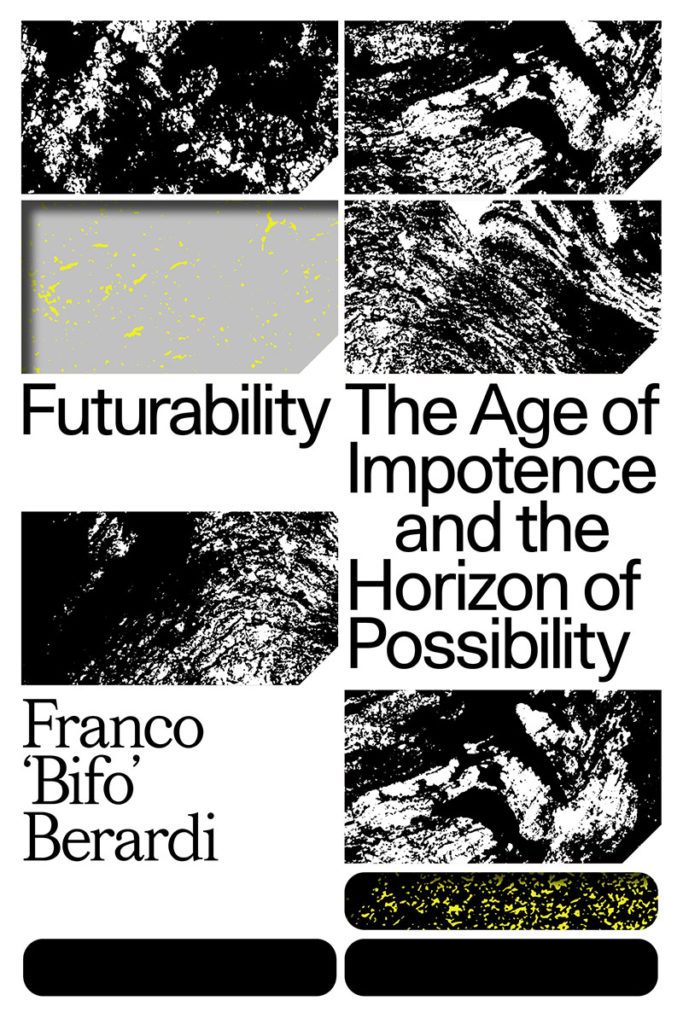 "We live in an age of impotence. Stuck between global war and global finance, between identity and capital, we seem incapable of producing the radical change that is so desperately needed. Meanwhile the struggle for dominance over the world is a battlefield with only two protagonists: the forces of neoliberalism on one side, and the new order led by the likes of Trump and Putin on the other. How can we imagine a new emancipatory vision, capable of challenging the deadlock of the present? Is there still a way to disentangle ourselves from a global order that shapes our politics as well as our imagination?
In this inspired work, renowned Italian theorist Franco Berardi tackles this question through a grounded yet visionary analysis of three concepts fundamental to his understanding of the present: possibility, potency, and power. Characterizing possibility as content, potency as energy, and power as form, Berardi suggests that the road to emancipation unspools from an awareness that the field of the possible is only limited, and not created, by the power structures behind it. Other futures and other worlds are always already inscribed within the present, despite power's attempt to keep them invisible.
Overcoming the temptation to give in to despair or nostalgia, Berardi proposes the notion of 'futurability' as a way to remind us that even within the darkness of our current crisis a better world lies dormant. In this volume, Berardi presents the most systematic account to date of his philosophy, making a crucial theoretical contribution to the present and future struggle."
Buy it here.
Feminism, Capitalism, and Critique: Essays in Honor of Nancy Fraser
Edited by Banu Bargu and Chiari Bottici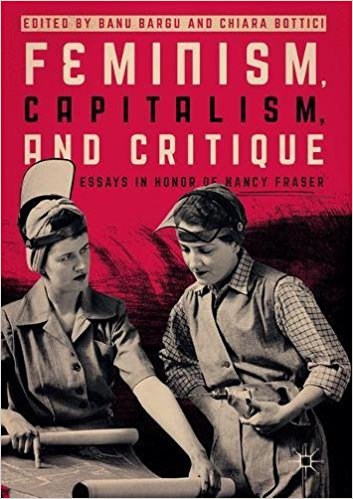 "This edited collection examines the relationship between three central terms―capitalism, feminism, and critique―while critically celebrating the work and life of a thinker who has done the most to address this nexus: Nancy Fraser. In honor of her seventieth birthday, and in the spirit of her work in the tradition of critical theory, this collection brings together scholars from different disciplines and theoretical approaches to address this conjunction and evaluate Fraser's lifelong contributions to theorizing it. Scholars from philosophy, political science, sociology, gender studies, race theory and economics come together to think through the vicissitudes of capitalism and feminism while also responding to different elements of Nancy Fraser's work, which weaves together a strong feminist standpoint with a vibrant and complex critique of capitalism. Going beyond conventional disciplinary distinctions and narrow debates, all the contributors to this project share a commitment to critically understanding the connection between capitalism, exploitation, and the viable roads for emancipation. They recover insights provided by classical traditions of political and social thought, but they also open new research directions adapted to the global challenges of our time."
Buy it here.