If you're an author or publisher with a forthcoming book, send us a line at [email protected].
Grand Hotel Abyss
By Stuart Jeffries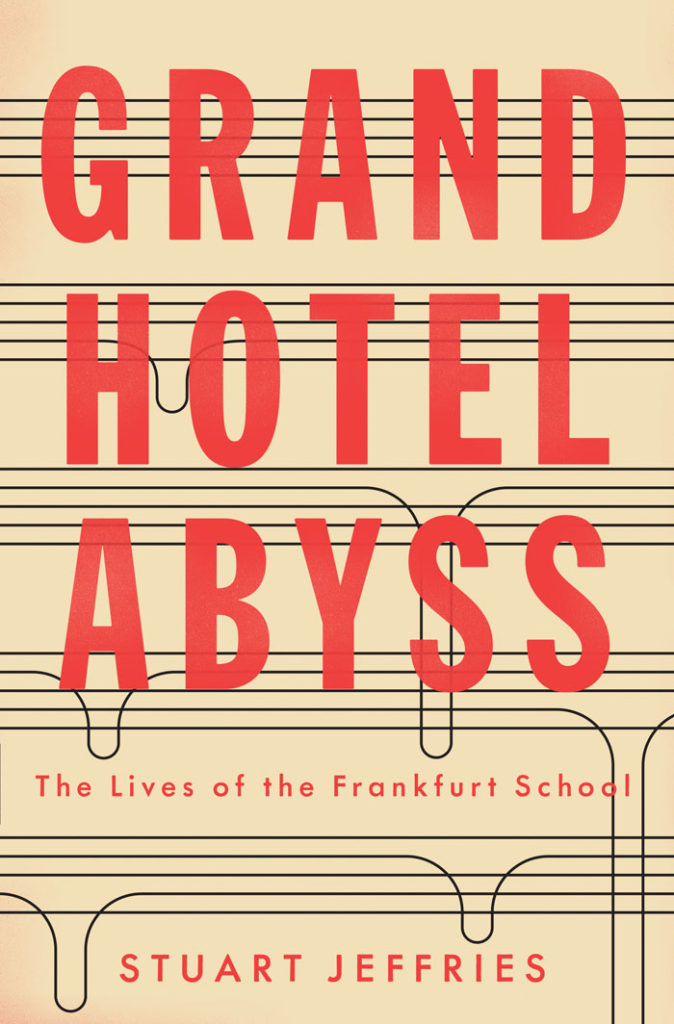 "In 1923, a group of young radical German thinkers and intellectuals came together to at Victoria Alle 7, Frankfurt, determined to explain the workings of the modern world. Among the most prominent members of what became the Frankfurt School were the philosophers Walter Benjamin, Theodor Adorno, Max Horkheimer, and Herbert Marcuse. Not only would they change the way we think, but also the subjects we deem worthy of intellectual investigation. Their lives, like their ideas, profoundly, sometimes tragically, reflected and shaped the shattering events of the twentieth century.
Grand Hotel Abyss combines biography, philosophy, and storytelling to reveal how the Frankfurt thinkers gathered in hopes of understanding the politics of culture during the rise of fascism. Some of them, forced to escape the horrors of Nazi Germany, later found exile in the United States. Benjamin, with his last great work—the incomplete Arcades Project—in his suitcase, was arrested in Spain and committed suicide when threatened with deportation to Nazi-occupied France. On the other side of the Atlantic, Adorno failed in his bid to become a Hollywood screenwriter, denounced jazz, and even met Charlie Chaplin in Malibu."
Buy it here.
Feminism and Nationalism in the Third World
By Kumari Jayawardena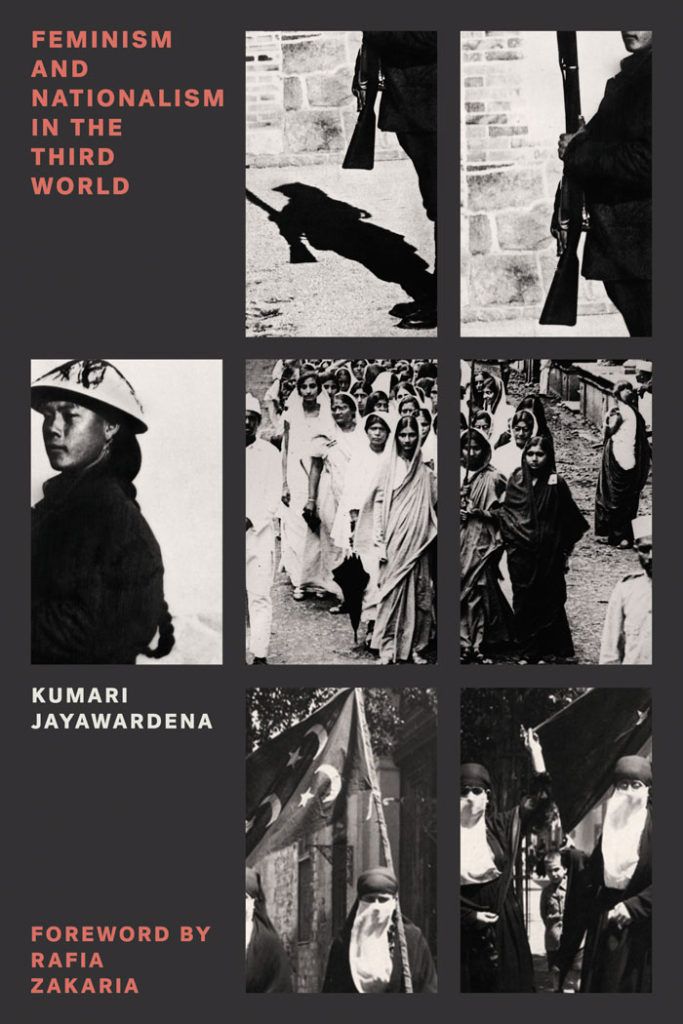 "For twenty-five years, Feminism and Nationalism in the Third World has been an essential primer on the late nineteenth- and early twentieth-century history of women's movements in Asia and the Middle East. In this engaging and well-researched survey, Kumari Jayawardena presents feminism as it originated in the Third World, erupting from the specific struggles of women fighting against colonial power, for education or the vote, for safety, and against poverty and inequality.
Journalist and human rights activist Rafia Zakaria's foreword to this new edition is an impassioned letter in two parts: the first to Western feminists; the second to feminists in the Global South, entreating them to use this "compendium of female courage" as a bridge between women of different nations."
Buy it here.
Habermas: A Biography
By Stefan Müller-Doohm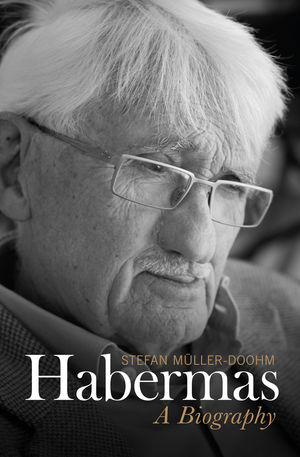 "Now, after many years of intensive research and in-depth conversations with contemporaries, colleagues and Habermas himself, Stefan Müller-Doohm presents the first comprehensive biography of one of the most important public intellectuals of our time. From his political and philosophical awakening in West Germany to the formative relationships with Adorno and Horkheimer, Müller-Doohm masterfully traces the major forces that shaped Habermas's intellectual development. He shows how Habermas's life and work were conditioned by the possibilities offered to his generation in the unique circumstances of regained freedom that characterized postwar Germany. And yet Habermas's career is fascinating precisely because it amounts to more than a corpus of scholarly work, however original and influential that may be."
Buy it here.
Way Too Cool: Selling Out Race and Ethics
By Shannon Winnubst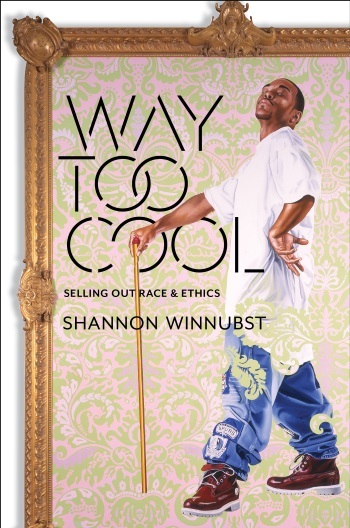 "Life, liberty, and the pursuit of cool have informed the American ethos since at least the 1970s. Whether we strive for it in politics or fashion, cool is big business for those who can sell it across a range of markets and media. Yet the concept wasn't always a popular commodity. Cool began as a potent aesthetic of post-World War II black culture, embodying a very specific, highly charged method of resistance to white supremacy and the globalized exploitation of capital.
Way Too Cool follows the hollowing-out of "coolness" in modern American culture and its reflection of a larger evasion of race, racism, and ethics now common in neoliberal society. It revisits such watershed events as the 1960s Civil Rights Movement, second-wave feminism, the emergence of identity politics, 1980s multiculturalism, 1990s rhetorics of diversity and colorblindness, 9/11, and Hurricane Katrina, as well as the contemporaneous developments of rising mass incarceration and legalized same-sex marriage. It pairs the perversion of cool with the slow erasure of racial and ethical issues from our social consciousness, which effectively quashes our desire to act ethically and resist abuses of power. The cooler we become, the more indifferent we grow to the question of values, particularly inquiry that spurs protest and conflict. This book sounds an alarm for those who care about preserving our ties to an American tradition of resistance."
Buy it here.
Pocket Pantheon
By Alain Badiou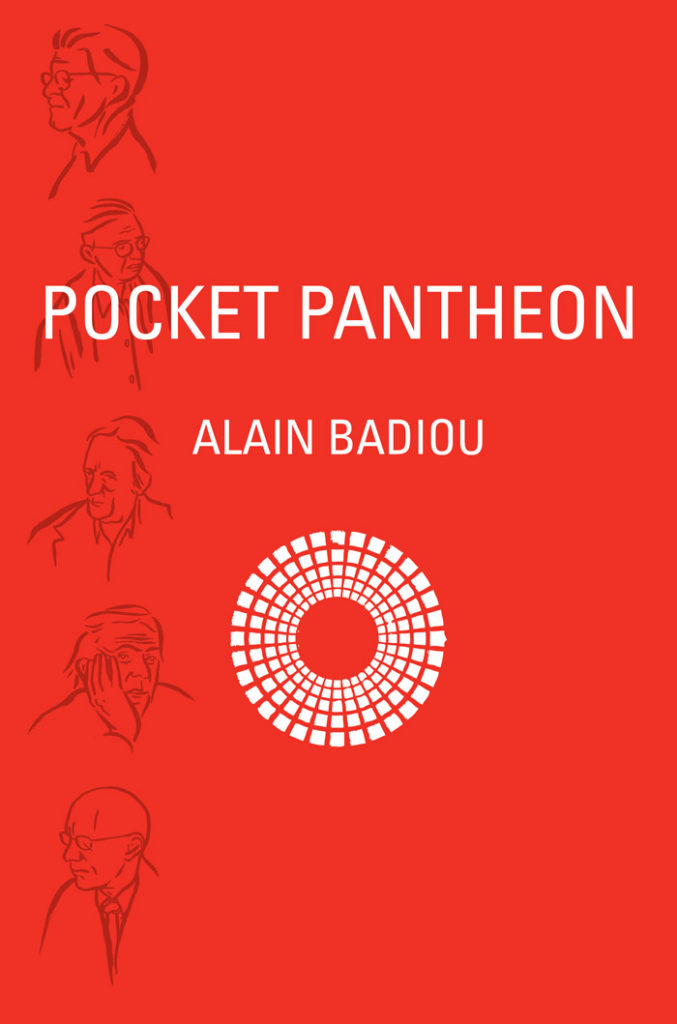 "Pocket Pantheon is an invitation to engage with the greats of postwar Western thought, such as Lacan, Sartre and Foucault, in the company of one of today's leading political and philosophical minds. Alain Badiou draws on his encounters with this pantheon—his teachers, opponents and allies—to offer unique insights into both the authors and their work. These studies form an accessible, authoritative distillation of continental theory and a capsule history of a period in Western thought."
Buy it here.
Barthes/Burgin
Edited by Ryan Bishop and Sunil Manghani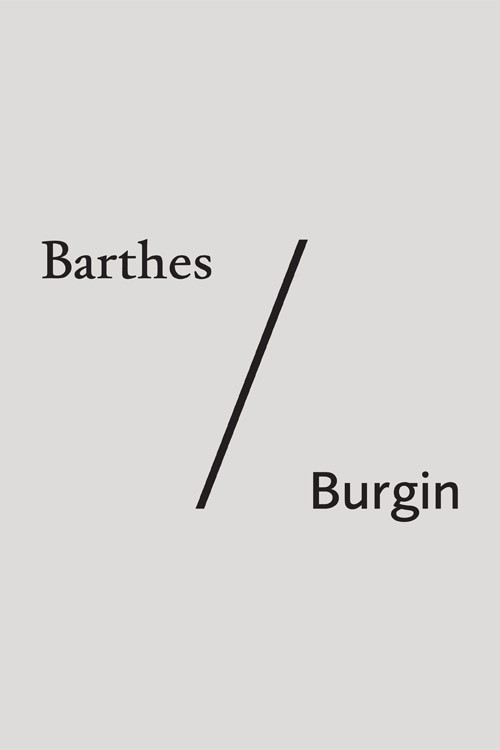 "The influence of Roland Barthes on Burgin's work is well documented. Equally, Burgin's prominence as an artist and theorist concerned with text and image offers a productive dialogue with Barthes' work. Victor Burgin has long been considered both theorist and practitioner, while Barthes is more known as a theorist and writer. In bringing to the fore Barthes's practice of painting and drawing, Barthes/Burgin prompts a new critical consideration of Barthes/Burgin, theory/practice, writing/making and criticality/visuality.
Barthes/Burgin features two new interviews with Burgin, one concerned with his turn to new digital practices and the other a reflection on his reading of Roland Barthes. Also included are images and texts from the artists and an essay critically examining Barthes' exercises in drawing and painting."
Buy it here.
Close to Home
By Christine Delphy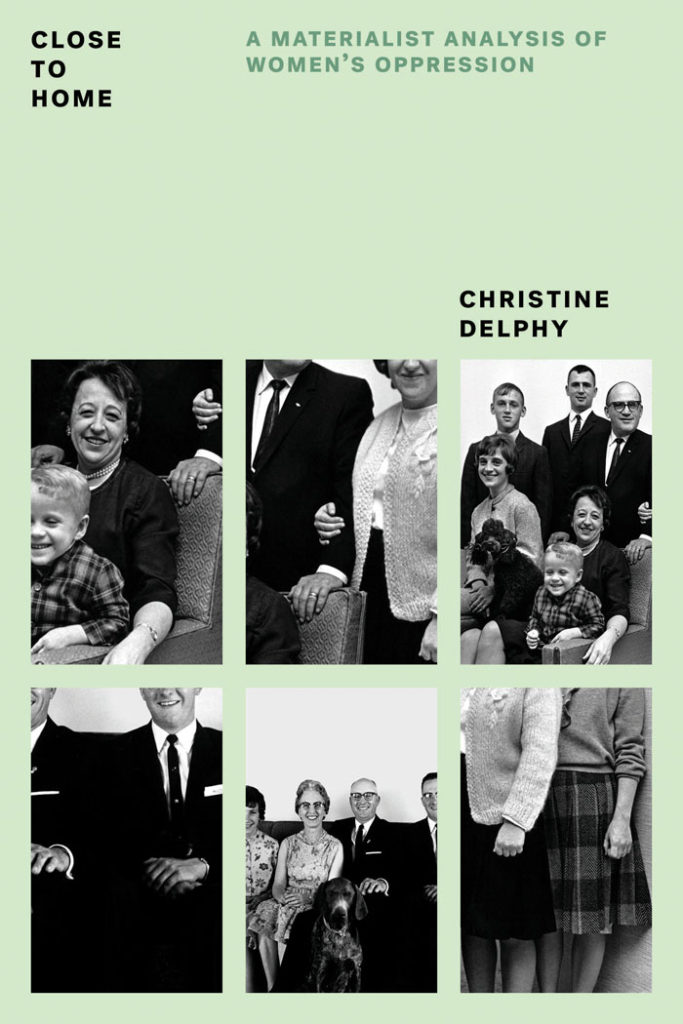 "Close to Home is the classic study of family, patriarchal ideologies, and the politics and strategy of women's liberation. On the table in this forceful and provocative debate are questions of whether men can be feminists, whether "bourgeois" and heterosexual women are retrogressive members of the women's movement, and how best to struggle against the multiple oppressions women endure.
Rachel Hills's foreword to this new edition explores how Christine Delphy's analysis of marriage as the institution behind the exploitation of unpaid women's labor is as radical and relevant today as it ever was."
Buy it here.
Virginia Woolf 21st Century Approaches
By Jeanne Dubino, Gill Lowe, Vara Neverow and Kathryn Simpson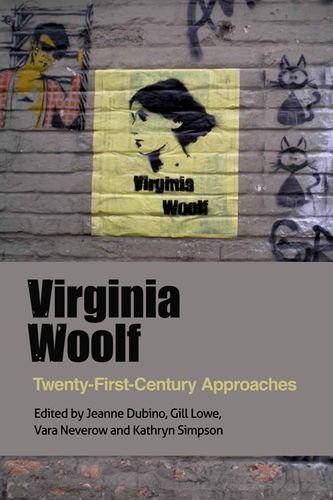 "These 11 newly commissioned essays represent the evolution, or coevolution, of Woolf studies in the early 21st-century. Divided into 5 parts – Self and Identity; Language and Translation; Culture and Commodification; Human, Animal, and Nonhuman; and Genders, Sexualities, and Multiplicities – the essays represent the most recent scholarship on the subjective, provisional, and contingent nature of Woolf's work. The expert contributors consider unstable constructions of self and identity and language and translation from multiple angles, including shifting textualities, culture, and the marketplace, critical animal studies, and discourses that fracture and re-envision gender and sexuality."
Buy it here.
Narrative and Becoming
By Ridvan Askin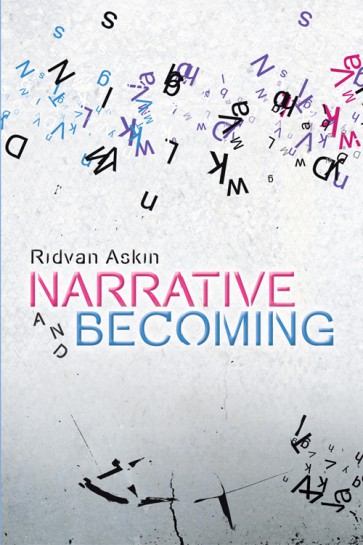 "What is narrative? Ridvan Askin brings together aesthetics, contemporary North American fiction, Gilles Deleuze, narrative theory and the recent speculative turn to answer this question. Through this process, he develops a transcendental empiricist concept of narrative. Askin argues against the established consensus of narrative theory for an understanding of narrative as fundamentally nonhuman, unconscious and expressive."
Buy it here.
Gaston Bachelard: A Philosophy of the Surreal
By Zbigniew J. Kotowicz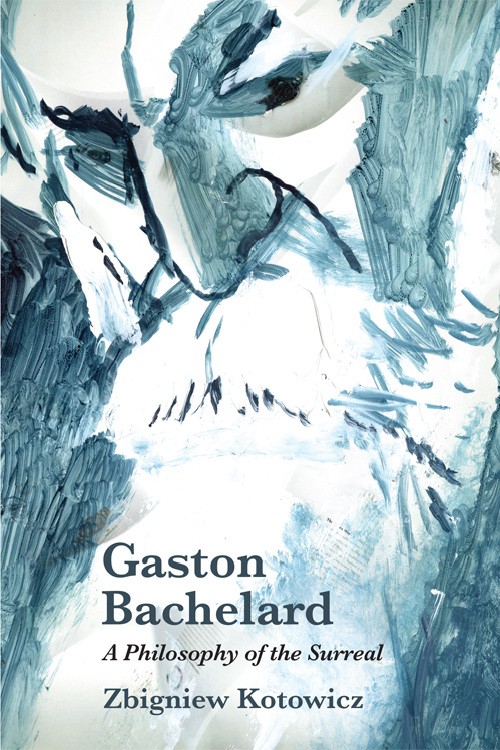 "Gaston Bachelard (1884-1962) was a seminal figure in contemporary French philosophy. Together with Michel Foucault, Georges Canguilhem and Jean Cavaillès, he shaped the 'French epistemological' school of philosophy of science.
In France, Bachelard is a towering presence; in the English-speaking world, he is little known. Now, Zbigniew Kotowicz gives us the first English language, in-depth presentation of the entire spectrum of Bachelard's work: epistemology, poetic imagination and temporality. And he explores an old philosophical tradition that Bachelard's thought opens up – atomism – a doctrine that has been almost forgotten and is much misunderstood."
Buy it here.
Reconstructing Polanyi
By Gareth Dale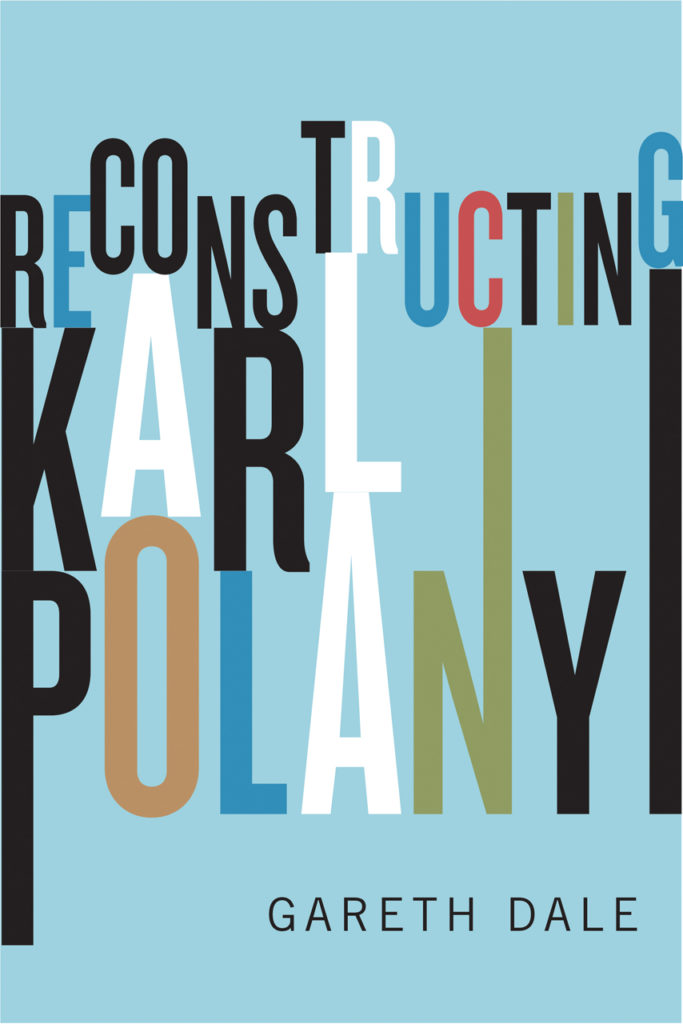 "Karl Polanyi was one of the most influential political economists of the twentieth-century and is widely regarded as the most gifted of social democrat theorists. In Reconstructing Karl Polanyi, Gareth Dale draws upon primary sources archived in the countries that Polanyi called home—Hungary, Austria, Britain, the United States, and Canada—to provide a sweeping survey of his contribution to the social sciences.
Polanyi's intellectual and political outlook can best be summarized through paradoxical formulations such as 'romantic modernist', 'liberal socialist', and 'cosmopolitan patriot.' In exploring these paradoxes, Dale excavates and reconstructs Polanyi's views on a range of topics that have been neglected in the critical literature, including Keynesian economic policy, the evolution and dynamics of Stalin's Russia, regional integration, and McCarthyism. He reinterprets Polanyi's philosophy of history, his theory of democracy, and his economic historiography of Ancient Greece and Mesopotamia, and guides readers through Polyani's critical dialogue with Marxism. "
Buy it here.