If you're an author or publisher with a forthcoming book, drop us a line at [email protected].
Read any? Let us know what you thought in the comments.
Notes Towards a Performative Theory of Assembly
By Judith Butler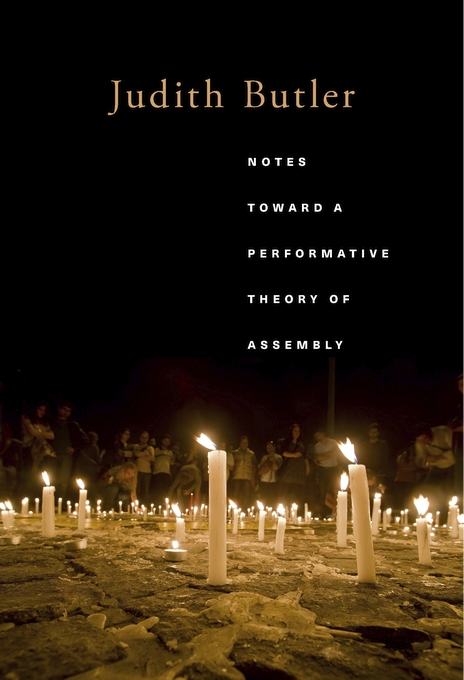 "Judith Butler elucidates the dynamics of public assembly under prevailing economic and political conditions, analyzing what they signify and how. Understanding assemblies as plural forms of performative action, Butler extends her theory of performativity to argue that precarity—the destruction of the conditions of livability—has been a galvanizing force and theme in today's highly visible protests.
Butler broadens the theory of performativity beyond speech acts to include the concerted actions of the body. Assemblies of physical bodies have an expressive dimension that cannot be reduced to speech, for the very fact of people gathering "says" something without always relying on speech. Drawing on Hannah Arendt's view of action, yet revising her claims about the role of the body in politics, Butler asserts that embodied ways of coming together, including forms of long-distance solidarity, imply a new understanding of the public space of appearance essential to politics.
Butler links assembly with precarity by pointing out that a body suffering under conditions of precarity still persists and resists, and that mobilization brings out this dual dimension of corporeal life. Just as assemblies make visible and audible the bodies that require basic freedoms of movement and association, so do they expose coercive practices in prison, the dismantling of social democracy, and the continuing demand for establishing subjugated lives as mattering, as equally worthy of life. By enacting a form of radical solidarity in opposition to political and economic forces, a new sense of "the people" emerges, interdependent, grievable, precarious, and persistent."
Buy it here.
Red Rosa
By Kate Evans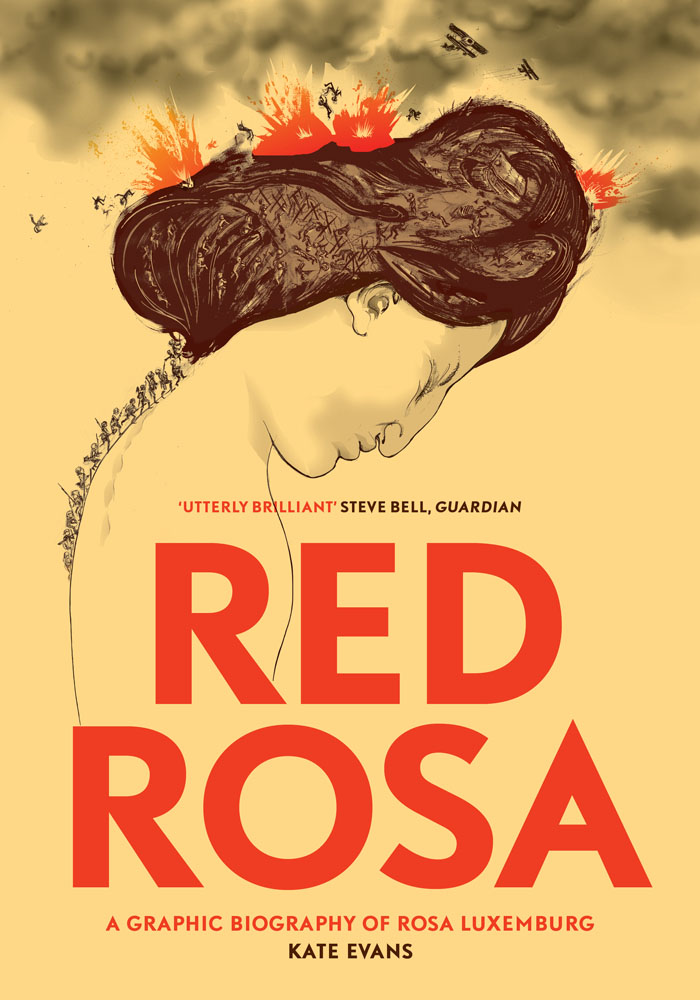 "A giant of the political left, Rosa Luxemburg is one of the foremost minds in the canon of revolutionary socialist thought. But she was much more than just a thinker. She made herself heard in a world inimical to the voices of strong-willed women. She overcame physical infirmity and the prejudice she faced as a Jew to become an active revolutionary whose philosophy enriched every corner of an incredibly productive and creative life—her many friendships, her sexual intimacies, and her love of science, nature and art.
Always opposed to the First World War, when others on the German left were swept up on a tide of nationalism, she was imprisoned and murdered in 1919 fighting for a revolution she knew to be doomed.
In this beautifully drawn work of graphic biography, writer and artist Kate Evans has opened up her subject's intellectual world to a new audience, grounding Luxemburg's ideas in the realities of an inspirational and deeply affecting life."
Buy it here.
Capital
By Kenneth Goldsmith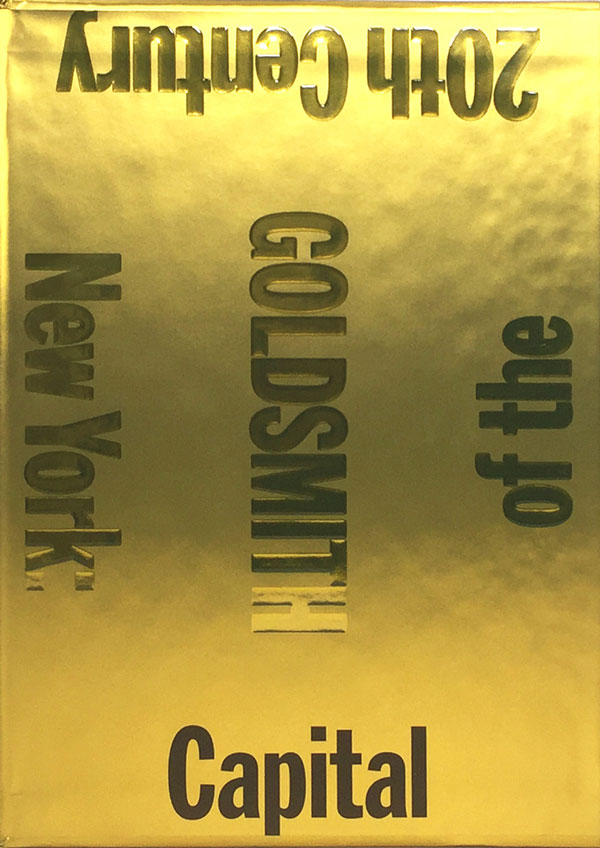 "Here is a kaleidoscopic assemblage and poetic history of New York: an unparalleled and original homage to the city, composed entirely of quotations. Drawn from a huge array of sources—histories, memoirs, newspaper articles, novels, government documents, emails—and organized into interpretive categories that reveal the philosophical architecture of the city, Capital is the ne plus ultra of books on the ultimate megalopolis.
It is also a book of experimental literature that transposes Walter Benjamin's unfinished magnum opus of literary montage on the modern city, The Arcades Project, from 19th-century Paris to 20th-century New York, bringing the streets to life in categories such as "Sex," "Commodity," "Downtown," "Subway," and "Mapplethorpe."
Capital is a book designed to fascinate and to fail—for can a megalopolis truly be written? Can a history, no matter how extensive, ever be comprehensive? Each reading of this book, and of New York, is a unique and impossible passage."
Buy it here.
The Biopolitics of Gender
By Jemima Repo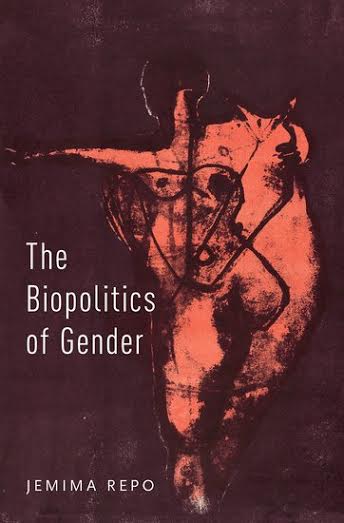 "Michel Foucault identified sexuality as one of the defining biopolitical technologies of the nineteenth and twentieth centuries. As Jemima Repo argues in this book, "gender" has come to be the major sexual signifier of the mid-twentieth and early twenty-first century. In fact, in this historical excavation of the biopolitical significance of the term, she argues that it could not have emerged at any other time. Repo shows that gender is not originally a feminist term, but emerged from the study of intersex and transsexual persons in the fields of sexology and psychology in the1950s and 1960s. Prior to the 1950s gender was used to refer to various types of any number of phenomena – sometimes sex, but not necessarily. Its only regular usage was in linguistics, where it was used to classify nouns as masculine, feminine, or neuter. In the mid-twentieth century, gender shifted from being a nominator of types to designating the sexual order of things. As with sexuality in the Victorian period, over the last sixty years, the notion of gender has become an entire field of knowledge. Feminists famously took up the term in the 1970s to challenge biological determinism, and in government, "women" have been replaced by "gender" in policy-making processes that aim to advance equality between women and men. Gender has also become a key variable in social scientific surveys of different socio-political phenomena like voting, representation, employment, salaries, and parental leave decisions. The Biopolitcs of Gender analyzes the strategies and tactics of power involved in the use of "gender" in sexology and psychology, and subsequently its reversal and counter-deployment by feminists in the 1970s and 1980s. It critiques the emergence of gender in demographic science and the implications of this genealogy for feminist theory and politics today. Drawing on an a wide variety of historical and contemporary sources, the book makes a major theoretical argument about gender as a historically specific apparatus of biopower and calls into question the emancipatory potential of the category in feminist theory and politics."
Buy it here.
Peasant-Citizen and Slave
By Ellen Meiksins Wood
"The controversial thesis at the center of this study is that, despite the importance of slavery in Athenian society, the most distinctive characteristic of Athenian democracy was the unprecedented prominence it gave to free labor. Wood argues that the emergence of the peasant as citizen, juridically and politically independent, accounts for much that is remarkable in Athenian political institutions and culture.
From a survey of historical writings of the eighteenth and nineteenth centuries, the focus of which distorted later debates, Wood goes on to take issue with influential arguments, such as those of G.E.M. de Ste Croix, about the importance of slavery in agricultural production. The social, political and cultural influence of the peasant-citizen is explored in a way which questions some of the most cherished conventions of Marxist and non-Marxist historiography."
Buy it here.
The Pristine Culture of Capitalism
By Ellen Meiksins Wood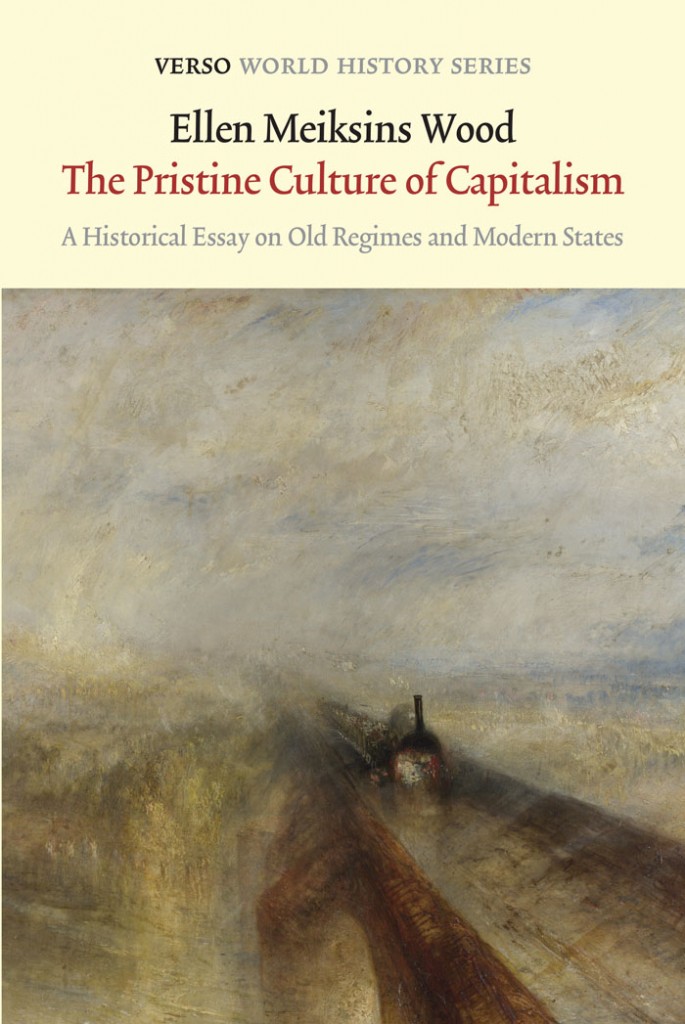 "In this lively and wide-ranging book, Ellen Meiksins Wood argues that what is supposed to have epitomized bourgeois modernity, especially the emergence of a "modern" state and political culture in Continental Europe, signaled the persistence of pre-capitalist social property relations. Conversely, the absence of a "modern" state and political discourse in England testified to the presence of a well-developed capitalism. The fundamental flaws in the British economy are not just the symptoms of arrested development but the contradictions of the capitalist system itself. Britain today, Wood maintains, is the most thoroughly capitalist culture in Europe."
Buy it here.
In Praise of Theater
By Alain Badiou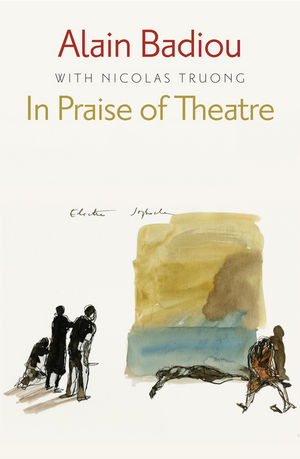 "In Praise of Theatre is Alain Badiou's latest work on the 'most complete of the arts,' the theatrical stage. This book, certain to be of great interest to scholars and theatre practitioners alike, elaborates the theory of the theatre developed by Badiou in works such as Rhapsody for the Theatre and the 'Theses on Theatre' and enquires into the status of a theatre that would be adequate to our 'contemporary, market-oriented chaos.'
In a departure from his usual emphasis upon canonical figures of the stage such as Bertolt Brecht and Samuel Beckett, Badiou devotes In Praise of Theatre largely to a consideration of contemporary practitioners, including Jan Fabre, Brigitte Jacques and Romeo Castellucci. In addition, the book features an incisive analysis of the precarious status of the theatre today, in which Badiou describes not only the current threats to the theatre from the right, but the far more insidious threat from the left."
Buy it here.
Political Freud
By Eli Zaretsky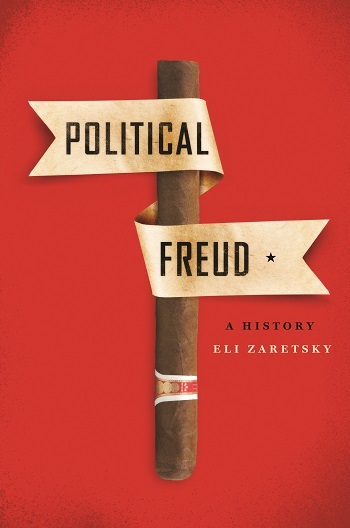 "In this masterful psychological-intellectual history, Eli Zaretsky shows Freudianism to be something more than a method of psychotherapy. When considered alongside the major struggles of the twentieth century, Freudianism becomes a catalyst of the age. Political Freud is Zaretsky's account of the way twentieth century radicals, activists, and thinkers used Freudian thought to understand the political developments of their century. Through his reading, he shows the ongoing, formative power of Freudianism in contemporary times.
The role played by political Freudianism was chaotic and oftentimes contradictory. Nevertheless, Zaretsky's conception of political Freudianism unites the two great themes of the century–totalitarianism and consumerism–in one framework. He shows how important political readings of Freud were to the theory of fascism and the experience of the Holocaust, the critical role they played in African American radical thought, particularly in the struggle for racial memory, and in the rebellions of the 1960s and their culmination in feminism and gay liberation. Yet Freudianism's involvement in history was not one-sided. Its interaction with historical forces shaped the Freudian tradition as well, and in this illuminating account, Zaretsky tracks the evolution of Freudian ideas across the decades so we can better recognize its manifestations today."
Buy it here.
 Active Intolerance
Edited by Perry Zurn and Andrew Dilts
"This book is an interdisciplinary collection of essays on Le Groupe d'information sur les prisons(The Prisons Information Group, the GIP). The GIP was a radical activist group, extant between 1970 and 1973, in which Michel Foucault was heavily involved. It aimed to facilitate the circulation of information about living conditions in French prisons and, over time, it catalyzed several revolts and instigated minor reforms. In Foucault's words, the GIP sought to identify what was 'intolerable' about the prison system and then to produce 'an active intolerance' of that same intolerable reality. To do this, the GIP 'gave prisoners the floor,' so as to hear from prisoners themselves what to resist and how. The essays collected here explore the GIP's resources both for Foucault studies and for prison activism today."
Buy it here, or read a free preview.
Flower of the Desert
By Antonio Negri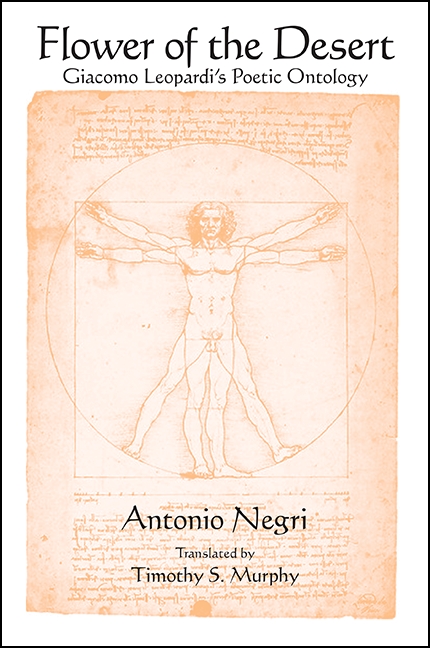 "Antonio Negri, one of Italy's most influential and controversial contemporary philosophers, offers in this book a radical new interpretation of the nineteenth-century Italian poet Giacomo Leopardi. For Negri, Leopardi is not the bitter, idealistic individualist of conventional literary history, but rather a profoundly materialist thinker who sees human solidarity as the only possible solution to the catastrophes of history and politics. Negri traces Leopardi's resistance to the transcendental idealism of Kant and Hegel, with its emphasis on reason's power to resolve real antagonisms into abstract syntheses, and his gradual development of a sophisticated poetic materialism focused on the constructive power of the imagination and its "true illusions." Like Nietzsche (who admired him), Leopardi provides an alternative to modernity within modernity, expressing a force of rupture and recomposition—a uniquely Italian one—that is as relevant now as it was in the nineteenth century, and which connects to the theory of Empire as the political constitution of the present that Negri has elaborated in collaboration with Michael Hardt."
Buy it here.
Gerard Manley Hopkins and the Spell of John Duns Scotus
By John Llewelyn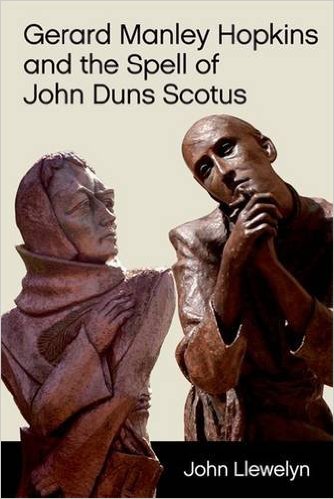 "The early medieval Scottish philosopher and theologian John Duns Scotus shook traditional doctrines of universality and particularity by arguing for a metaphysics of 'formal distinction'. Hundreds of years later, why did the 19th-century poet and self-styled philosopher Gerard Manley Hopkins find this revolutionary teaching so appealing?
John Llewelyn answers this question by casting light on various neologisms introduced by Hopkins and reveals how Hopkins endorses Scotus's claim that being and existence are grounded in doing and willing.
Drawing on modern responses to Scotus made by Heidegger, Peirce, Arendt, Leibniz, Hume, Reid, Derrida and Deleuze, Llewelyn's own response shows why it would be a pity to suppose that the rewards of reading Scotus and Hopkins are available only to those who share their theological presuppositions."
Buy it here.