Verso Books has set the publication date for two new  books by critical theorists Alain Badiou and Fredric Jameson.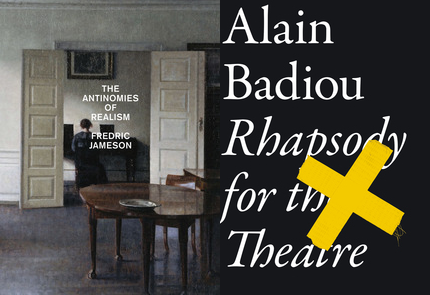 Badiou's book, "Rhapsody For The Theatre
," is a collection of essays set for publication on September 10, 2013. From Verso:
For Alain Badiou, theatre—unlike cinema—creates a space in which philosophy can be lived. It is, of all the arts, the most closely related to politics: both depend on a limited number of texts or statements, which are collectively enacted by a group of actors or militants who test the limits of the structure inn which they are confined, be it the medium of drama or the nation-state. For this reason, the history of theatre is inseparable from the history of state repression and censorship.

This definitive collection of Badiou's work on the theatre includes not only the title essay 'Rhapsody for the Theatre', originally published as a pamphlet in France, but also essay on Jean-Paul Sartre, on the political destiny of contemporary drama, and on Badiou's own work as a playwright.
Fredrick Jameson's book, "The Antinomies of Realism," is set for release October 18, 2013. From Verso:
The Antinomies of Realism is Jameson's major study of the nineteenth- century realist novel from a comparative perspective, covering the major literary traditions of Western Europe and the United States. It reviews the most influential theories of artistic and literary realism, and takes an approach based on the social and historical preconditions for its emergence. These combine an attention to the body and its states of feeling, as well as to the categories of individualism and temporality (or history). They are studied in a range of major authors, including Zola, Tolstoy, Pérez Galdós, and George Eliot.

The very notion of such a synthesis or symbiosis implies the approach of a moment in which its two basic impulses begin again to separate, and this explains the gradual supersession of classical realism in the novel by the various forms of what we call modernism. A coda then explains the survival of "realistic" narratives after the end of classical realism—it is in effect a proposal for the study of popular fiction and mass culture.
Both books are available for pre-order on Amazon by clicking on the links below