Are you a good person?
Well, first, what is good? And can we really commend good behavior in a world where one seeks to uphold the social contract for their own benefit?  Also, Hegel.
That's the message from Clickhole's latest front-page quiz.
Clickhole is a new site from The Onion. Whereas The Onion mocks traditional newspapers, Clickhole has set its sights on websites like BuzzFeed and Upworthy with articles like "This Stick of Butter is Left Out At Room Temperature; You Won't Believe What Happens Next" and "7 Differences Between The TV Version of the World Cup and the Novel."
In "Are You a Good Person," survey-takers are berated for every choice, where there are no right answers. Finally, in the last question, they are asked:
"You're about to get your 8-year-old daughter the toy chemistry set she's wanted for weeks, but at the store, she suddenly decides she wants a big stuffed bear instead. What do you get her?"
Regardless of the answer, survey-takers are served up this response: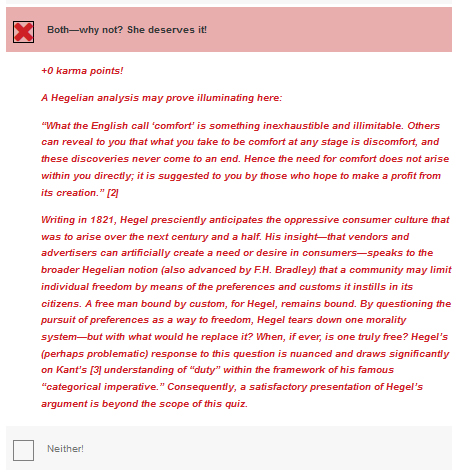 The Onion is no stranger to philosophical trolling: previous articles have gone on Nietzschean diatribes, deconstructed take-out menus, and pondered how to woo Slavoj Zizek in bed. The New Republic even went so far as to declare The Onion America's finest Marxist news source.
Take the quiz here.