#21 Lacan: In Spite of Everything
By Elisabeth Roudinesco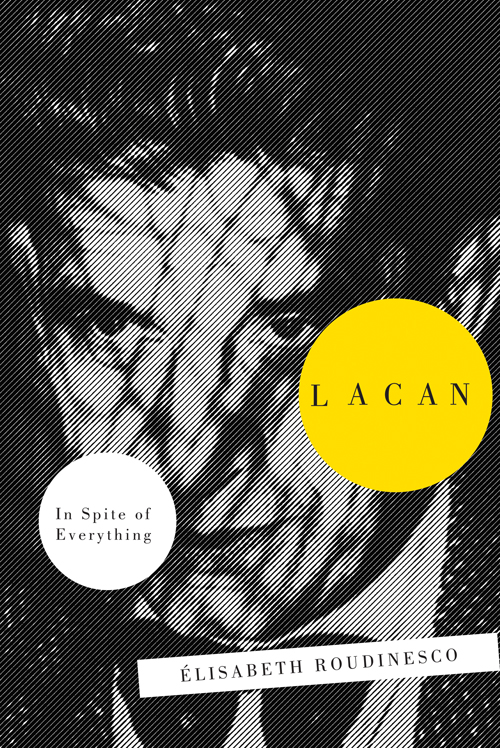 "Jacques Lacan continues to be subject to the most extravagant interpretations. Angelic to some, he is demonic to others. To recall Lacan's career, now that the heroic age of psychoanalysis is over, is to remember an intellectual and literary adventure that occupies a founding place in our modernity. Lacan went against the current of many of the hopes aroused by 1968, but embraced their paradoxes, and his language games and wordplay resonate today as so many injunctions to replace rampant individualism with a heightened social consciousness.
Widely recognized as the leading authority on Lacan, Élisabeth Roudinesco revisits his life and work: what it was – and what it remains."
Buy it here.
#22 Women Who Make a Fuss: The Unfaithful Daughters of Virginia Woolf
By Isabelle Strengers and Vinciane Despret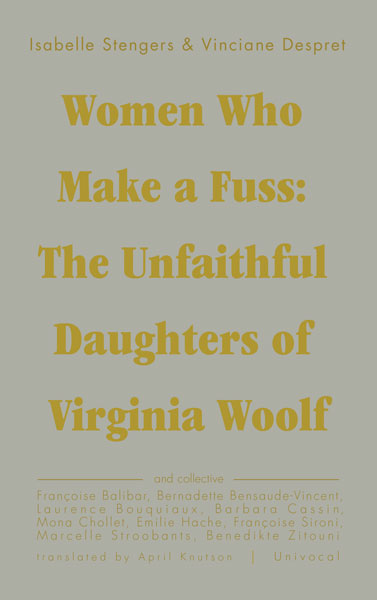 "Virginia Woolf, to whom university admittance had been forbidden, watched the universities open their doors. Though she was happy that her sisters could study in university libraries, she cautioned women against joining the procession of educated men and being co-opted into protecting a "civilization" with values alien to women. Now, as Woolf's disloyal (unfaithful) daughters, who have professional positions in Belgian universities, Isabelle Stengers and Vinciane Despret, along with a collective of women scholars in Belgium and France, question their academic careers and reexamine the place of women and their role in thinking, both inside and outside the university. They urge women to heed Woolf's cry—Think We Must—and to always make a fuss about injustice, cruelty, and arrogance."
Buy it here.
#23 Gendering the Recession
By Diane Negra and Yvonne Tasker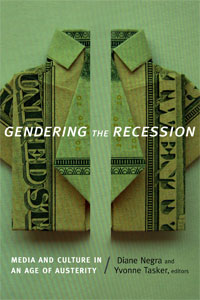 "This timely, necessary collection of essays provides feminist analyses of a recession-era media culture characterized by the reemergence and refashioning of familiar gender tropes, including crisis masculinity, coping women, and postfeminist self-renewal. Interpreting media forms as diverse as reality television, financial journalism, novels, lifestyle blogs, popular cinema, and advertising, the contributors reveal gendered narratives that recur across media forms too often considered in isolation from one another. They also show how, with a few notable exceptions, recession-era popular culture promotes affective normalcy and transformative individual enterprise under duress while avoiding meaningful critique of the privileged white male or the destructive aspects of Western capitalism. By acknowledging the contradictions between political rhetoric and popular culture, and between diverse screen fantasies and lived realities, Gendering the Recession helps to make sense of our postboom cultural moment."
Buy it here.
#24 Iconoclastic Theology: Deleuze and Secretion of Atheism
By F. LeRon Shults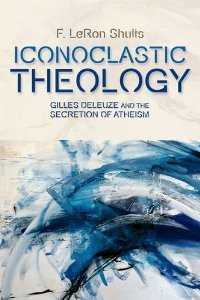 "F. LeRon Shults explores Deleuze's fascination with theological themes and shows how his entire corpus can be understood as a creative atheist machine that liberates thinking, acting and feeling. Shults also demonstrates how the flow of a productive atheism can be increased by bringing Deleuzian concepts into dialogue with insights derived from the bio-cultural sciences of religion.
Gilles Deleuze consistently hammered away at icons, overturning pretentious images taken as true copies of ideal models. He was particularly critical of religious Figures. In What is Philosophy? Deleuze argued that religion and transcendence, like philosophy and immanence, always come (and go) together. What value, then, could he possibly have found in engaging theology, which is typically bound to a particular religious coalition? Chipping away at repressive religious representations was valuable in itself for Deleuze, but he also believed that religion produced something of considerable value. He insisted that every religion secretes atheism, and none more so than Christianity."
Buy it here.
#25 Zizek's Jokes
By Slavoj Zizek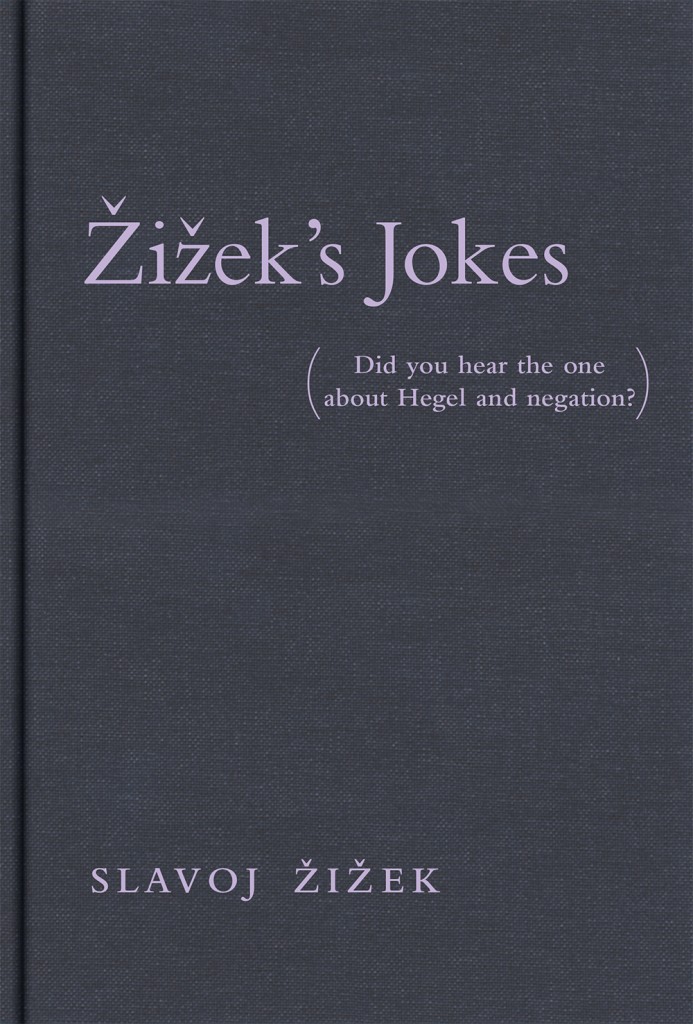 "The good news is that this book offers an entertaining but enlightening compilation of Žižekisms. Unlike any other book by Slavoj Žižek, this compact arrangement of jokes culled from his writings provides an index to certain philosophical, political, and sexual themes that preoccupy him. Žižek's Jokes contains the set-ups and punch lines—as well as the offenses and insults—that Žižek is famous for, all in less than 200 pages.
So what's the bad news? There is no bad news. There's just the inimitable Slavoj Žižek, disguised as an impossibly erudite, politically incorrect uncle, beginning a sentence, "There is an old Jewish joke, loved by Derrida . . ." For Žižek, jokes are amusing stories that offer a shortcut to philosophical insight. He illustrates the logic of the Hegelian triad, for example, with three variations of the "Not tonight, dear, I have a headache" classic: first the wife claims a migraine; then the husband does; then the wife exclaims, "Darling, I have a terrible migraine, so let's have some sex to refresh me!" A punch line about a beer bottle provides a Lacanian lesson about one signifier. And a "truly obscene" version of the famous "aristocrats" joke has the family offering a short course in Hegelian thought rather than a display of unspeakables.
Žižek's Jokes contains every joke cited, paraphrased, or narrated in Žižek's work in English (including some in unpublished manuscripts), including different versions of the same joke that make different points in different contexts. The larger point being that comedy is central to Žižek's seriousness."
Buy it here.
#26 Playing the Whore
By Melissa Gira Grant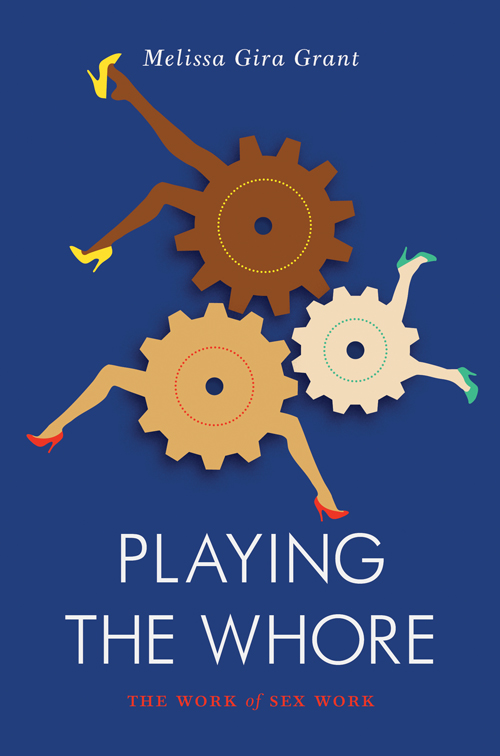 "The sex industry is an endless source of prurient drama for the mainstream media. Recent years have seen a panic over "online red-light districts," which supposedly seduce vulnerable young women into a life of degradation, and New York Times columnist Nicholas Kristof's live tweeting of a Cambodian brothel raid. The current trend for writing about and describing actual experiences of sex work fuels a culture obsessed with the behaviour of sex workers. Rarely do these fearful dispatches come from sex workers themselves, and they never seem to deviate from the position that sex workers must be rescued from their condition, and the industry simply abolished — a position common among feminists and conservatives alike.
In Playing the Whore, journalist Melissa Gira Grant turns these pieties on their head, arguing for an overhaul in the way we think about sex work. Based on ten years of writing and reporting on the sex trade, and grounded in her experience as an organizer, advocate, and former sex worker, Playing the Whore dismantles pervasive myths about sex work, criticizes both conditions within the sex industry and its criminalization, and argues that separating sex work from the "legitimate" economy only harms those who perform sexual labor.
In Playing the Whore, sex workers' demands, too long relegated to the margins, take center stage: sex work is work, and sex workers' rights are human rights."
Buy it here.
#27 Agamben and Politics
By Sergei Prozorov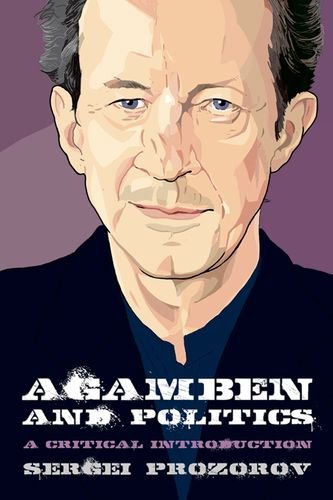 "Tracing how the logic of inoperativity works in the domains of language, law, history and humanity, Agamben and Politics systematically introduces the fundamental concepts of Agamben's political thought and a critically interprets his insights in the wider context of contemporary philosophy.
Agamben's commentators and critics tend to focus on his powerful critique of the Western political tradition in the Homo Sacer series. But this narrow focus serves to obscure the overall structure of Agamben's political thought, which is neither negative nor critical but affirmative. Sergei Prozorov brings out the affirmative mood of Agamben's political thought, focusing on the concept of inoperativity, which has been central to Agamben's work from his earliest writings."
Buy it here.
#28 Reasoning with Who We Are : Democratic Theory For a Not So Liberal Era
By Mark Redhead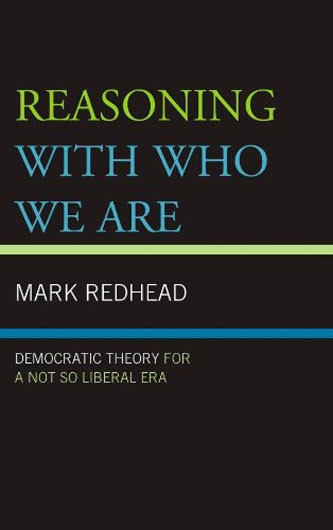 "Public reasoning, a manner of democratic deliberation that can generate meaningful conceptions of justice, the collective good, and other unifying political values among individuals subscribing to varied and contrasting doctrines, has been a perennial concern among political philosophers from historical thinkers such as Immanuel Kant to contemporary theorists like John Rawls and Jurgen Habermas. In this ambitious study, Mark Redhead explores versions of public reasoning in the works of six of the most important voices in contemporary political theory; Alasdair MacIntyre, Charles Taylor, Hannah Arendt, Seyla Benhabib, Michel Foucault, and William E. Connolly. He identifies an important but as of yet unappreciated version of public reasoning–, one that provides creative and effective responses to questions at the forefront of liberal democratic political thought: human rights, secularity, and global governance."
Buy it here.
#29 Making Money: The Philosophy of Crisis Capitalism
By Ole Bjerg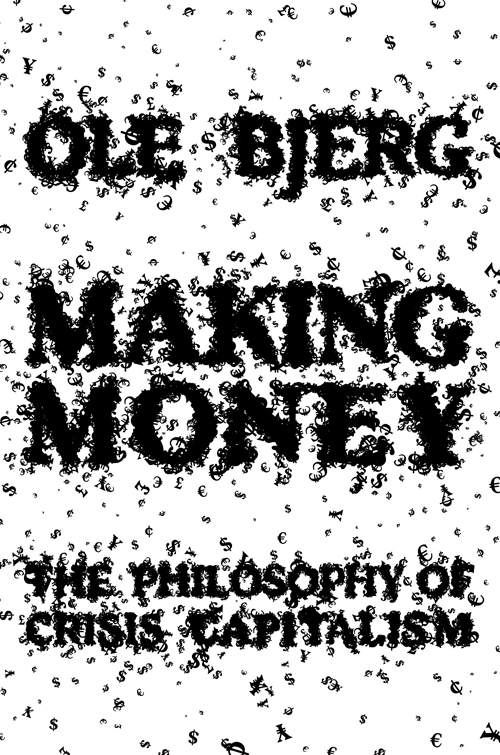 "What is money? Where does it come from? Who makes it? And how can we understand the current state of our economy as a crisis of money itself?
In Making Money, Ole Bjerg turns these questions into a matter of philosophical rather than economic analysis. Applying the thinking of Slavoj Žižek and other scholars to mainstream economic literature, Bjerg provides a radical new way of looking at the mysterious stuff we use to buy things. It is a theory unfolded in reflections on the nature of monetary phenomena such as financial markets, banks, debt, credit, derivatives, gold, risk, value, price, interests, and arbitrage. The analysis of money is put into an historical context, suggesting that the current financial turbulence and debt crisis are evidence that we live in the age of post-credit capitalism. By bridging the fields of economics and contemporary philosophy, Bjerg's work engages in a compelling form of intellectual arbitrage."
Buy it here.
#30 Why Are Animals So Funny
By EDA Collective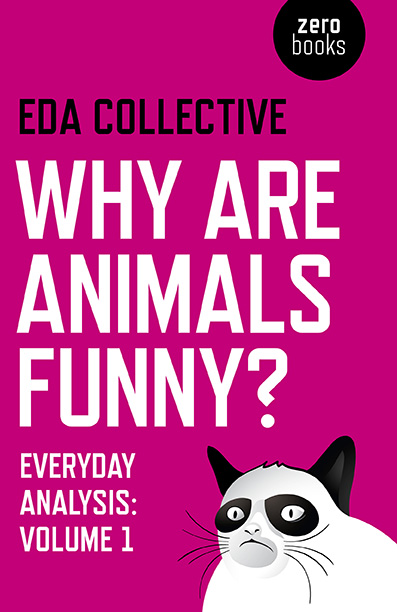 Review31 writes:
"Have you ever considered the ideological function of standing on a crowded train? Maybe not, because (in my experience) usually the only thought that comes to mind is how horrible and overpriced the train is and what your plans are upon arriving at your destination. In their new book 'Why Are Animals Funny?' Everyday Analysis (EDA) – a group of Manchester- and London-based writers known as the 'EDA Collective' – offers a critical, philosophical, psychoanalytical perspective of things we experience every day that are often accepted, unchallenged and unquestioned. In the spirit of Roland Barthes' 'Mythologies', the 46 short articles make up a compendium of cultural and political analysis. The articles were collected from their blog http://www.everydayanalysis.com/ which began back in January 2013 and is still regularly being updated. Some of the articles are funny and droll, while some incite discontent, and others evoke empathic understanding and a sheepish "I never thought about it that way before"; all are wonderfully written, well-informed, and (most importantly, I think) accessible."
Buy it here.
#31 The Imperial University
By Piya Chatterjee and Sunaina Maira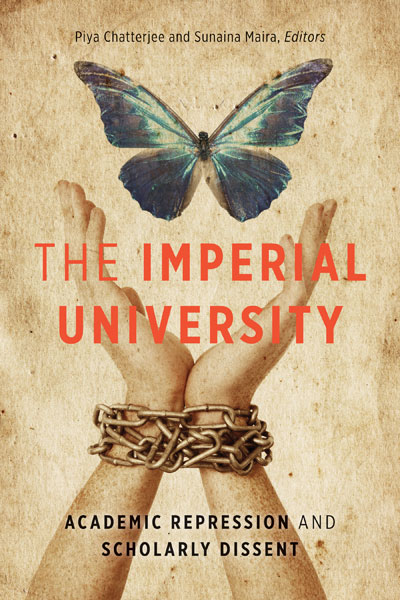 "At colleges and universities throughout the United States, political protest and intellectual dissent are increasingly being met with repressive tactics by administrators, politicians, and the police—from the use of SWAT teams to disperse student protestors and the profiling of Muslim and Arab American students to the denial of tenure and dismissal of politically engaged faculty. The Imperial University brings together scholars, including some who have been targeted for their open criticism of American foreign policy and settler colonialism, to explore the policing of knowledge by explicitly linking the academy to the broader politics of militarism, racism, nationalism, and neoliberalism that define the contemporary imperial state.
The contributors to this book argue that "academic freedom" is not a sufficient response to the crisis of intellectual repression. Instead, they contend that battles fought over academic containment must be understood in light of the academy's relationship to U.S. expansionism and global capital. Based on multidisciplinary research, autobiographical accounts, and even performance scripts, this urgent analysis offers sobering insights into such varied manifestations of "the imperial university" as CIA recruitment at black and Latino colleges, the connections between universities and civilian and military prisons, and the gender and sexual politics of academic repression."
Buy it here.
#32 The Critique of Everyday Life
By Henri Lefebvre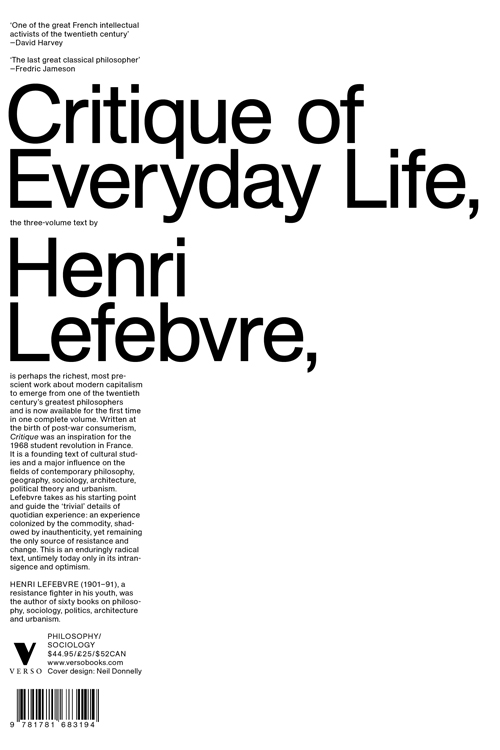 "The three-volume text by Henri Lefebvre is perhaps the richest, most prescient work about modern capitalism to emerge from one of the twentieth century's greatest philosophers and is now available for the first time in one complete volume. Written at the birth of post-war consumerism, Critique was an inspiration for the 1968 student revolution in France. It is a founding text of cultural studies and a major influence on the fields of contemporary philosophy, geography, sociology, architecture, political theory and urbanism. Lefebvre takes as his starting point and guide the 'trivial' details of quotidian experience: an experience colonized by the commodity, shadowed by inauthenticity, yet remaining the only source of resistance and change. This is an enduringly radical text, untimely today only in its intransigence and optimism."
Buy it here.
#33 The Becoming of the Body
By Amaleena Damlé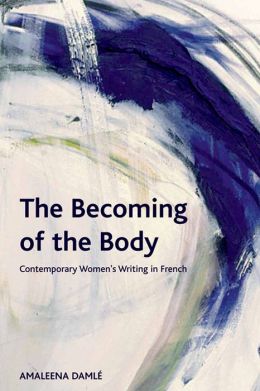 "Following a long tradition of objectification, 20th-century French feminism often sought to liberate the female body from the confines of patriarchal logos and to inscribe its rhythms in writing. But how has the promotion of 'women's writing' in such thought and literature evolved in the years preceding and following the turn of the millennium? What sorts of bodily questions and problems do contemporary female writers evoke?
How are traditional conceptions of the boundaries of the female body contested, exceeded or transformed? And how do contemporary philosophical discourses correspond to the ways that literary authors conceptualise, and write, the female body?"
Buy it here.
#34 History of the Devil
By Vilém Flusser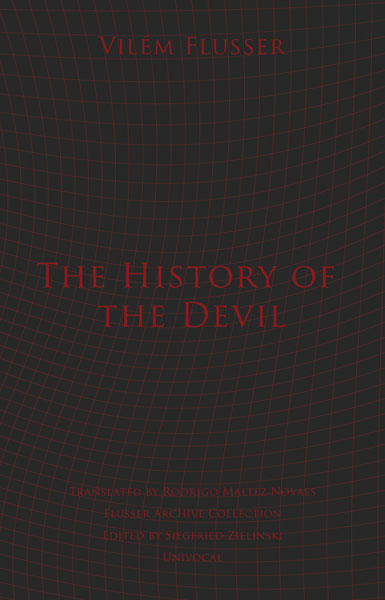 "In The History of the Devil, Flusser frames the human situation from a pseudo-religious point of view. The phenomenal world, or "reality" in a general sense, is identified as the "Devil," and that which transcends phenomena, or the philosophers' and theologians' "reality," is identified as "God." Referencing Wittgenstein's Tractatus Logico-Philosophicus in its structure, Flusser provocatively leads the reader through an existential exploration of nothingness as the bedrock of reality, where "phenomenon" and "transcendence," "Devil" and "God" become fused and confused. So radically confused, in fact, that Flusser suggests we abandon the quotation marks from the terms "Devil" and "God." At this moment of abysmal confusion, and of the downfall of all values, we must make the existential decisions that give direction to our lives. "
Buy it here.
#35 Intensities and Lines of Flight
Edited by Antonio Calcagno, Jim Vernon and Steve G. Lofts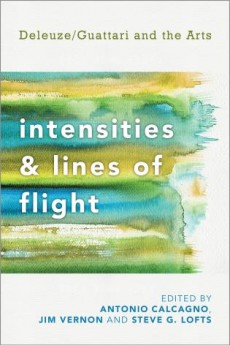 "This rich and original collection of essays, authored by both major Deleuzian scholars and practicing artists and curators, offers an important critique of Deleuze and Guattari's legacy in relation to a multitude of art forms, including painting, cinema, television, music, architecture, literature, drawing and installation art. Inspired by the implications of Deleuze and Guattari's work on difference and multiplicity and with a focus on the intersection of theory and practice, the book represents a major interdisciplinary contribution to Deleuze-Guattarian aesthetics."
Buy it here.
#36 Rhetorical Foundations of Society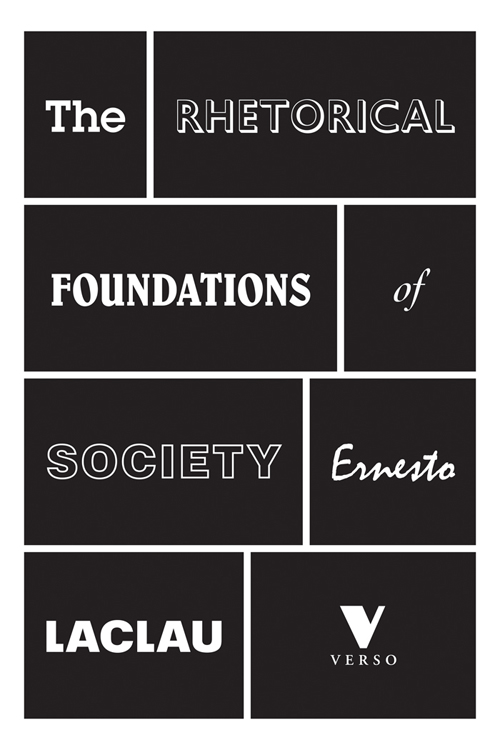 "The essays collected in this volume develop the theoretical perspective initiated in Laclau and Mouffe's classic Hegemony and Socialist Strategy, taking it in three principal directions. First, this book explores the specificity of social antagonisms and answers the question "What is an antagonistic relation?"—an issue which has become increasingly crucial in our globalized world, where the proliferation of conflicts and points of rupture is eroding their links to the social subjects postulated by classical social analysis. This leads Laclau to a second line of questioning: What is the ontological terrain that allows us to understand the nature of social relations in our heterogeneous world?" This is a task he addresses with theoretical instruments drawn from analytical philosophy and from the phenomenological and structuralist traditions. Finally, central to the argument of the book is the basic role attributed to rhetorical tropes—metaphor, metonymy, catachresis—in shaping the "non-foundational" grounds of society."
Buy it here.
#37 Theorizing Native Studies
Edited by Audra Simpson and Andrea Smith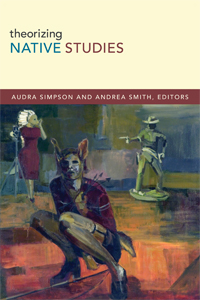 "This important collection makes a compelling argument for the importance of theory in Native studies. Within the field, there has been understandable suspicion of theory stemming both from concerns about urgent political issues needing to take precedence over theoretical speculations and from hostility toward theory as an inherently Western, imperialist epistemology. The editors of Theorizing Native Studies take these concerns as the ground for recasting theoretical endeavors as attempts to identify the larger institutional and political structures that enable racism, inequities, and the displacement of indigenous peoples. They emphasize the need for Native people to be recognized as legitimate theorists and for the theoretical work happening outside the academy, in Native activist groups and communities, to be acknowledged. Many of the essays demonstrate how Native studies can productively engage with others seeking to dismantle and decolonize the settler state, including scholars putting theory to use in critical ethnic studies, gender and sexuality studies, and postcolonial studies. Taken together, the essays demonstrate how theory can serve as a decolonizing practice."
Buy it here.
#38 Cinders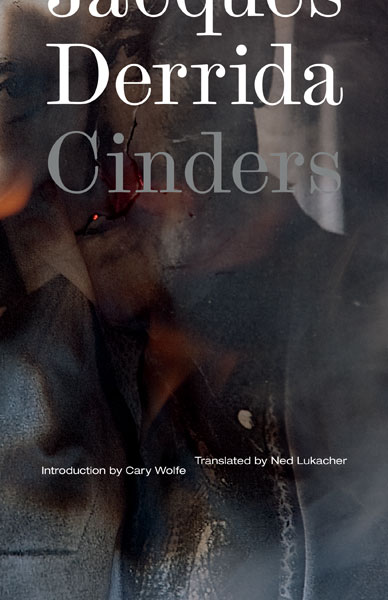 "In a style that is both highly condensed and elliptical, Cinders offers probing reflections on the relation of language to truth, writing, the voice, and the complex connections between the living and the dead. It also contains some of his most essential elaborations of his thinking on the feminine and on the legacy of the Holocaust (both a word—from the Greek hólos, "whole," and kaustós, "burnt"—and a historical event that invokes ashes) in contemporary poetry and philosophy. In turning from the texts of other philosophers to his own, Cinders enables readers to follow the trajectory from Derrida's early work on the trace, the gramma, and the voice to his later writings on life, death, time, and the spectral.
Among the most accessible of this renowned philosopher's many writings, Cinders is an evocative and haunting work of poetic self-analysis that deepens our understanding of Derrida's critical and philosophical vision."
Buy it here.
#39 Thought in the Act
By Brian Massumi and Erin Manning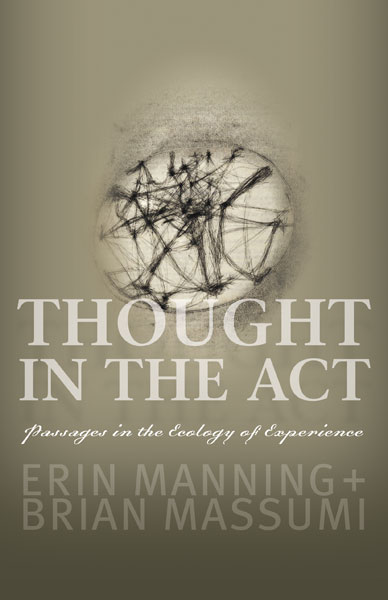 "Combining philosophy and aesthetics, Thought in the Act is a unique exploration of creative practice as a form of thinking. Challenging the common opposition between the conceptual and the aesthetic, Erin Manning and Brian Massumi "think through" a wide range of creative practices in the process of their making, revealing how thinking and artfulness are intimately, creatively, and inseparably intertwined. They rediscover this intertwining at the heart of everyday perception and investigate its potential for new forms of activism at the crossroads of politics and art.
Emerging from active collaborations, the book analyzes the experiential work of the architects and conceptual artists Arakawa and Gins, the improvisational choreographic techniques of William Forsythe, the recent painting practice of Bracha Ettinger, as well as autistic writers' self-descriptions of their perceptual world and the experimental event making of the SenseLab collective. Drawing from the idiosyncratic vocabularies of each creative practice, and building on the vocabulary of process philosophy, the book reactivates rather than merely describes the artistic processes it examines. The result is a thinking-with and a writing-in-collaboration-with these processes and a demonstration of how philosophy co-composes with the act in the making. Thought in the Act enacts a collaborative mode of thinking in the act at the intersection of art, philosophy, and politics."
Buy it here.
#40 Spinoza Contra Phenomenology
By Knox Peden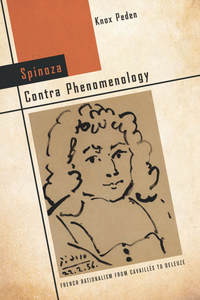 "Spinoza Contra Phenomenology fundamentally recasts the history of postwar French thought, which is typically presumed by detractors and celebrants alike to have been driven by a critique of reason indebted above all to Nietzsche and Heidegger. Although the reception of German phenomenology gave rise to many of the most innovative developments in French philosophy, from existentialism to deconstruction, not everyone in France was pleased with this German import. The book recounts how a series of French philosophers used Spinoza's rationalism to erect a bulwark against the nominally irrationalist tendencies of Husserl's and Heidegger's thought in France. From its beginnings in the interwar years in philosophy of science and the history of philosophy, this Spinozist rationalism would prove foundational for Louis Althusser's rethinking of Marxism and Gilles Deleuze's ambitious metaphysics. There has been a renewed enthusiasm for Spinozism in various quarters of late by those who would see it as a kind of neo-vitalism or philosophy of life and affect. Peden bucks the trend by tracking a decisive and neglected aspect of Spinoza's philosophy—his rationalism—in a body of thought too often presumed to have rejected reason. In the process, he demonstrates that the critical resources of Spinoza's rationalism have yet to be exhausted today."
Buy it here.