If you're an author or a publisher with a forthcoming book, send us a line at [email protected].
Did we miss any? Let us know in the comments? Read any of them? Let us know what you thought!
Foucault and the Politics of Rights
By Ben Golder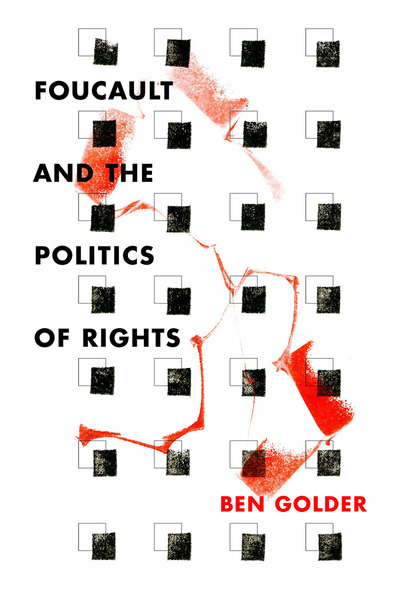 "This book focuses on Michel Foucault's late work on rights in order to address broader questions about the politics of rights in the contemporary era. As several commentators have observed, something quite remarkable happens in this late work. In his early career, Foucault had been a great critic of the liberal discourse of rights. Suddenly, from about 1976 onward, he makes increasing appeals to rights in his philosophical writings, political statements, interviews, and journalism. He not only defends their importance; he argues for rights new and as-yet-unrecognized. Does Foucault simply revise his former positions and endorse a liberal politics of rights? Ben Golder proposes an answer to this puzzle, which is that Foucault approaches rights in a spirit of creative and critical appropriation. He uses rights strategically for a range of political purposes that cannot be reduced to a simple endorsement of political liberalism. Golder develops this interpretation of Foucault's work while analyzing its shortcomings and relating it to the approaches taken by a series of current thinkers also engaged in considering the place of rights in contemporary politics, including Wendy Brown, Judith Butler, and Jacques Rancière."
Buy it here.
The Challenge of Surrealism
By Theodor Adorno and Elisabeth Lenk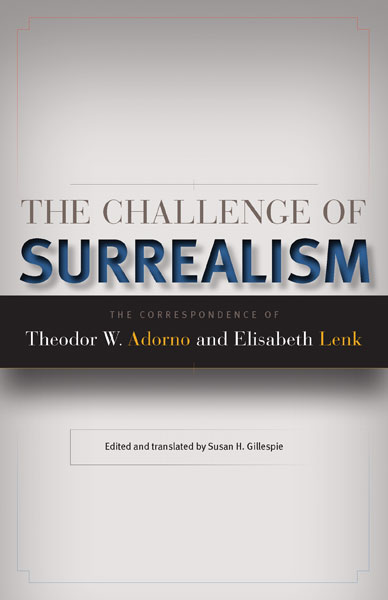 "The correspondence between the philosopher Theodor W. Adorno and his politically active graduate student Elisabeth Lenk offers fresh insights into both Adorno's view of surrealism and its relation to the student uprisings of 1960s France and Germany. Written between 1962, when Lenk moved to Paris and persuaded an initially reluctant Adorno to supervise her sociology dissertation on the surrealists, and Adorno's death in 1969, these letters reveal a surprisingly tender side of the distinguished professor. The correspondence is accompanied by a selection of documents that bring additional depth and context to the letters and their engagement with the art and politics of the period.
Filling in the background of Adorno and Lenk's lively exchange, the volume includes new translations of classic essays by Walter Benjamin ("Surrealism: Last Snapshot of the European Intelligentsia") and Adorno ("Surrealism Reconsidered"), along with a collection of short prose readings by Adorno and the writer-scholar Carl Dreyfus and three original essays by Lenk: her afterword to Paris Peasant by Louis Aragon, her Introduction to the German edition of Charles Fourier's The Theory of the Four Movements and the General Destinies, and her incisive essay "Critical Theory and Surreal Practice." An introduction by Lenk's student, the contemporary writer and critic Rita Bischof, points to the continuing challenge of surrealist politics.
This remarkable body of correspondence appears here in English for the first time, as do Adorno and Dreyfus's surrealist readings and the essays by Lenk. Together, they provide a rich mine of critical material for reassessing the significance of the surrealist movement and its successors."
Buy it here.
Plant Theory
By Jeffrey Nealon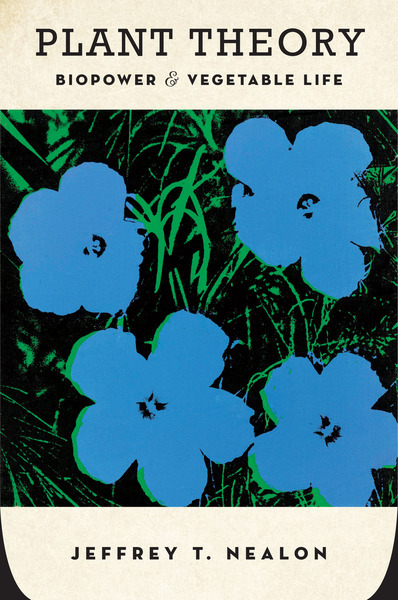 "In our age of ecological disaster, this book joins the growing philosophical literature on vegetable life to ask how our present debates about biopower and animal studies change if we take plants as a linchpin for thinking about biopolitics. Logically enough, the book uses animal studies as a way into the subject, but it does so in unexpected ways. Upending critical approaches of biopolitical regimes, it argues that it is plants rather than animals that are the forgotten and abjected forms of life under humanist biopower. Indeed, biopolitical theory has consistently sidestepped the issue of vegetable life, and more recently, has been outright hostile to it. Provocatively, Jeffrey T. Nealon wonders whether animal studies, which has taken the "inventor" of biopower himself to task for speciesism, has not misread Foucault, thereby managing to extend humanist biopower rather than to curb its reach. Nealon is interested in how and why this confusion predominates. Plant Theory turns to several other thinkers of the high theory generation in an effort to imagine new futures for the ongoing biopolitical debate."
Buy it here.
Arendt and America
By Richard King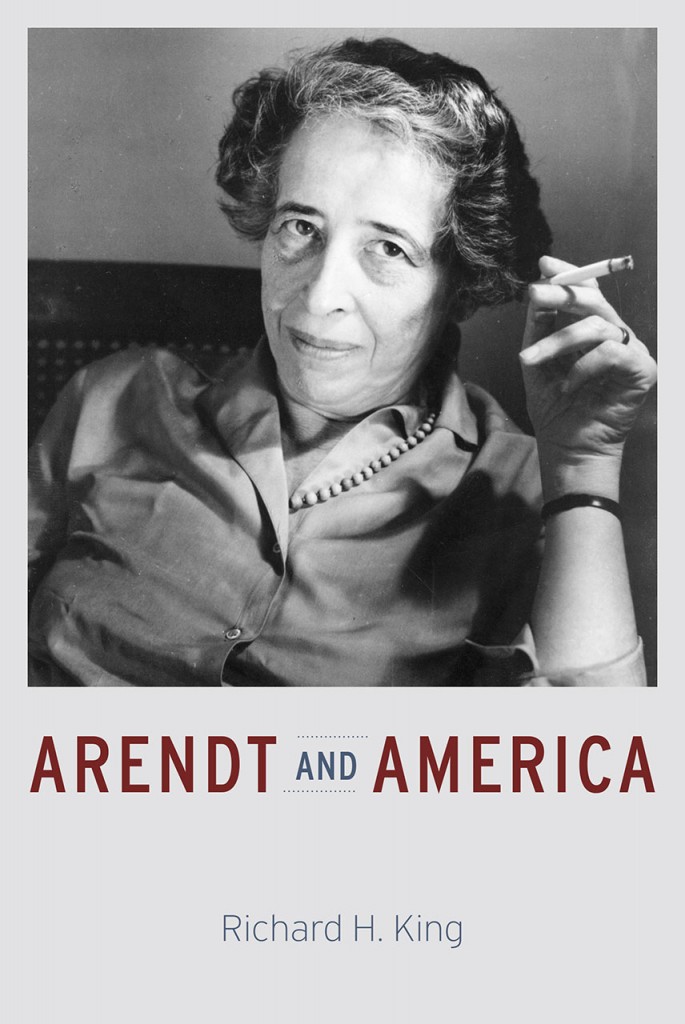 "German-Jewish political philosopher Hannah Arendt (1906–75) fled from the Nazis to New York in 1941, and during the next thirty years in America she wrote her best-known and most influential works, such asThe Human Condition, The Origins of Totalitarianism, and On Revolution. Yet, despite the fact that a substantial portion of her oeuvre was written in America, not Europe, no one has directly considered the influence of America on her thought—until now. In Arendt and America, historian Richard H. King argues that while all of Arendt's work was haunted by her experience of totalitarianism, it was only in her adopted homeland that she was able to formulate the idea of the modern republic as an alternative to totalitarian rule.
Situating Arendt within the context of U.S. intellectual, political, and social history, King reveals how Arendt developed a fascination with the political thought of the Founding Fathers. King also re-creates her intellectual exchanges with American friends and colleagues, such as Dwight Macdonald and Mary McCarthy, and shows how her lively correspondence with sociologist David Riesman helped her understand modern American culture and society. In the last section of Arendt and America, King sets out the context in which the Eichmann controversy took place and follows the debate about "the banality of evil" that has continued ever since.  As King shows, Arendt's work, regardless of focus, was shaped by postwar American thought, culture, and politics, including the Civil Rights Movement and the Cold War."
Buy it here.
Feminism, Digital Culture and the Politics of Transmission
By Deborah Withers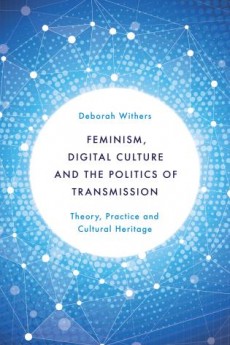 "Feminism, Digital Culture and the Politics of Transmission argues that despite the prevalence of generational narratives within feminism, the technical processes through which knowledge is transmitted across generations remain unexplored. Taking Bernard Stiegler's concept of the already-there as its starting point the book considers how the politics of transmission operates within digital culture. It argues that it is necessary to re-orient feminism's political project within what is already-there so that it may respond to an emergent feminist tradition.Grounded in the author's work collecting and interpreting the music-making heritage of the UK Women's Liberation Movement, it explores how digital technologies have enabled empassioned amateurs to make 'archives' within the first decade of the 21st century. The book reflects on what is technically and politically at stake in the organization and transmission of digital artifacts, and explores what happens to feminist cultural heritage when circuits shut down, stall or become diverted."
Buy it here.
History and Event
By Nathan Coombs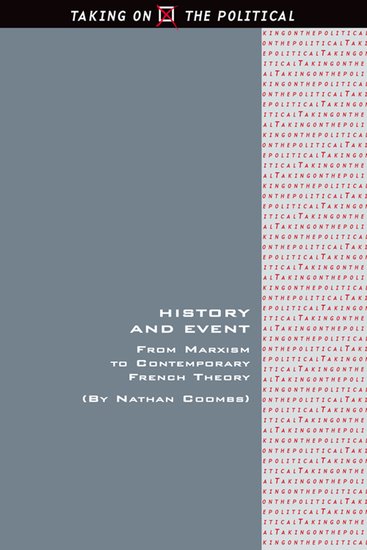 "Are sciences of history relics of an abandoned modernism? Nathan Coombs demonstrates that the Marxist science of history has been reimagined by a strand of contemporary French theory after Louis Althusser. Taking a comparative approach, Coombs explores the technical details of both traditions' historical sciences. He argues that their articulations of history and event affect how we approach political transformation and view the role of theoreticians in political practice.
History and Event sits at a productive juncture of critical theory, continental thought and social scientific philosophy. It is a vital resource for researchers who wish to sharpen their critical insight into Marxist philosophy and contemporary French theory."
Buy it here.
The Scandal of Marxism
By Roland Barthes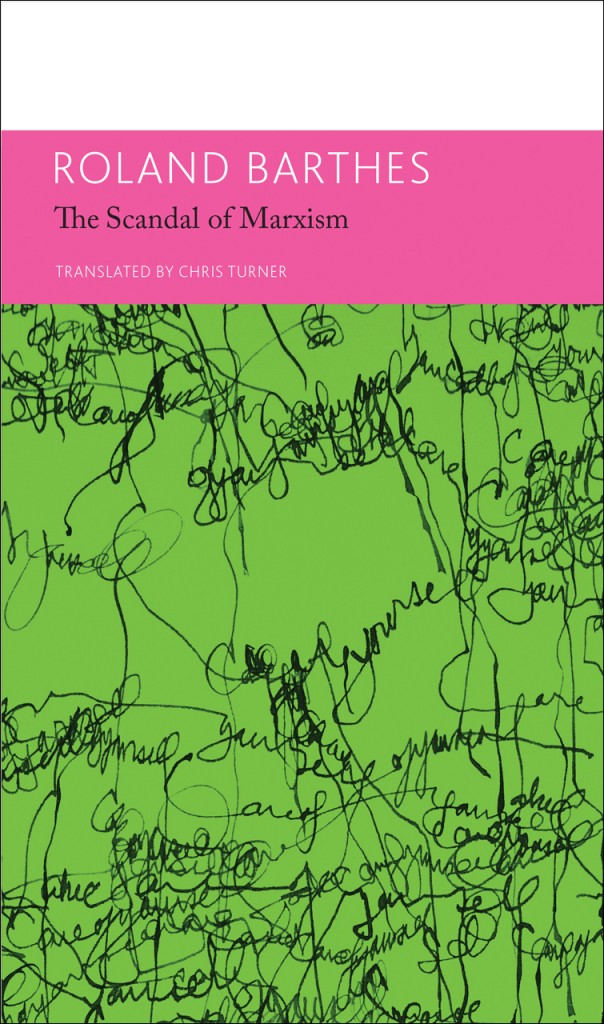 "Roland Barthes, whose centenary falls in 2015, was a restless, protean thinker. A constant innovator, often as a daring smuggler of ideas from one discipline to another, he first gained an audience with his pithy essays on mass culture and then went on to produce some of the most suggestive and stimulating cultural criticism of the late twentieth century, includingEmpire of Signs, The Pleasure of the Text, andCamera Lucida. In 1976, this one time structuralist outsider was elected to a chair at France's preeminent Collège de France, where he chose to style himself as professor of literary semiology until his death in 1980.
The greater part of Barthes's published writings have been available to a French audience since 2002, but here, translator Chris Turner presents a collection of essays, interviews, prefaces, book reviews, and other journalistic material for the first time in English. Divided into five themed volumes, readers are presented in volume two, 'The "Scandal" of Marxism' and Other Writings on Politics, with a wide range of Barthes's more overtly political writings, with an emphasis on his early work and the serious national turbulence in the French 1950s."
Buy it here.
Nietzsche's Jewish Problem
By Robert Holub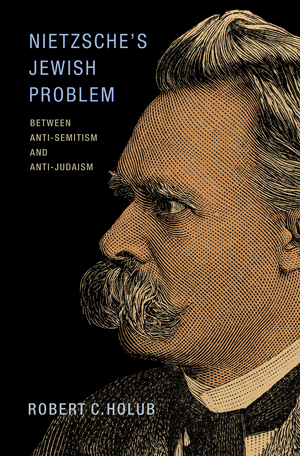 "For more than a century, Nietzsche's views about Jews and Judaism have been subject to countless polemics. The Nazis infamously fashioned the philosopher as their anti-Semitic precursor, while in the past thirty years the pendulum has swung in the opposite direction. The increasingly popular view today is that Nietzsche was not only completely free of racist tendencies but also was a principled adversary of anti-Jewish thought. Nietzsche's Jewish Problem offers a definitive reappraisal of the controversy, taking the full historical, intellectual, and biographical context into account. As Robert Holub shows, a careful consideration of all the evidence from Nietzsche's published and unpublished writings and letters reveals that he harbored anti-Jewish prejudices throughout his life.
Nietzsche's Jewish Problem demonstrates how this is so despite the apparent paradox of the philosopher's well-documented opposition to the crude political anti-Semitism of the Germany of his day. As Holub explains, Nietzsche's "anti-anti-Semitism" was motivated more by distaste for vulgar nationalism than by any objection to anti-Jewish prejudice.
A richly detailed account of a controversy that goes to the heart of Nietzsche's reputation and reception, Nietzsche's Jewish Problem will fascinate anyone interested in philosophy, intellectual history, or the history of anti-Semitism."
Buy it here.