Did we miss anything? Let us know below in the comments.
Lacan: In Spite of Everything
By Elisabeth Roudinesco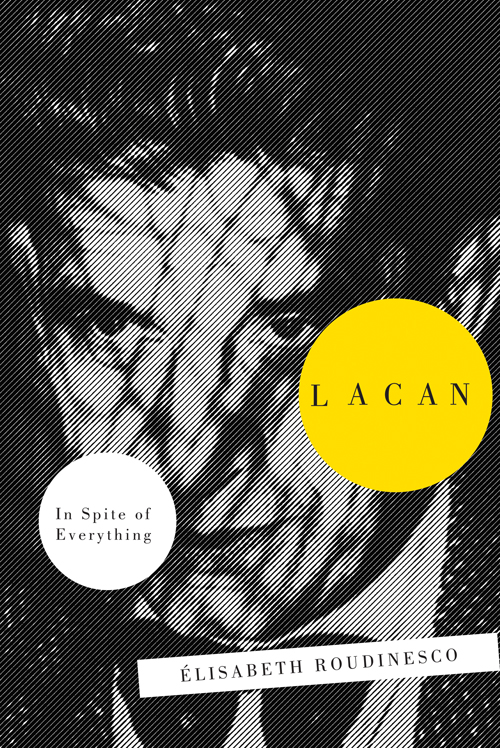 Jacques Lacan continues to be subject to the most extravagant interpretations. Angelic to some, he is demonic to others. To recall Lacan's career, now that the heroic age of psychoanalysis is over, is to remember an intellectual and literary adventure that occupies a founding place in our modernity. Lacan went against the current of many of the hopes aroused by 1968, but embraced their paradoxes, and his language games and wordplay resonate today as so many injunctions to replace rampant individualism with a heightened social consciousness.

Widely recognized as the leading authority on Lacan, Élisabeth Roudinesco revisits his life and work: what it was – and what it remains.
Buy it here.
Women Who Make a Fuss: The Unfaithful Daughters of Virginia Woolf
By Isabelle Strengers and Vinciane Despret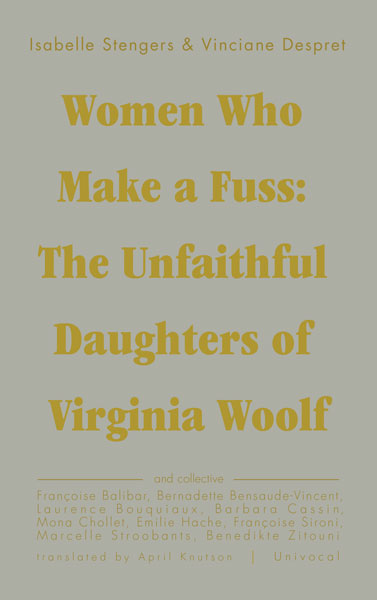 By Vinciane Despret & Isabelle Stengers
Virginia Woolf, to whom university admittance had been forbidden, watched the universities open their doors. Though she was happy that her sisters could study in university libraries, she cautioned women against joining the procession of educated men and being co-opted into protecting a "civilization" with values alien to women. Now, as Woolf's disloyal (unfaithful) daughters, who have professional positions in Belgian universities, Isabelle Stengers and Vinciane Despret, along with a collective of women scholars in Belgium and France, question their academic careers and reexamine the place of women and their role in thinking, both inside and outside the university. They urge women to heed Woolf's cry—Think We Must—and to always make a fuss about injustice, cruelty, and arrogance.
Buy it here.
Gendering the Recession
By Diane Negra and Yvonne Tasker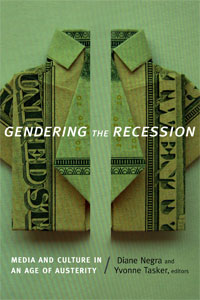 This timely, necessary collection of essays provides feminist analyses of a recession-era media culture characterized by the reemergence and refashioning of familiar gender tropes, including crisis masculinity, coping women, and postfeminist self-renewal. Interpreting media forms as diverse as reality television, financial journalism, novels, lifestyle blogs, popular cinema, and advertising, the contributors reveal gendered narratives that recur across media forms too often considered in isolation from one another. They also show how, with a few notable exceptions, recession-era popular culture promotes affective normalcy and transformative individual enterprise under duress while avoiding meaningful critique of the privileged white male or the destructive aspects of Western capitalism. By acknowledging the contradictions between political rhetoric and popular culture, and between diverse screen fantasies and lived realities, Gendering the Recession helps to make sense of our postboom cultural moment.
Buy it here.
The Ethics of Deconstruction: Derrida and Levinas (3rd edition)
By Simon Critchley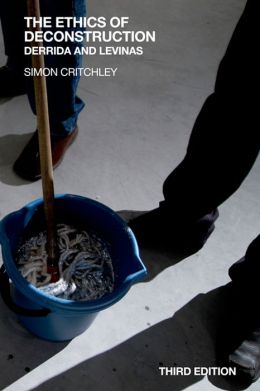 This third edition contains three new texts, and a new preface where Critchley reflects upon the origins, motivation and reception of The Ethics of Deconstruction.

The Ethics of Deconstruction, Simon Critchley's first book, was originally published to great acclaim in 1992. It was the first book to argue for the ethical turn in Derrida's work and to show as powerfully as possible how deconstruction has persuasive ethical consequences that are vital to our thinking through of questions of politics and democracy. Rather than being concerned with deconstruction in terms of the contradictions inherent in any text – an approach typical of the early Derrida and those in literary criticism aiming to extract a critical method for an application to literature – Critchley concerns himself with the philosophical context necessary for an understanding of the ethics of deconstructive reading. Far from being some sort of value-free nihilism or textual free-play, Critchley showed the ethical impetus that was driving Derrida's work. His claim was that Derrida's understanding of ethics has to be understood in relation to his engagement with the work of Levinas and the book lays out the details of their philosophical confrontation.
Buy it here.
Iconoclastic Theology: Deleuze and Secretion of Atheism
By F. LeRon Shults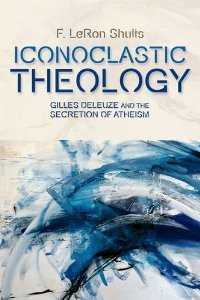 F. LeRon Shults explores Deleuze's fascination with theological themes and shows how his entire corpus can be understood as a creative atheist machine that liberates thinking, acting and feeling. Shults also demonstrates how the flow of a productive atheism can be increased by bringing Deleuzian concepts into dialogue with insights derived from the bio-cultural sciences of religion.

Gilles Deleuze consistently hammered away at icons, overturning pretentious images taken as true copies of ideal models. He was particularly critical of religious Figures. In What is Philosophy? Deleuze argued that religion and transcendence, like philosophy and immanence, always come (and go) together. What value, then, could he possibly have found in engaging theology, which is typically bound to a particular religious coalition? Chipping away at repressive religious representations was valuable in itself for Deleuze, but he also believed that religion produced something of considerable value. He insisted that every religion secretes atheism, and none more so than Christianity.
Buy it here.
Zizek's Jokes
By Slavoj Zizek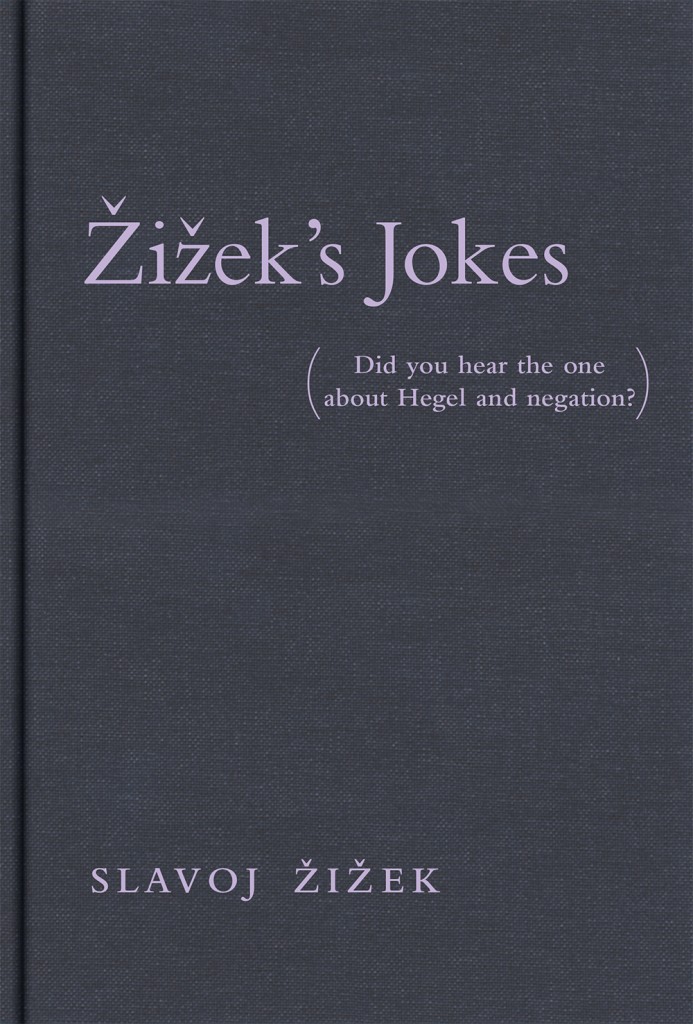 The good news is that this book offers an entertaining but enlightening compilation of Žižekisms. Unlike any other book by Slavoj Žižek, this compact arrangement of jokes culled from his writings provides an index to certain philosophical, political, and sexual themes that preoccupy him. Žižek's Jokes contains the set-ups and punch lines—as well as the offenses and insults—that Žižek is famous for, all in less than 200 pages.
So what's the bad news? There is no bad news. There's just the inimitable Slavoj Žižek, disguised as an impossibly erudite, politically incorrect uncle, beginning a sentence, "There is an old Jewish joke, loved by Derrida . . ." For Žižek, jokes are amusing stories that offer a shortcut to philosophical insight. He illustrates the logic of the Hegelian triad, for example, with three variations of the "Not tonight, dear, I have a headache" classic: first the wife claims a migraine; then the husband does; then the wife exclaims, "Darling, I have a terrible migraine, so let's have some sex to refresh me!" A punch line about a beer bottle provides a Lacanian lesson about one signifier. And a "truly obscene" version of the famous "aristocrats" joke has the family offering a short course in Hegelian thought rather than a display of unspeakables.

Žižek's Jokes contains every joke cited, paraphrased, or narrated in Žižek's work in English (including some in unpublished manuscripts), including different versions of the same joke that make different points in different contexts. The larger point being that comedy is central to Žižek's seriousness.
Buy it here.
Playing the Whore
By Melissa Gira Grant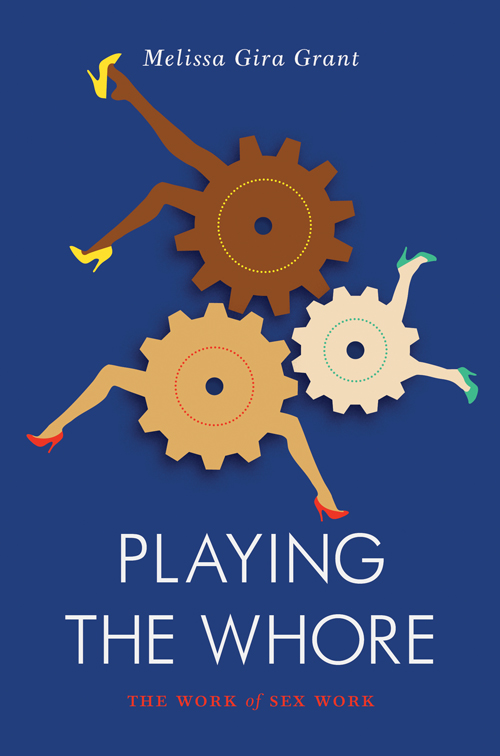 The sex industry is an endless source of prurient drama for the mainstream media. Recent years have seen a panic over "online red-light districts," which supposedly seduce vulnerable young women into a life of degradation, and New York Times columnist Nicholas Kristof's live tweeting of a Cambodian brothel raid. The current trend for writing about and describing actual experiences of sex work fuels a culture obsessed with the behaviour of sex workers. Rarely do these fearful dispatches come from sex workers themselves, and they never seem to deviate from the position that sex workers must be rescued from their condition, and the industry simply abolished — a position common among feminists and conservatives alike.

In Playing the Whore, journalist Melissa Gira Grant turns these pieties on their head, arguing for an overhaul in the way we think about sex work. Based on ten years of writing and reporting on the sex trade, and grounded in her experience as an organizer, advocate, and former sex worker, Playing the Whore dismantles pervasive myths about sex work, criticizes both conditions within the sex industry and its criminalization, and argues that separating sex work from the "legitimate" economy only harms those who perform sexual labor.

In Playing the Whore, sex workers' demands, too long relegated to the margins, take center stage: sex work is work, and sex workers' rights are human rights.
Buy it here.