If you're a publisher or an author with a forthcoming book, let us know by emailing [email protected].
ABC of Impossibility
By Simon Critchley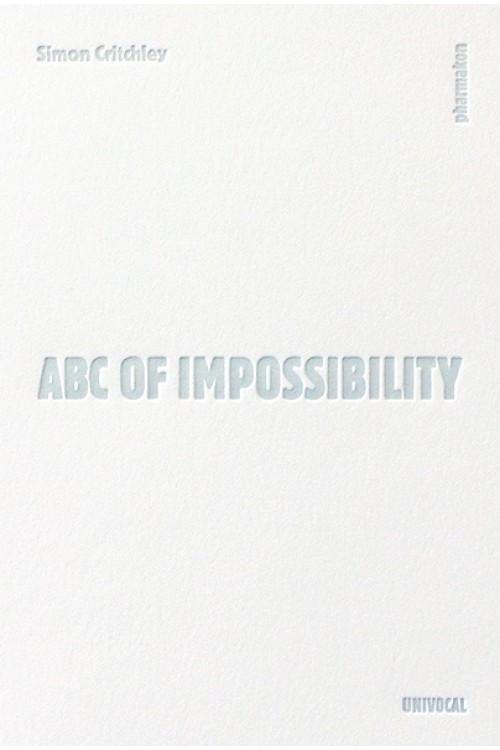 "How does one write an experimental ABC: an impossible theory that would deal with a series of phenomena, concepts, places, sensations, persons, and moods? A para-philosophy? Returning to a once abandoned project of fragmented thoughts where the author's voice moves from the serious, to the pathetic, to the absurd, to the cynical, Simon Critchley's ABC of Impossibility finds new life in the form of this small encyclopedic and aphoristic text where the reader bears witness to the slow emergence of an attempt at a poetic ontology. ABC of Impossibility is a unique undertaking that returns to the poetic site of the fragment as thought. Following a heritage of fragmented, aphoristic thinkers including Pascal, Nietzsche, Kierkegaard and Pessoa, Critchley revitalizes a para-philosophical thinking that can only be uttered by way of another, as he declares in the opening pages, "In writing this, I promise to tell the truth, but not to be myself.""
Buy it here.
Cosmic Pessimism
By Eugene Thacker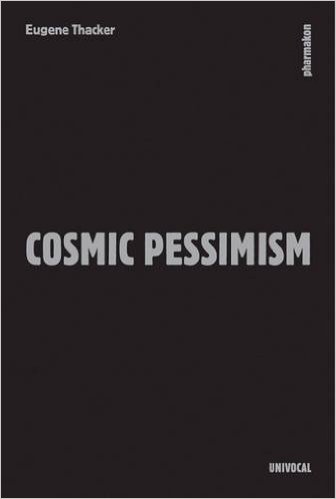 ""We're doomed." So begins the work of the philosopher whose unabashed and aphoristic indictments of the human condition have been cropping up recently in popular culture. Today we find ourselves in an increasingly inhospitable world that is, at the same time, starkly indifferent to our species-specific hopes, desires, and disappointments. In the anthropocene, pessimism is felt everywhere but rarely given its proper place. Though pessimism may be, as Thacker writes, the lowest form of philosophy, it may also contain an enigma central to understanding the horizon of the human. Written in a series of fragments, aphorisms, and prose poems, Eugene Thacker's Cosmic Pessimism explores the varieties of pessimism and its often conflicted relation to philosophy. "Crying, laughing, sleeping – what other responses are adequate to a life that is so indifferent?""
Buy it here.
The Future of Whiteness
By Linda Martin Alcoff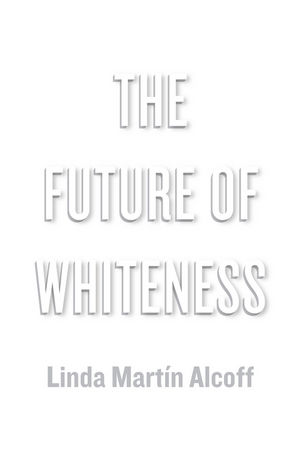 "White identity is in ferment. White, European Americans living in the United States will soon share an unprecedented experience of slipping below 50% of the population. The impending demographic shifts are already felt in most urban centers and the effect is a national backlash of hyper-mobilized political, and sometimes violent, activism with a stated aim that is simultaneously vague and deadly clear: 'to take our country back.' Meanwhile the spectre of 'minority status' draws closer, and the material advantages of being born white are eroding.
This is the political and cultural reality tackled by Linda Martín Alcoff in The Future of Whiteness. She argues that whiteness is here to stay, at least for a while, but that half of whites have given up on ideas of white supremacy, and the shared public, material culture is more integrated than ever. More and more, whites are becoming aware of how they appear to non-whites, both at home and abroad, and this is having profound effects on white identity in North America. The young generation of whites today, as well as all those who follow, will have never known a country in which they could take white identity as the unchallenged default that dominates the political, economic and cultural leadership. Change is on the horizon, and the most important battleground is among white people themselves.
The Future of Whiteness makes no predictions but astutely analyzes the present reaction and evaluates the current signs of turmoil. Beautifully written and cogently argued, the book looks set to spark debate in the field and to illuminate an important area of racial politics. "
Buy it here.
Ecstasy, Catastrophe
By David Krell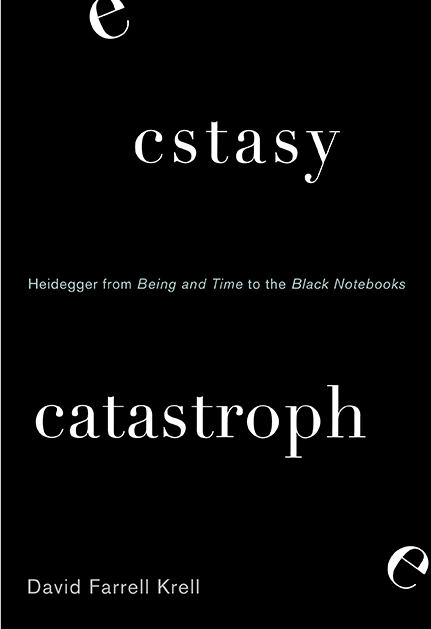 "In Ecstasy, Catastrophe, David Farrell Krell provides insight into two areas of Heidegger's thought: his analysis of ecstatic temporality in Being and Time (1927)and his "political" remarks in the recently published Black Notebooks (1931–1941). The first part of Krell's book focuses on Heidegger's interpretation of time, which Krell takes to be one of Heidegger's greatest philosophical achievements. In addition to providing detailed commentary on ecstatic temporality, Krell considers Derrida's analysis of ekstasis in his first seminar on Heidegger, taught in Paris in 1964–1965. Krell also relates ecstatic temporality to the work of other philosophers, including Aristotle, Augustine, Kant, Schelling, Hölderlin, and Merleau-Ponty; he then analyzes Dasein as infant and child, relating ecstatic temporality to the "mirror stage" theory of Jacques Lacan.
The second part of the book turns to Heidegger's Black Notebooks, which have received a great deal of critical attention in the press and in philosophical circles. Notorious for their pejorative references to Jews and Jewish culture, the Notebooks exhibit a level of polemic throughout that Krell takes to be catastrophic in and for Heidegger's thought. Heidegger's legacy therefore seems to be split between the best and the worst of thinking—somewhere between ecstasy and catastrophe.
Based on the 2014 Brauer Lectures in German Studies at Brown University, the book communicates the fruits of Krell's many years of work on Heidegger in an engaging and accessible style."
Buy it here.
Virginia Woolf and the Materiality of Theory: Sex, Animal, Life
By Derek Ryan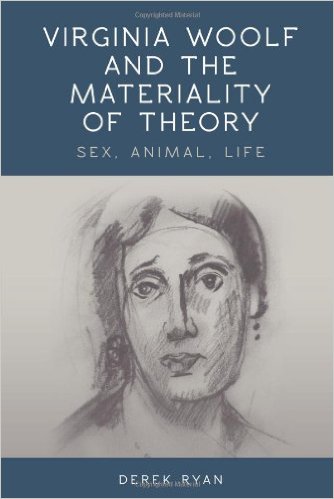 "How does Virginia Woolf conceptualise the material world? In what ways has Woolf's modernism affected understandings of materiality, and what new perspectives does she offer contemporary theoretical debates? Derek Ryan demonstrates how materiality is theorised in Woolf's writings by focusing on the connections she makes between culture and nature, embodiment and environment, human and nonhuman, life and matter. Through close readings of texts including To the Lighthouse, Orlando, A Room of One's Own, The Waves, Flush, and 'Sketch of the Past', he details the fresh insights Woolf provides into issues concerning the natural world, sexual difference, sexuality, animality, and life itself.
Ryan opens up Woolf studies to new theoretical paradigms by placing Woolf in dialogue with Gilles Deleuze – who cites her modernist aesthetics as exemplary of some of his most important philosophical concepts – as well as eminent contemporary theorists including Rosi Braidotti, Donna Haraway, Karen Barad, and Jane Bennett, all of whom have influenced the recent critical turn towards new materialisms. Locating theory within Woolf's writing as well as locating Woolf within theory, Virginia Woolf and the Materiality of Theory: Sex, Animal, Life brings her modernism firmly into to the foreground of current debates in literary studies, feminist philosophy, queer theory, animal studies and posthumanities."
Buy it here.
The Transparency Society
By Byung-Chul Han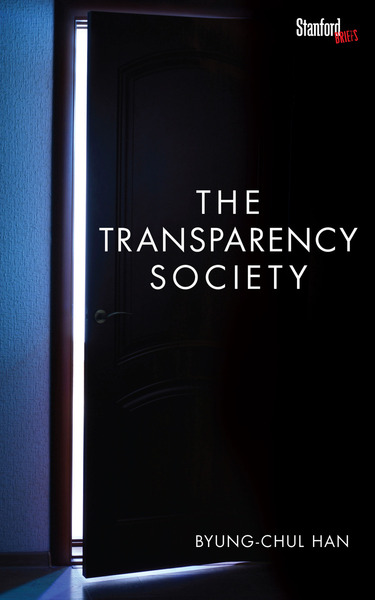 "Transparency is the order of the day. It is a term, a slogan, that dominates public discourse about corruption and freedom of information. Considered crucial to democracy, it touches our political and economic lives as well as our private lives. Anyone can obtain information about anything. Everything—and everyone—has become transparent: unveiled or exposed by the apparatuses that exert a kind of collective control over the post-capitalist world.
For transparency has a dark side that, ironically, has everything to do with a lack of mystery, shadow, and nuance. Behind the apparent accessibility of knowledge lies the disappearance of privacy, homogenization, and the collapse of trust. The anxiety to accumulate ever more information does not necessarily produce more knowledge or faith. Technology creates the illusion of total containment and constant monitoring of information, but what we lack is adequate interpretation of the information. In this manifesto, Byung-Chul Han denounces transparency as a false ideal, the strongest and most pernicious of our contemporary"
Buy it here.
Toward a Radical Metaphysics of Socialism: Marx and Laruelle
By Katerina Kolozova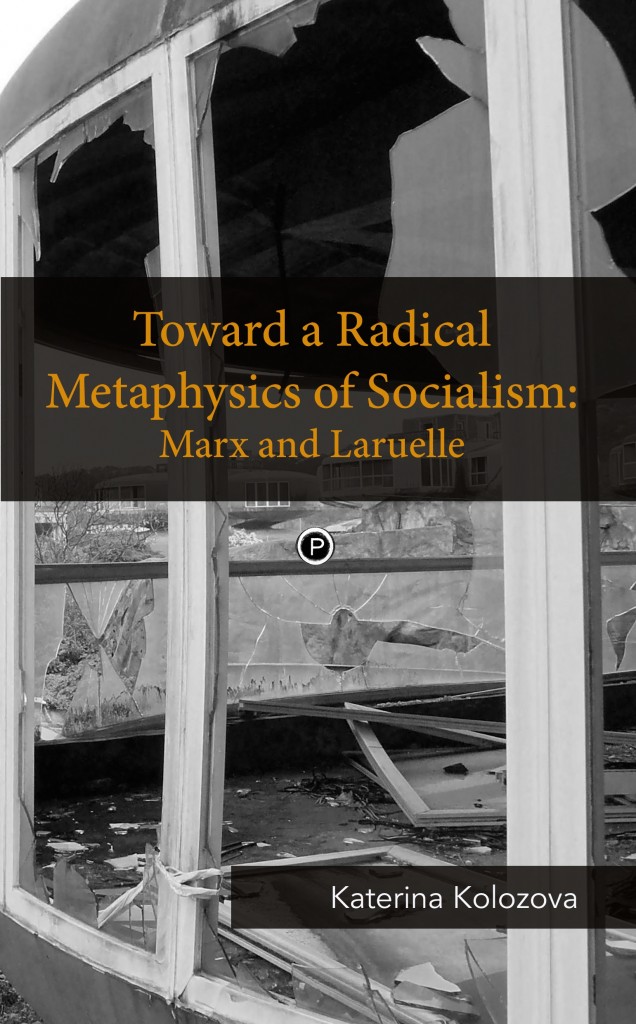 "Departing from the conventional readings of Karl Marx's Capital and other of his works, by way of François Laruelle's "radicalization of concepts," Katerina Kolozova identifies a theoretical kernel in Marx's thought whose critical and interpretative force can be employed without reference to its subsequent interpretations in the philosophical mainstream. The latter entails a process of abstracting a philosophical legacy — or rather, of putting it in brackets — and then codifying a history of a learned interpretation established in supposed fidelity to the theoretical project of a "master." Interpreting the master implies a mastery of doctrinal tools, which results in establishing a catechism of the Logos of the Master. And this catechism interferes, Kolozova argues, with more direct encounters with Marx's writings.
As we know, Marx's rigorously descriptive language unravels the radical core of capitalist economic processes and, through that unraveling, also reveals capitalism's necessary exploitation and subjugation of human labor. Toward a Radical Metaphysics of Socialism attempts to recuperate and emancipate the notion of metaphysics in this scenario by virtue of radicalizing thought's encounter with the Real. Kolozova argues that this metaphysical drama is at the origin of the social and economic injustices of contemporary global economic-political realities, and she illustrates this state of affairs in discussions of the problem of wage labor, automated speculation as the core of late capitalism, the post-2008 financial crisis, the status of technology in late capitalism, sexual difference and gender, and the human and non-human body's subjugation capitalist automation."
Buy it here.