If you're an author or a publisher with a forthcoming book, send us a line at [email protected].
Starve and Immolate
By Banu Bargu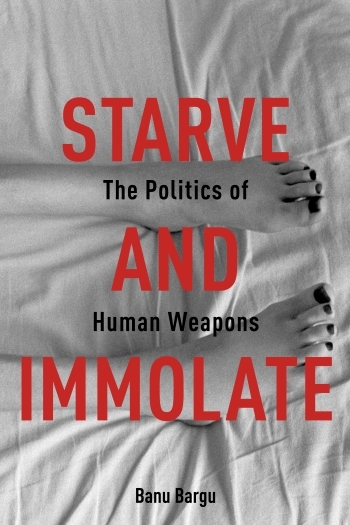 "Starve and Immolate tells the story of leftist political prisoners in Turkey who waged a deadly struggle against the introduction of high security prisons by forging their lives into weapons. Weaving together contemporary and critical political theory with political ethnography, Banu Bargu analyzes the death fast struggle as an exemplary though not exceptional instance of self-destructive practices that are a consequence of, retort to, and refusal of the increasingly biopolitical forms of sovereign power deployed around the globe.
Bargu chronicles the experiences, rituals, values, beliefs, ideological self-representations, and contentions of the protestors who fought cellular confinement against the background of the history of Turkish democracy and the treatment of dissent in a country where prisons have become sites of political confrontation. A critical response to Michel Foucault's Discipline and Punish, Starve and Immolate centers on new forms of struggle that arise from the asymmetric antagonism between the state and its contestants in the contemporary prison. Bargu ultimately positions the weaponization of life as a bleak, violent, and ambivalent form of insurgent politics that seeks to wrench the power of life and death away from the modern state on corporeal grounds and in increasingly theologized forms. Drawing attention to the existential commitment, sacrificial morality, and militant martyrdom that transforms these struggles into a complex amalgam of resistance, Bargu explores the global ramifications of human weapons' practices of resistance, their possibilities and limitations."
Buy it here.
The Future of Whiteness
By Linda Martin Alcoff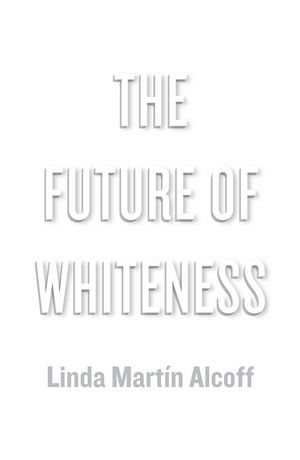 "White identity is in ferment. White, European Americans living in the United States will soon share an unprecedented experience of slipping below 50% of the population. The impending demographic shifts are already felt in most urban centers and the effect is a national backlash of hyper-mobilized political, and sometimes violent, activism with a stated aim that is simultaneously vague and deadly clear: 'to take our country back.' Meanwhile the spectre of 'minority status' draws closer, and the material advantages of being born white are eroding.
This is the political and cultural reality tackled by Linda Martín Alcoff in The Future of Whiteness. She argues that whiteness is here to stay, at least for a while, but that half of whites have given up on ideas of white supremacy, and the shared public, material culture is more integrated than ever. More and more, whites are becoming aware of how they appear to non-whites, both at home and abroad, and this is having profound effects on white identity in North America. The young generation of whites today, as well as all those who follow, will have never known a country in which they could take white identity as the unchallenged default that dominates the political, economic and cultural leadership. Change is on the horizon, and the most important battleground is among white people themselves."
Buy it here.
The Figure of the Migrant
By Thomas Nail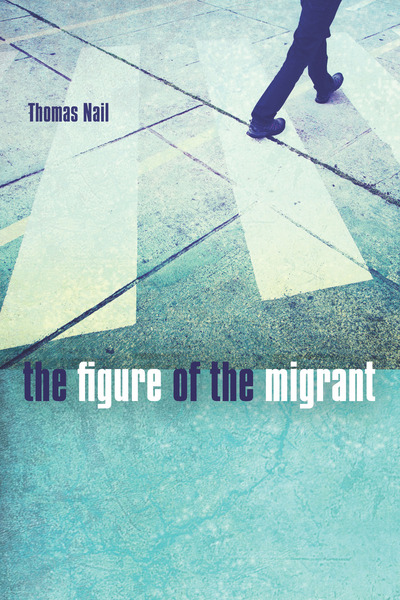 "This book offers a much-needed new political theory of an old phenomenon. The last decade alone has marked the highest number of migrations in recorded history. Constrained by environmental, economic, and political instability, scores of people are on the move. But other sorts of changes—from global tourism to undocumented labor—have led to the fact that to some extent, we are all becoming migrants. The migrant has become the political figure of our time.
Rather than viewing migration as the exception to the rule of political fixity and citizenship, Thomas Nail reinterprets the history of political power from the perspective of the movement that defines the migrant in the first place. Applying his "kinopolitics" to several major historical conditions (territorial, political, juridical, and economic) and figures of migration (the nomad, the barbarian, the vagabond, and the proletariat), he provides fresh tools for the analysis of contemporary migration."
Buy it here, or read the first 20 pages.
Walter Benjamin's Archive
By Walter Benjamin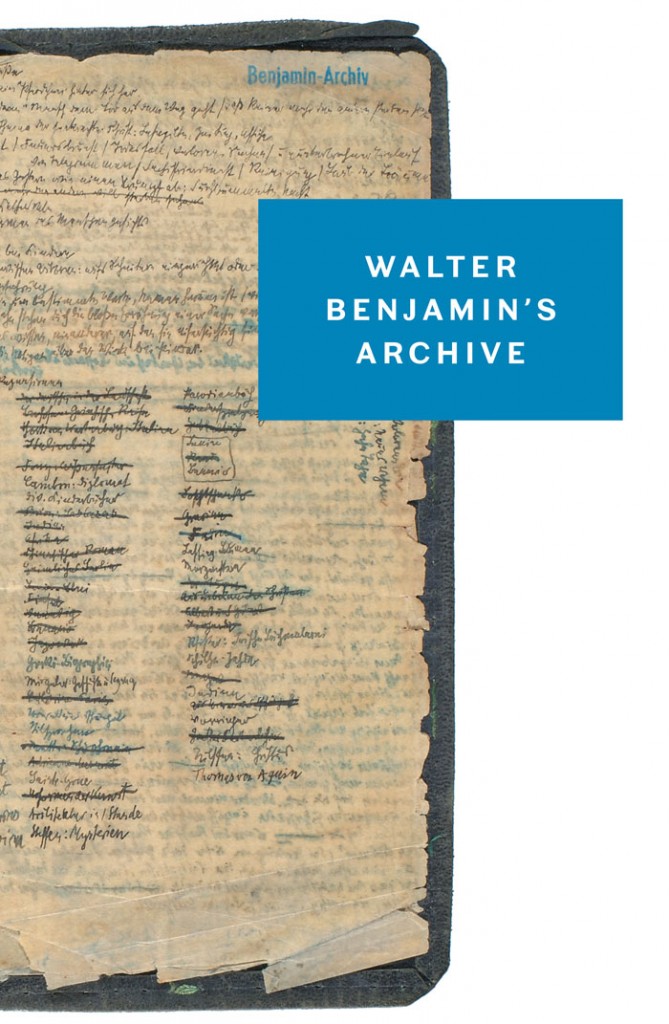 "The work of the great literary and cultural critic Walter Benjamin is an audacious plotting of history, art, and thought; a reservoir of texts, commentaries, scraps, and fragments of everyday life, art, and dreams. Throughout his life, Benjamin gathered together all kinds of artifacts, assortments of images, texts, and signs, themselves representing experiences, ideas, and hopes, each of which was enthusiastically logged, systematized, and analyzed by their author. In this way, Benjamin laid the groundwork for the salvaging of his own legacy.
Intricate and intimate, Walter Benjamin's Archive leads readers to the heart of his intellectual world, yielding a rich and detailed portrait of its author."
Buy it here.
Nein. A Manifesto
By Eric Jarosinki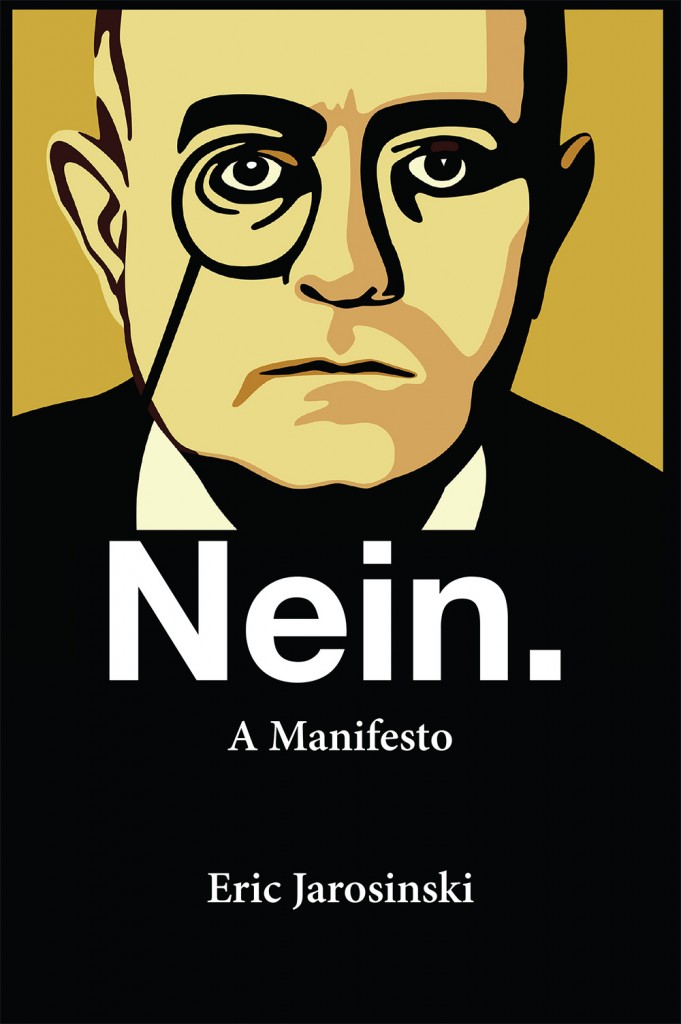 "Nein. A Manifesto is the brainchild of Eric Jarosinski, the self-described "failed intellectual" behind the hugely popular @NeinQuarterly, a "Compendium of Utopian Negation" that uses the aphorism to plumb the existential abyss of modern life—and finds it bottomless.
Stridently hopeless and charmingly dour, Nein. A Manifesto mixes melancholy with nihilistic glee in its investigation into the most urgent questions. And the least. Inspired by the philosophical aphorisms of Nietzsche and Theodor W. Adorno, Jarosinski's epigrammatic style reinvents short-form philosophy for a world doomed to distraction."
Buy it here.
Hotel
By Joanna Walsh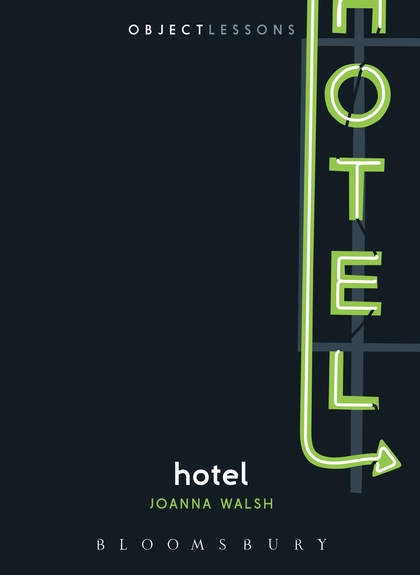 "Object Lessons is a series of short, beautifully designed books about the hidden lives of ordinary things.
During the breakdown of an unhappy marriage, writer Joanna Walsh got a job as a hotel reviewer, and began to gravitate towards places designed as alternatives to home. Luxury, sex, power, anonymity, privacy…hotels are where our desires go on holiday, but also places where our desires are shaped by the hard realities of the marketplace. Part memoir and part meditation, this book visits a series of rooms, suites, hallways, and lobbies-the spaces and things that make up these modern sites of gathering and alienation, hotels."
Buy it here.
Doings Aesthetics with Arendt
By Cecilia Sjoholm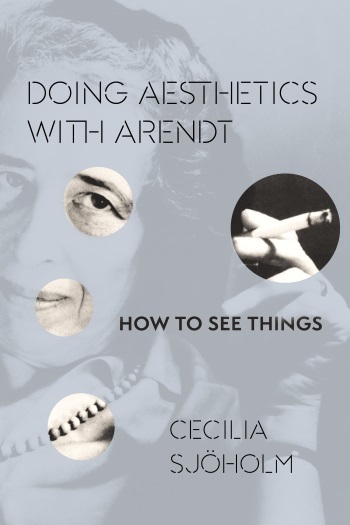 "Cecilia Sjöholm reads Hannah Arendt as a philosopher of the senses, grappling with questions of vision, hearing, and touch even in her political work. Constructing an Arendtian theory of aesthetics from the philosopher's fragmentary writings on art and perception, Sjöholm begins a vibrant new chapter in Arendt scholarship that expands her relevance for contemporary philosophers.
Arendt wrote thoughtfully about the role of sensibility and aesthetic judgment in political life and on the power of art to enrich human experience. Sjöholm draws a clear line from Arendt's consideration of these subjects to her reflections on aesthetic encounters and works of art mentioned in her published writings and stored among her memorabilia. This delicate effort allows Sjöholm to revisit Arendt's political concepts of freedom, plurality, and judgment from an aesthetic point of view and incorporate Arendt's insight into current discussions of literature, music, theater, and visual art. Though Arendt did not explicitly outline an aesthetics, Sjöholm's work substantively incorporates her perspective into contemporary reckonings with radical politics and their relationship to art."
Buy it here.
The Yield
By Paul North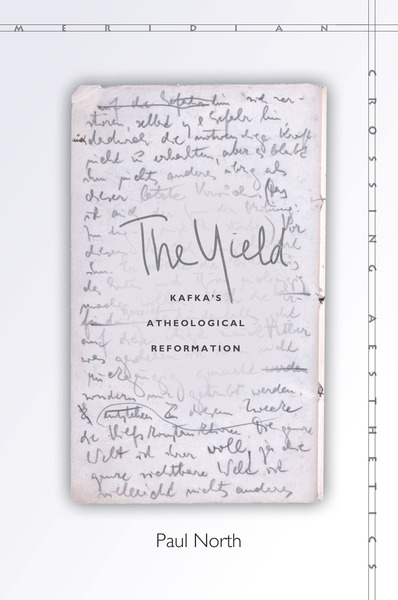 "The Yield is a once-in-a-generation reinterpretation of the oeuvre of Franz Kafka. At the same time, it is a powerful new entry in the debates about the supposed secularity of the modern age. Kafka is one of the most admired writers of the last century, but this book presents us with a Kafka few will recognize. It does so through a fine-grained analysis of the three hundred "thoughts" the writer penned near the end of World War I, when he had just been diagnosed with tuberculosis.
Since they were discovered after Kafka's death, the meaning of the so-called "Zürau aphorisms" has been open to debate. Paul North's elucidation of what amounts to Kafka's only theoretical work shows them to contain solutions to problems Europe has faced throughout modernity. Kafka offers responses to phenomena of violence, discrimination, political repression, misunderstanding, ethnic hatred, fantasies of technological progress, and the subjugation of the worker, among other problems. Reflecting on secular modernity and the theological ideas that continue to determine it, he critiques the ideas of sin, suffering, the messiah, paradise, truth, the power of art, good will, and knowledge. Kafka's controversial alternative to the bad state of affairs in his day? Rather than fight it, give in. Developing some of Kafka's arguments, The Yield describes the ways that Kafka envisions we can be good by "yielding" to our situation instead of striving for something better."
Buy it here.
All Thoughts are Equal
By John O Maolearca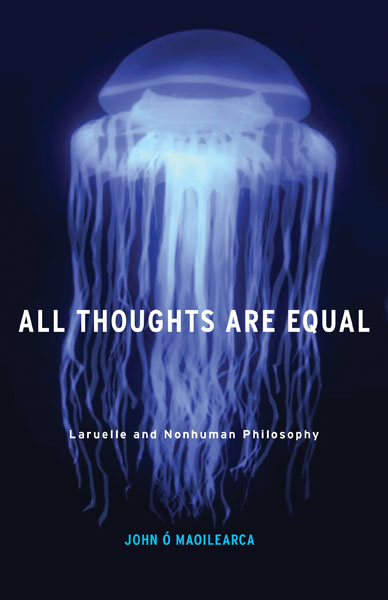 "All Thoughts Are Equal is both an introduction to the work of French philosopher François Laruelle and an exercise in nonhuman thinking. For Laruelle, standard forms of philosophy continue to dominate our models of what counts as exemplary thought and knowledge. By contrast, what Laruelle calls his "non-standard" approach attempts to bring democracy into thought, because all forms of thinking—including the nonhuman—are equal.
John Ó Maoilearca examines how philosophy might appear when viewed with non-philosophical and nonhuman eyes. He does so by refusing to explain Laruelle through orthodox philosophy, opting instead to follow the structure of a film (Lars von Trier's documentary The Five Obstructions) as an example of the non-standard method. Von Trier's film is a meditation on the creative limits set by film, both technologically and aesthetically, and how these limits can push our experience of film—and of ourselves—beyond what is normally deemed "the perfect human.""
Buy it here.
Ontopower

By Brian Massumi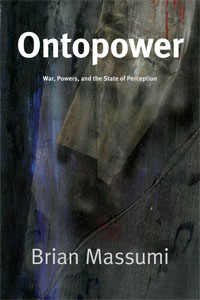 "Color coded terror alerts, invasion, drone war, rampant surveillance: all manifestations of the type of new power Brian Massumi theorizes inOntopower. Through an in-depth examination of the War on Terror and the culture of crisis, Massumi identifies the emergence of preemption, which he characterizes as the operative logic of our time. Security threats, regardless of the existence of credible intelligence, are now felt into reality. Whereas nations once waited for a clear and present danger to emerge before using force, a threat's felt reality now demands launching a preemptive strike. Power refocuses on what may emerge, as that potential presents itself to feeling. This affective logic of potential washes back from the war front to become the dominant mode of power on the home front as well. This is ontopower—the mode of power embodying the logic of preemption across the full spectrum of force, from the "hard" (military intervention) to the "soft" (surveillance). With Ontopower, Massumi provides an original theory of power that explains not only current practices of war but the culture of insecurity permeating our contemporary neoliberal condition."
Buy it here.
Hume's Sceptical Enlightment
By Ryu Susato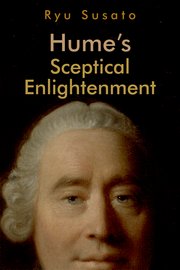 "The Scottish philosopher and historian David Hume (1711–1776) has often been regarded as a key Enlightenment thinker. However, his image has been long contested between those who consider him a conservative and those who see him as a key liberal thinker.
Hume's Sceptical Enlightenment offers a new interpretation for such diverse images and demonstrates the uniqueness of Hume as an Enlightenment thinker, illustrating how his 'spirit of scepticism' often leads him into seemingly paradoxical positions. This book will be of interest to Hume scholars, intellectual historians of 17th- to 19th-century Europe and those interested in the Enlightenment more widely."
Buy it here.
Ethical Loneliness
By Jill Stauffer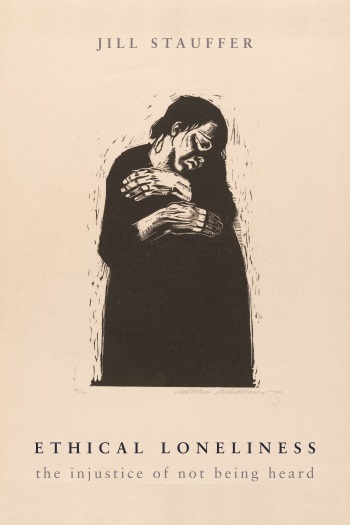 "Ethical loneliness is the experience of being abandoned by humanity, compounded by the cruelty of wrongs not being heard. It is the result of multiple lapses on the part of human beings and political institutions that, in failing to listen well to survivors, deny them redress by negating their testimony and thwarting their claims for justice.
Jill Stauffer examines the root causes of ethical loneliness and how those in power revise history to serve their own ends rather than the needs of the abandoned. Out of this discussion, difficult truths about the desire and potential for political forgiveness, transitional justice, and political reconciliation emerge. Moving beyond a singular focus on truth commissions and legal trials, she considers more closely what is lost in the wake of oppression and violence, how selves and worlds are built and demolished, and who is responsible for re-creating lives after they are destroyed.
Stauffer boldly argues that rebuilding worlds and just institutions after violence is a broad obligation and that those who care about justice must first confront their own assumptions about autonomy, liberty, and responsibility before an effective response to violence can take place. In building her claims, Stauffer draws on the work of Emmanuel Levinas, Jean Améry, Eve Sedgwick, and Friedrich Nietzsche, as well as concrete cases of justice and injustice across the world."
Buy it here.